This post was sponsored by SwimWays as part of an Ambassador Program for Influence Central and all opinions expressed in my post are my own.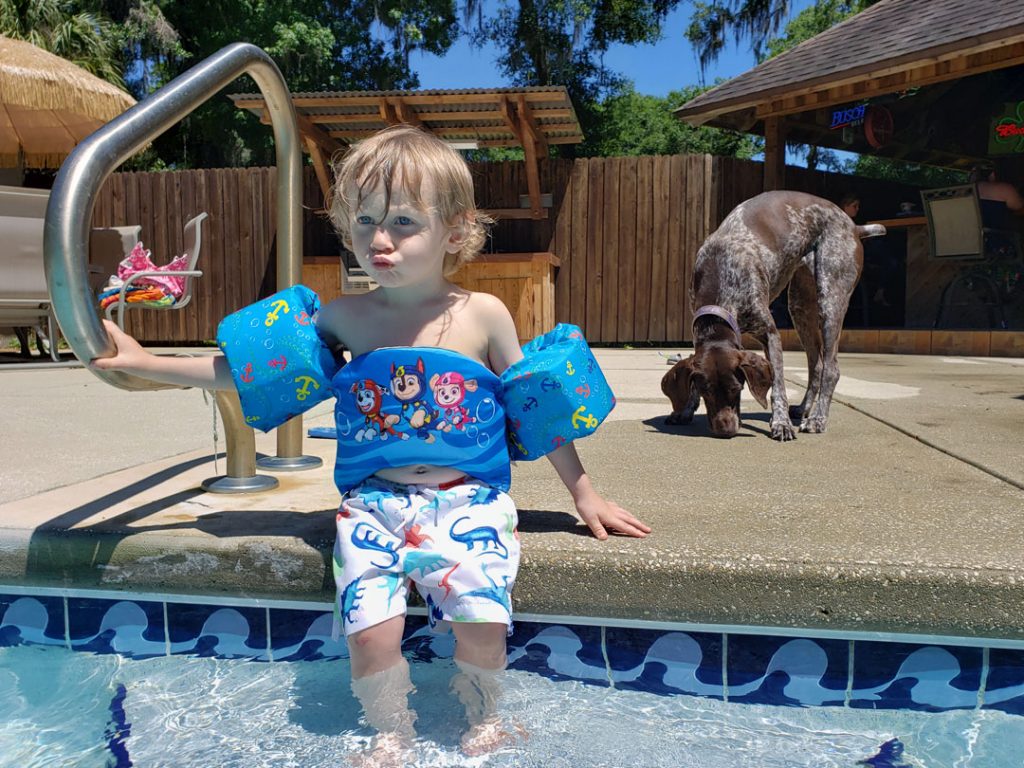 Summer is here! School is out and it is the time of the year to enjoy fun in the sun. While we love to spend our summer days swimming and longing by the pool, it comes with a unique set of challenges when you are a toddler parent. Swim safety for toddlers is something that every parent needs to know. So I have partnered up with SwimWays to share my top toddler swim safety tips so everyone can have a fun and safe summer.
Toddler Swim Safety Tips with SwimWays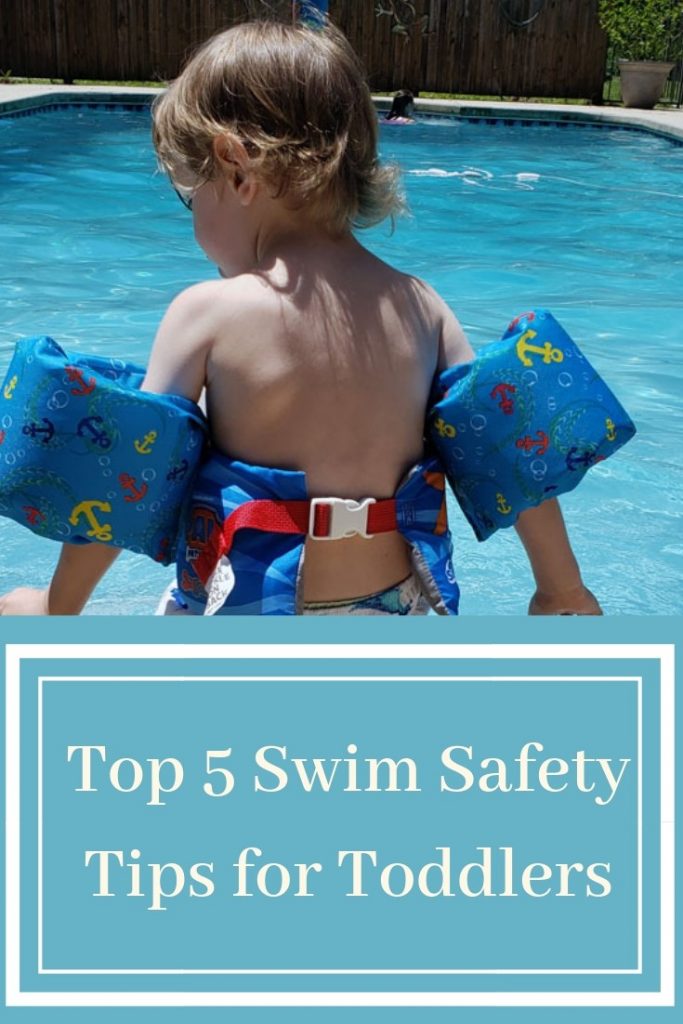 Get The Right Toddler Swim Gear
Toddlers tend to need specific flotation safety assistance when they are learning how to swim. There are so many brands and options out there, that you may be confused as to which one you should choose for your smallest swimmer.
We have been using SwimWays since my oldest was little. It is a brand I trust to keep my kids safe. We started with the step one when my son was an infant… Now he has moved up to the Step 2 in the series. Using his adorable Paw Patrol trainer has been a blessing. He has always loved the water, but now he can feel more confident and learn to swim along side his big sister this summer.
Playing in the water and enjoying squirting his big sister with the water gun has been his favorite part of pool time this year. While he may have been a bit timid at first, his confidence is growing and it won't be long before he is jumping off the side and swimming like a fish.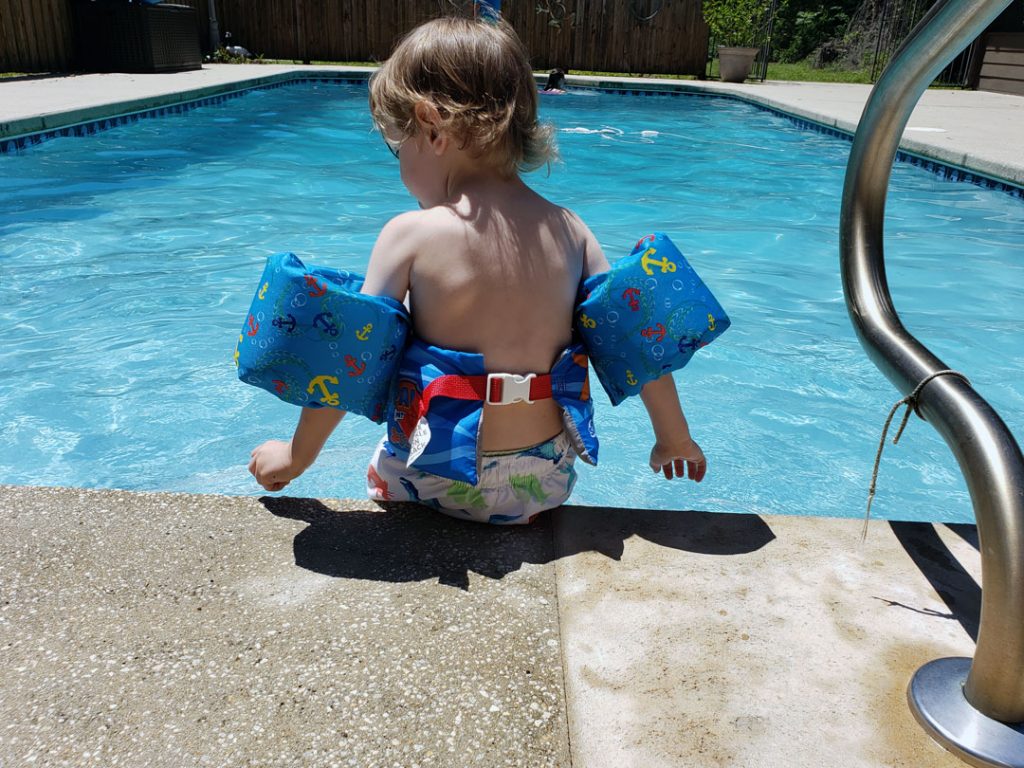 SwimWays Step 2 Swim Trainer
SwimWays is an industry leader when it comes to helping children of all ages feel comfortable, confident, and safe in and around the water. In their efforts to promote swim safety, they teamed up with Paw Patrol to offer an adorable step two swim trainer life vest perfect for toddlers who are just learning to swim.
The life vest is U.S. Coat Guard approved, which is super important to me as a parent. With a built in chest and arm flotation, this is built for easy mobility in the water. My personal favorite part is the adjustable buckle. It is easy for me to use as a parent, but out of reach of my little one. So no worries about him grabbing it and trying to take it off.
The SwimWays Swim Trainer is available at Walmart now in a gender-neutral style with soft and comfortable fabric. You can get your little one's favorite Nick Jr. characters from Paw Patrol including Marshall, Chase and Skye.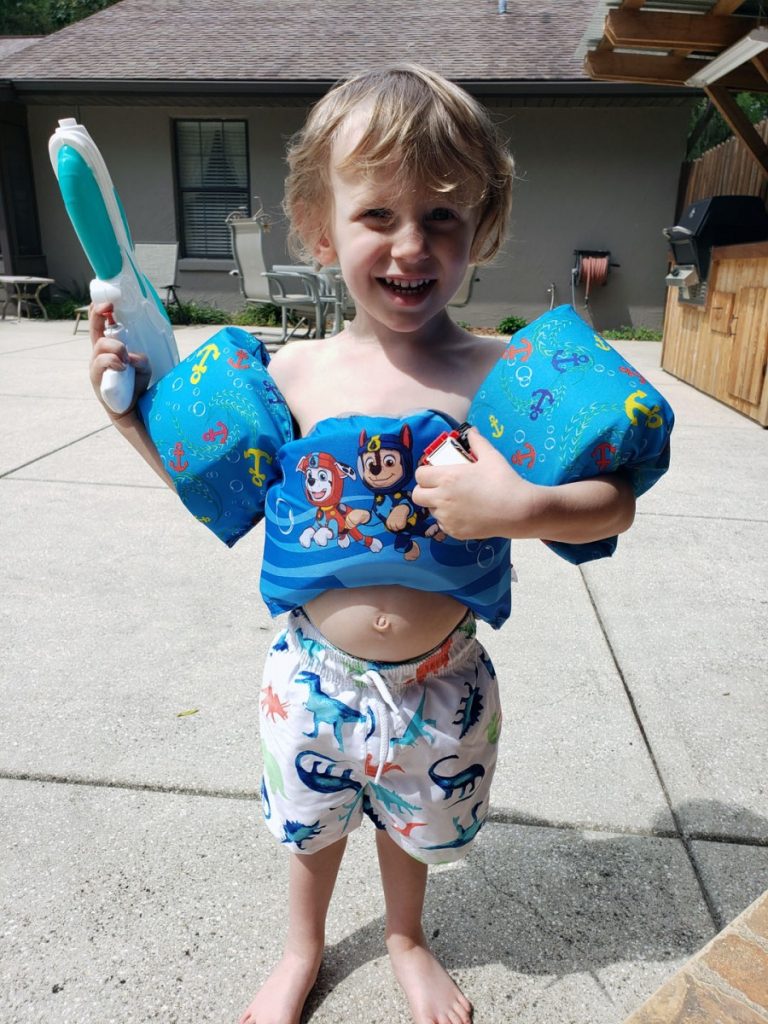 Start Swimming Early
So this may seem like a given, but one of the best tips I was given was to start swim training early. Especially here in Florida, we are around water often. Since we are always at the pool, beach, or lake, it was important that the kids learn water safety at an early age.
Learning to swim early was very important to us, especially since when moving into a new house we wanted to install our own pool. We looked for the best round above ground pool, and eventually settled on what we liked the most. After that, we knew it was time to really invest in swim training for our kids.
I recommend finding a swim school in your area. Start your little one in it as soon as you are able to. This will give them all of the basics and life-saving techniques that they could one day need.
Learn the Signs of Fatigue and Drowning
Little ones tire out easily, and as parents we may not always see all of the signs that they are tired or in distress. Drowning is not like it is in the movies. It is often silent… So it is important to keep an eye on your little ones at all time when they are in or near the water. It can happen in a second, and a keen eye will help prevent an awful tragedy.
It is also important to look out for fatigue. If your kids are anything like mine, they will play and swim all day. They rarely actually tell me they are tired, so I need to be aware of the signs. A tired child is more likely to make a mistake. So take some time and make sure your kid takes proper rest ( even if they complain about it).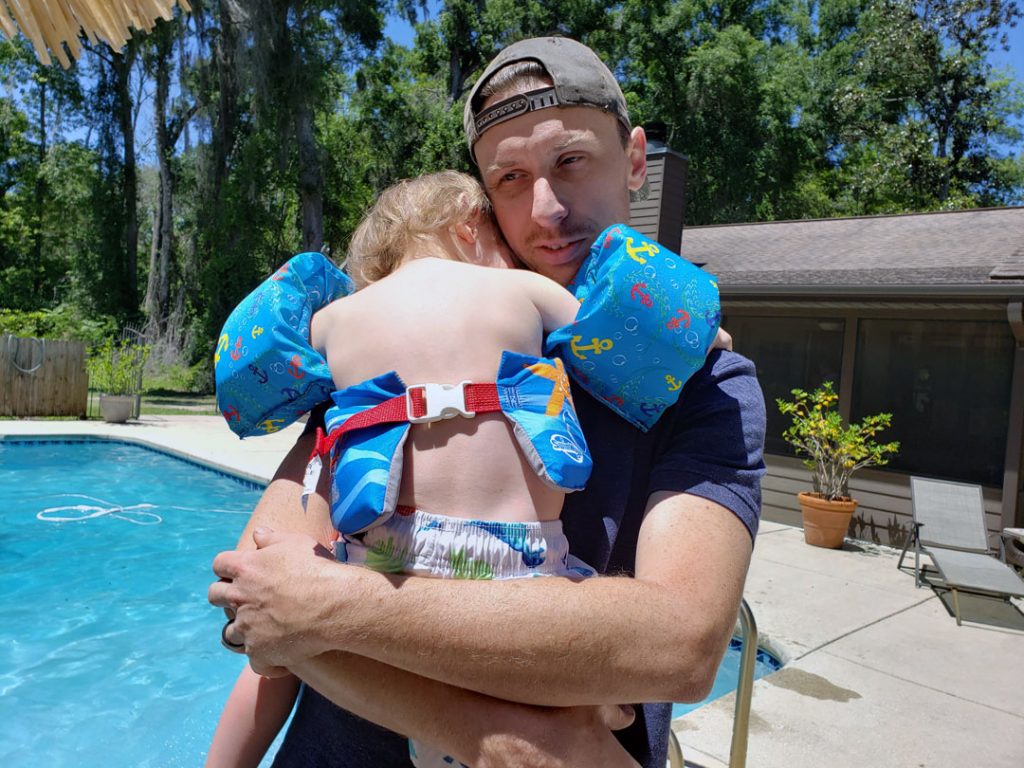 Make Swimming Fun
We all know swimming is the best part of summer. But for toddlers, it can seem scary. As parents, we should make it fun for them so they want to learn. Get in the pool with your kids! This will show them that there is nothing to be afraid of and that you will be there for them if you need it. It also helps create amazing memories that will last a lifetime!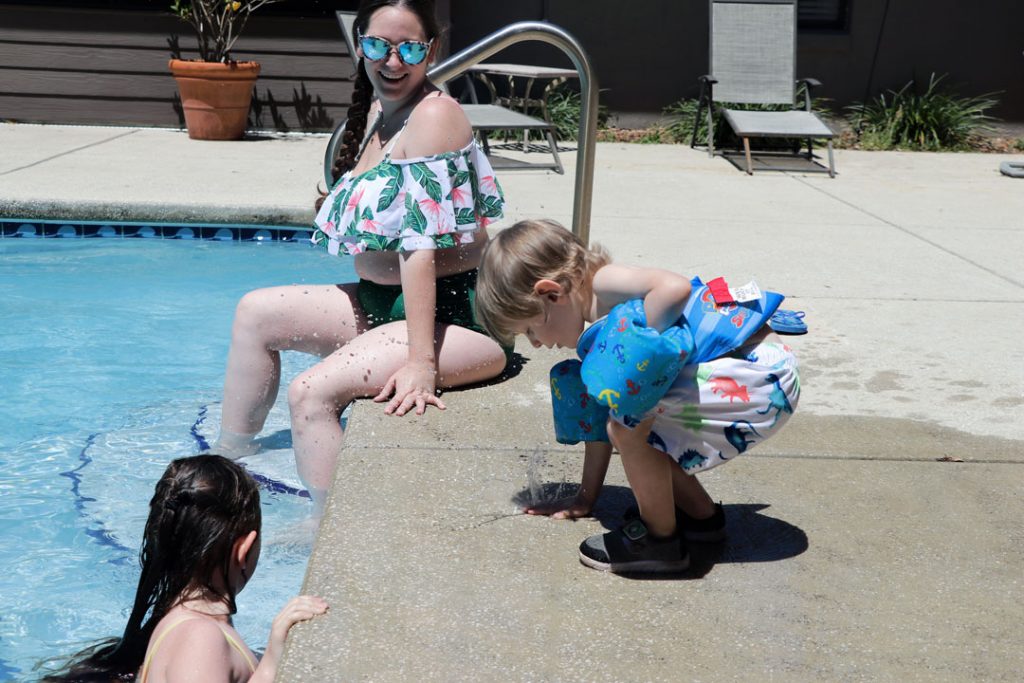 Learn Life Saving Water Skills
We are the first line of defense. While you may be an excellent swimmer… Do you know anything about CPR? Probably not, and that is okay. I highly encourage all parents to take a CPR class. Look in your local area for classes to take. Often these will not only teach CPR but also different signs to look for for things like drowning, dry drowning and more. Being your own child's "first responder" could mean the difference in a life or death situation.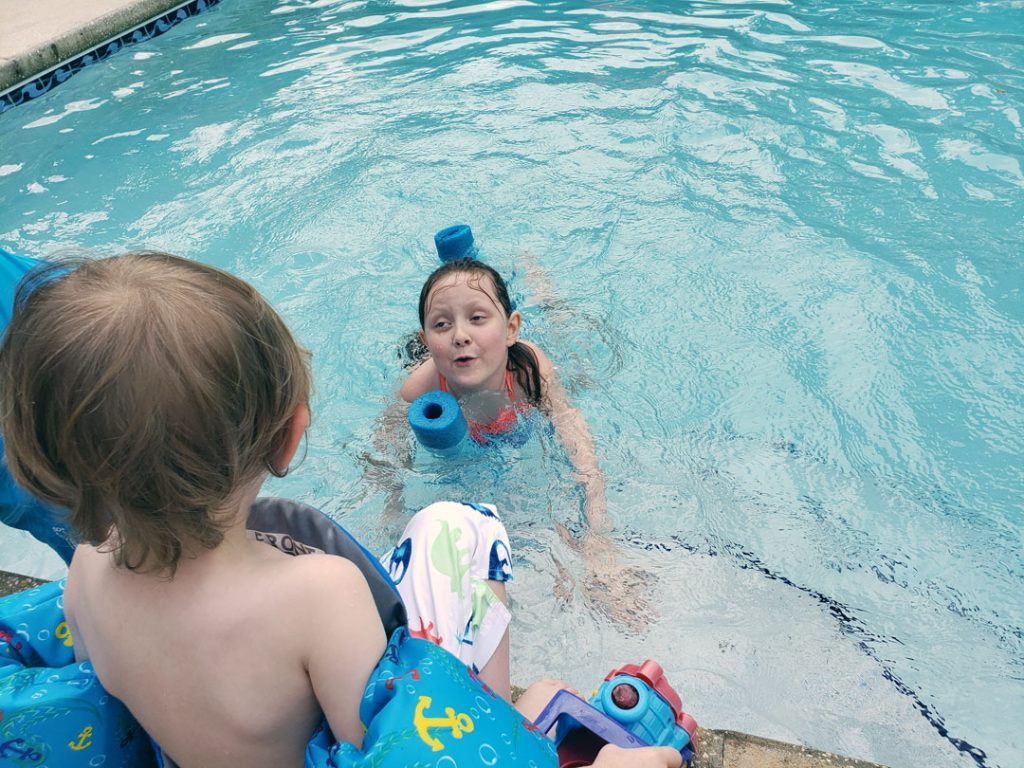 These Toddler Swim Safety Tips will help you have a safe and fun summer!