Last week I shared with y'all my favorite recipe for Red Lobster-inspired coconut shrimp. Today I want to share with you the perfect accompaniment to that dish! When you go out and order coconut shrimp from the Red Lobster menu, you get this delicious Pina Colada shrimp sauce with it. So, I decided to try my hand at making this at home. Even though I wasn't totally sure what I was doing at first, this sauce turned out delicious and it was so easy to make!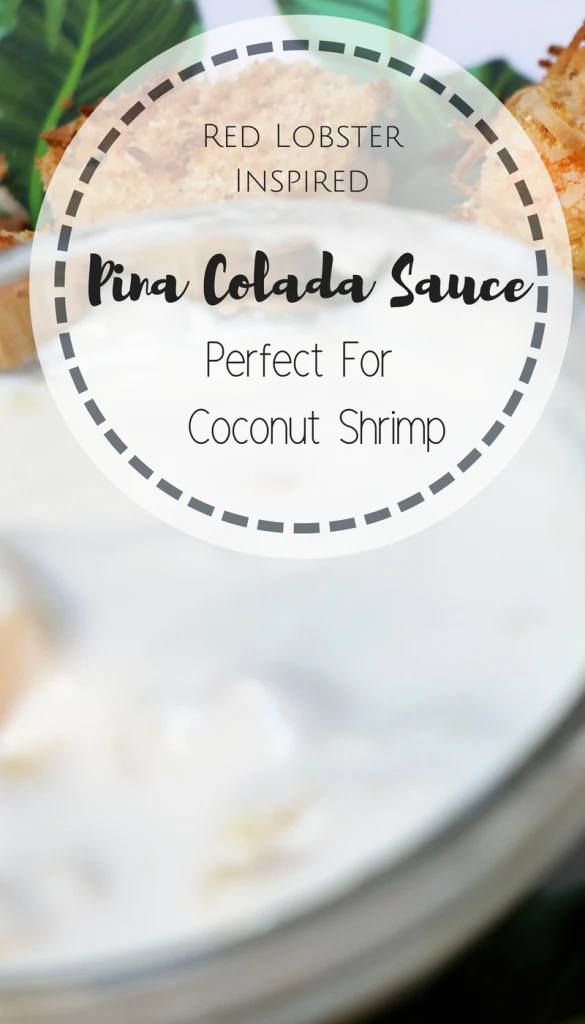 Coconut Shrimp Sauce (Red Lobster Inspired)
Before we go into how to make this recipe, I just wanted to share that I feel a little silly even calling it a recipe. It literally takes three simple ingredients. Yea, that is it! Just three ingredients and you are on your way to a delicious pina colada shrimp sauce to go with your coconut shrimp! I think this would be perfect with a number of different meals! Any seafood would go perfectly with this sauce! I think next time I make it, I want to do an almond crusted tilapia or something similar. Honestly, my daughter tried to eat this just on its own with a spoon.. so I would say it is totally kid approved!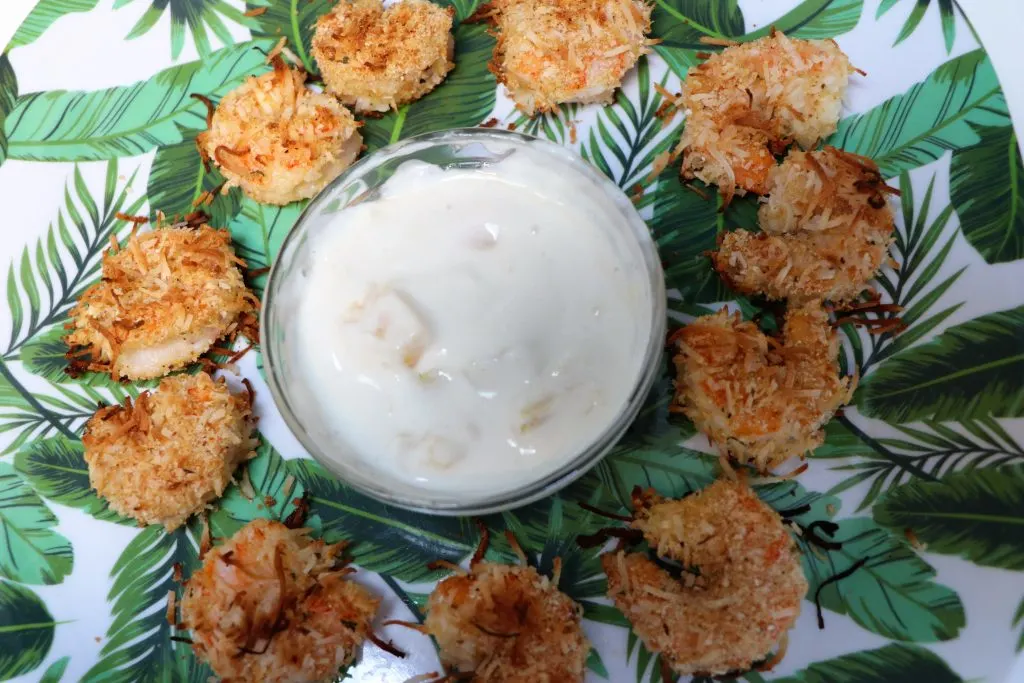 Three Ingredient Pina Colada Shrimp Sauce
When you go to the grocery store, you will only need to pick up three things to replicate this sauce.
Crushed Pineapple
Vanilla Greek Yogurt
Non-alcoholic Pina Colada Mix
That is it! See, I told you it was going to be easy!
Make The Coconut Shrimp Sauce
When your coconut shrimp is cooking, or whatever other dish you are making, you can prep your copy cat pina colada shrimp sauce. Now, I eyeballed the ingredients, because honestly, I am not the biggest fan of exact measurements.
You will need equal parts of the yogurt and pina colada mix. Then you will add in 1/4 that amount of the (drained) crushed pineapple. I did about 1 cup of the mix and yogurt, and a quarter cup of the pineapple.
I have seen that some people have done this copy cat recipe using sour cream as opposed to yogurt. Maybe I will try it that way next time, but I really like the taste and texture the yogurt adds to the sauce. Also, I feel like it may be just a little healthier. My daughter finished off the sauce with a spoon, and I don't think I would have let her do that if we would have used sour cream.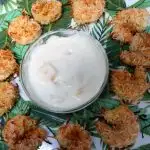 Pina Colada Shrimp Sauce
This Red Lobster Inspired Pina Colada Shrimp Sauce is so easy and super delicious! The perfect copy cat!
Ingredients
1

Cup

Vanilla Greek Yogurt

1

Cup

Non-Alcoholic Pina Colada Mix

1/4

Cup

Drained Crushed Pineapple
Instructions
Mix together the Yogurt and Pina Colada Mix.

Fold In drained Pineapple

Refrigerate until you are ready to eat!
This copy cat Pina Colada sauce was so delicious, easy, and fun to make! I love going out to eat, but even more so, I love trying to make copy cat recipes at home for a fraction of the price! If there are any restaurant specialties that you love and want me to try making, let me know in the comments below! You may even see them pop up on a post or in a video in the near future!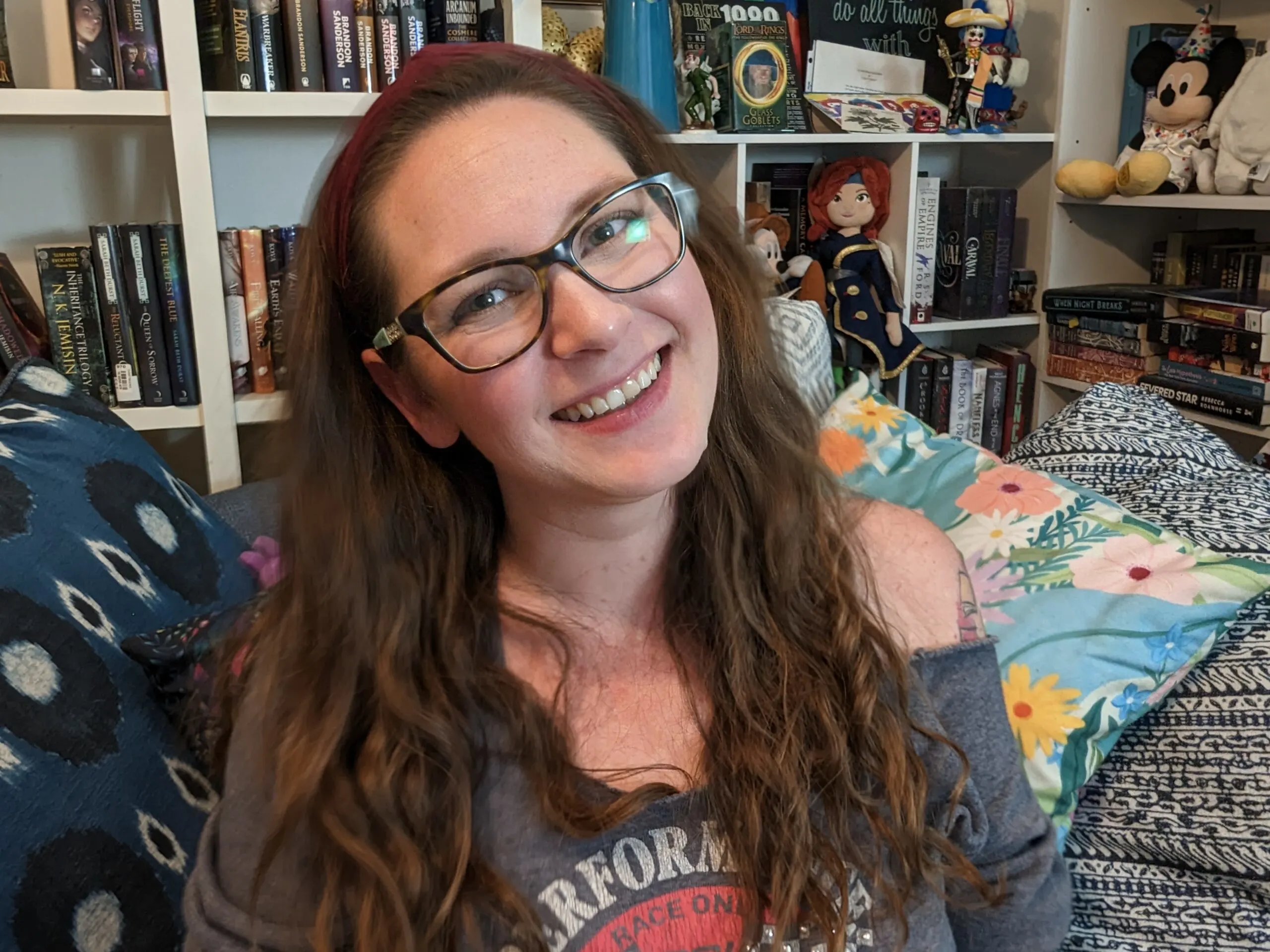 Jessi is the creative mind behind The Coffee Mom, a popular blog that combines parenting advice, travel tips, and a love for all things Disney. As a trusted Disney influencer and passionate storyteller, Jessi's authentic insights and relatable content resonate with readers worldwide.