Pancakes are the perfect breakfast to just toss in a toaster and go! These easy make-ahead freezer pancakes are light and fluffy, you can use whatever extras you want, and they freeze & reheat perfectly! Great grab-and-go breakfast option to make ahead of time that is much cheaper ( and better) than store-bought frozen pancakes!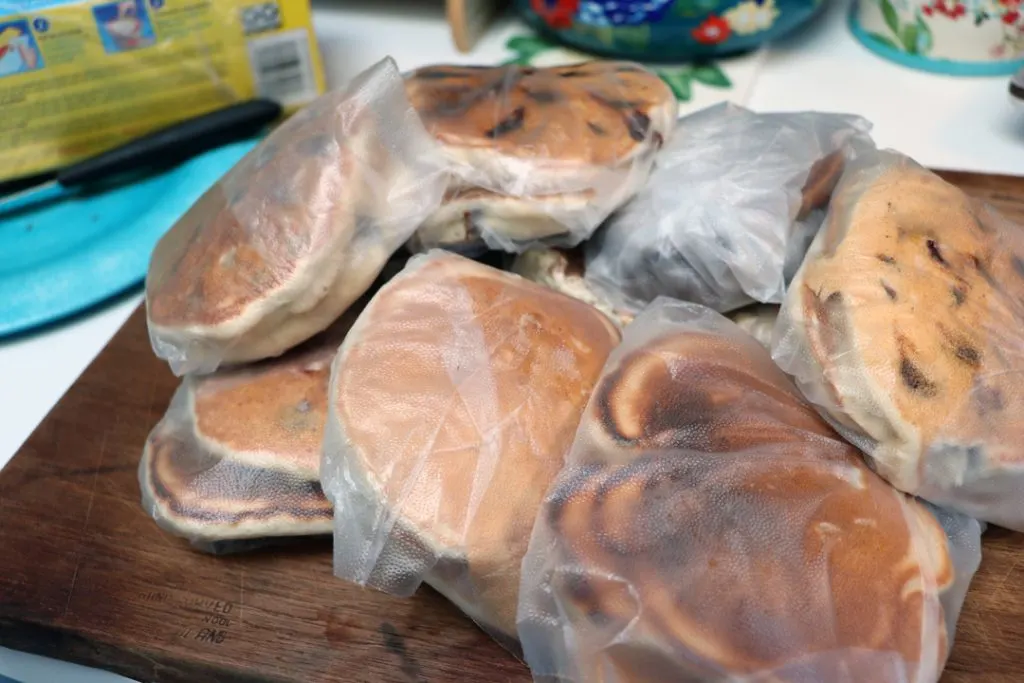 Breakfast is the most important meal of the day, but it is also the most rushed. Trying to grab something quick and run out the door seems to be the norm.
I know I don't have time to cook a full breakfast before work and school every morning, most people don't… But boxed cereals and pop tarts shouldn't be the only quick go-to either!
Meal prepping for breakfast has become my lifeline! It lets me have something super simple and quick, which is also homemade and better for the kids and me than sugary cereal.
My go-to meal prep breakfast for myself is usually a breakfast burrito, but for my kids, I like to make a huge batch of pancakes, freeze them, and just pop them in the toaster in the mornings.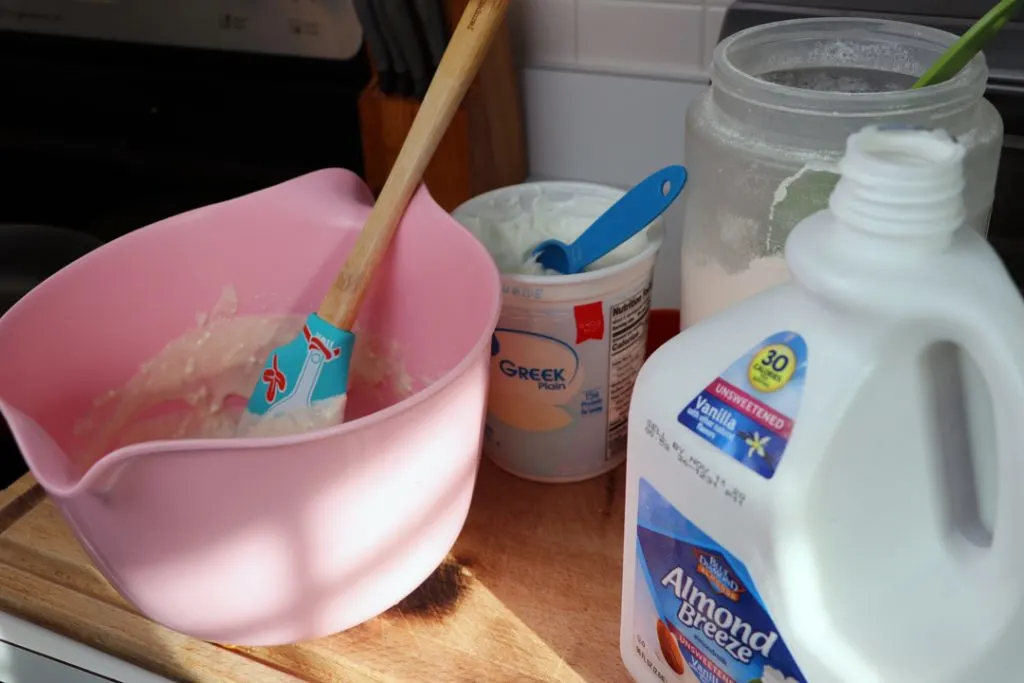 How to Make Pancakes to Freeze and Reheat
Pancakes are super easy to make and freeze really well. For my meal prep pancakes, I did go with a boxed pancake mix. It is one I already had on hand and needed to use up before I buy or make anything else.
What I did not do though, is go by the back of the box directions. I used my generic boxed pancake mix and used about 1 part mix, 1 part almond milk, and 1 tablespoon Greek Yogurt. This was a ratio that I eyeballed. For every one cup of dry batter, I used a little under a cup of almond milk. My goal was to have my batter not to thin but not super thick either.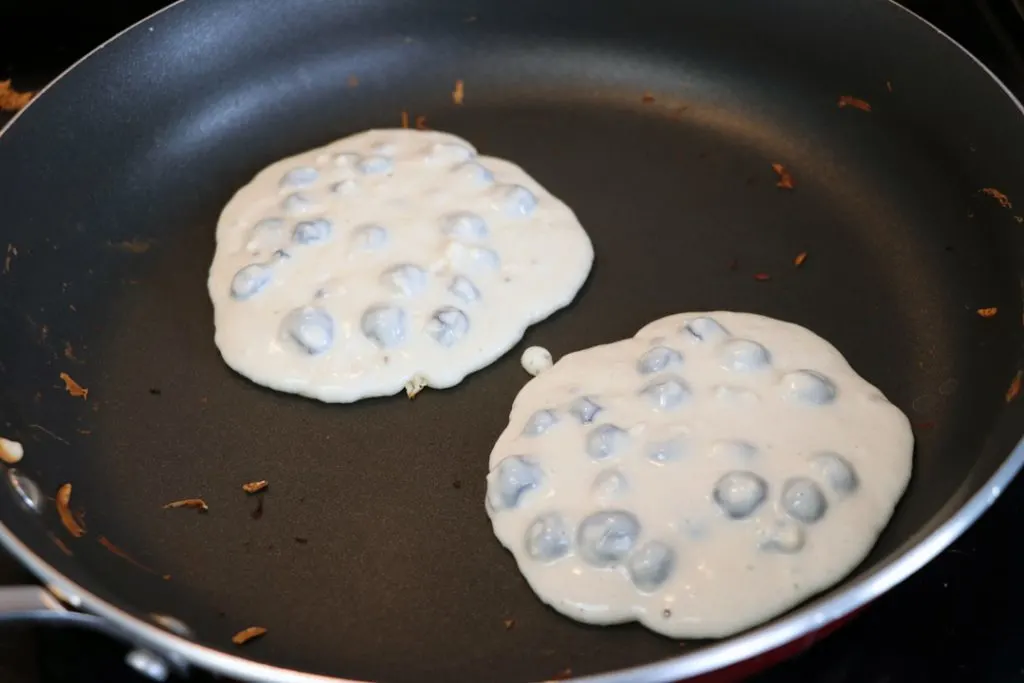 The beauty of this is that you can make the pancakes any way you want! Use any pancake recipe that you prefer! Need gluten-free pancakes? No problem!
Want them to be protein-packed pancakes? You got it!
Do the kids want chocolate chips in their pancakes? Perfect! We even made some with pineapple juice and chunks!
How to Cook Pancakes to Freeze
When you are making pancakes to freeze and eat later, there are a few things you want to keep in mind.
First and foremost, you will want to cook your pancake MOST of the way… Not all of the way. This will make sure your pancake is perfect when you reheat it at a later date.
Pro Tip: You will know when your pancake is ready to flip when you start to see air bubbles forming in the batter.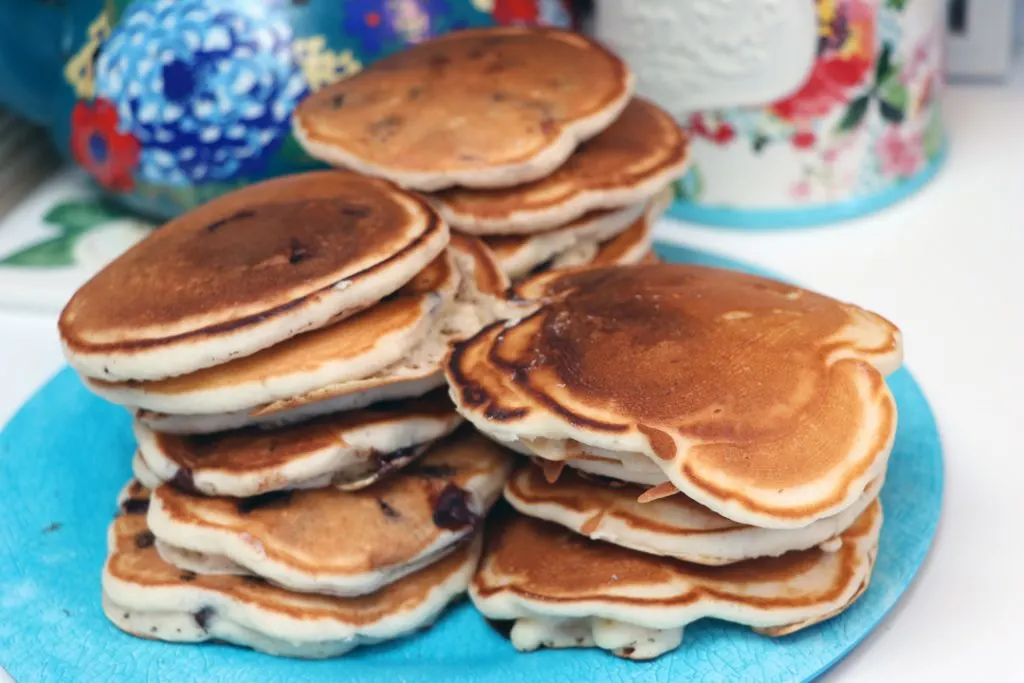 Before you wrap up your pancakes to freeze, make sure they cool all the way. Really, it is just easier to freeze when they are fully cooled down!
Once your make-ahead pancakes are fully cooled down, you can wrap them up for the freezer.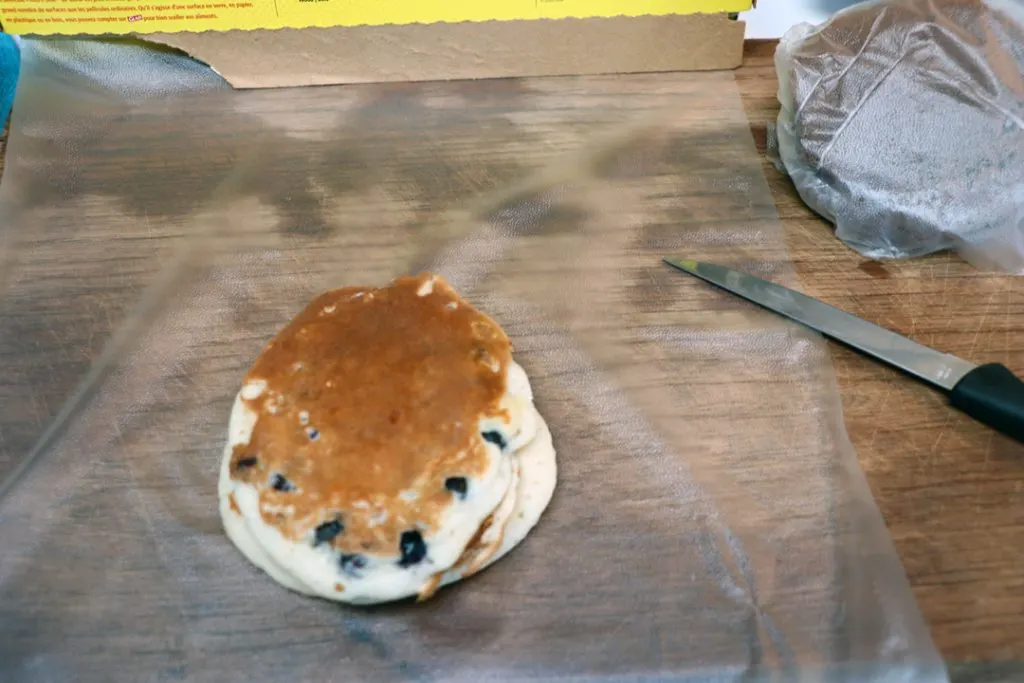 I wrapped my freezer pancakes two at a time in cling wrap, but I wouldn't recommend it.
When I went to reheat my pancakes, I noticed that they were frozen together and one or two of them broke apart when I tried to separate them to put in the toaster.
So I really recommend when you wrap them, to wrap each pancake individually so you can avoid this issue that I had!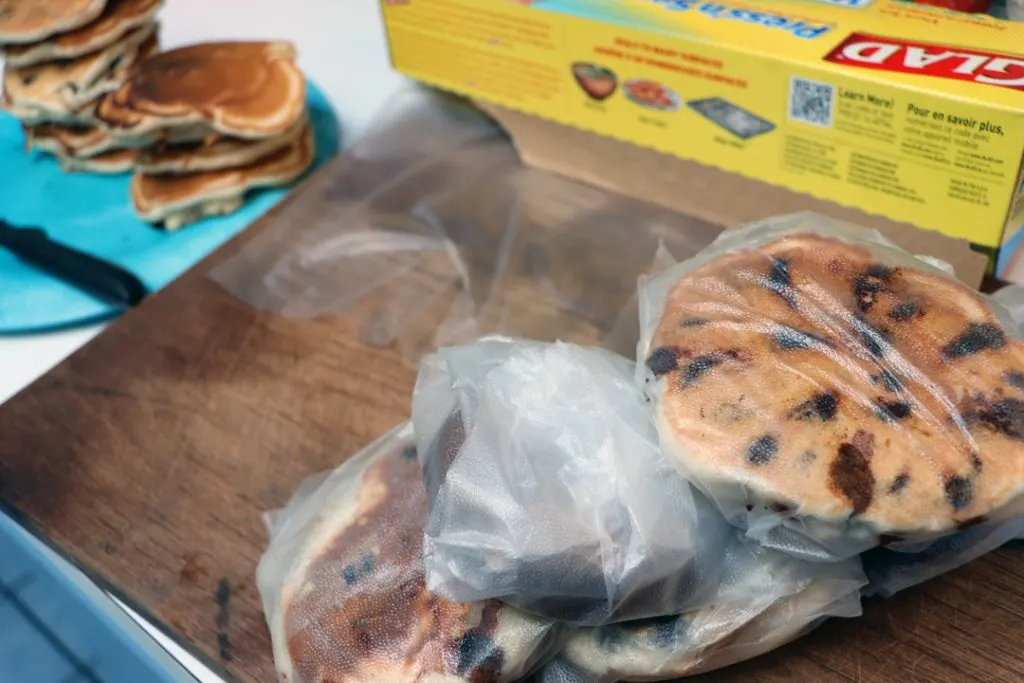 Reheating Freezer Pancakes
When it comes time to reheat your pancakes, you can take them directly out of the freezer. No need to thaw before cooking!
Unwrap your pancake and pop it into the toaster. I use the middle time setting on my toaster. Once it is done, I feel to see if it is done or if I think it needs a little more time. If I think it is still a little cold I put the toaster on the lowest setting and let it cook a little longer.
Then I just serve it to the kids with either some syrup or whipped cream and a side of fruit and we have a perfectly simple make-ahead breakfast!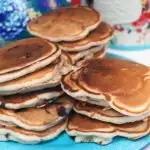 Easy Make-Ahead Freezer Pancakes
easy make-ahead freezer pancakes are light and fluffy, you can use whatever extras you want, and the freeze & reheat perfectly! Great grab and go breakfast option to make ahead of time that is much cheaper ( and better) than store-bought frozen pancakes!
Ingredients
Dry Pancake Mix

Almond Milk

Greek Yogurt

Fruit of Your Choice

optional
Instructions
Pancakes
Combine 1 part dry pancake mix to 1/2 part Almond Milk. ( example, 1 cup Dry Mix to 1/2 cup Almond Milk), and 1 Tbsp Greek Yogurt.

Feel free to add more/less almond milk as desired.

Fold in any additional mix-ins. I used blueberries and chocolate chips!

Use about 1/4 cup or an ice cream scoop to put the batter onto a hot pan

When you see air bubble form on top, it is time to flip ( about 2 minutes)

Flip and cook until ALMOST done ( about 2 more minutes). You want the pancakes to be not quite cooked all the way to avoid overcooking when reheating.

Set aside and allow to cool.
How to Freeze Pancakes
Wait for pancakes to fully cool.

Wrap pancakes individually with clind wrap

Freeze until ready to eat
How to Reheat Frozen Pancakes
Remove pancakes from the freezer when ready to cook, no need to thaw.

Unwrap and reheat in a toaster. I set mine to the middle setting.

Check to see if it still feels somewhat cold, if so, put back in the toaster in one minute increments until it is done.
Pin for Later
Want to make these freezer pancakes over and over again? Make sure you pin this photo so you have it anytime you want to reference back!