The month of the casserole continues with one of my favorites, the Sweet Potato Casserole. I have a deep love for Thanksgiving food, and sweet potato casserole ranks near the top for me. There is nothing better than a sweet and gooey marshmallow topped casserole paired with a juicy turkey. The best part? This is super easy to make! So if you want to make this for your Thanksgiving dinner this year, you can grab the recipe below!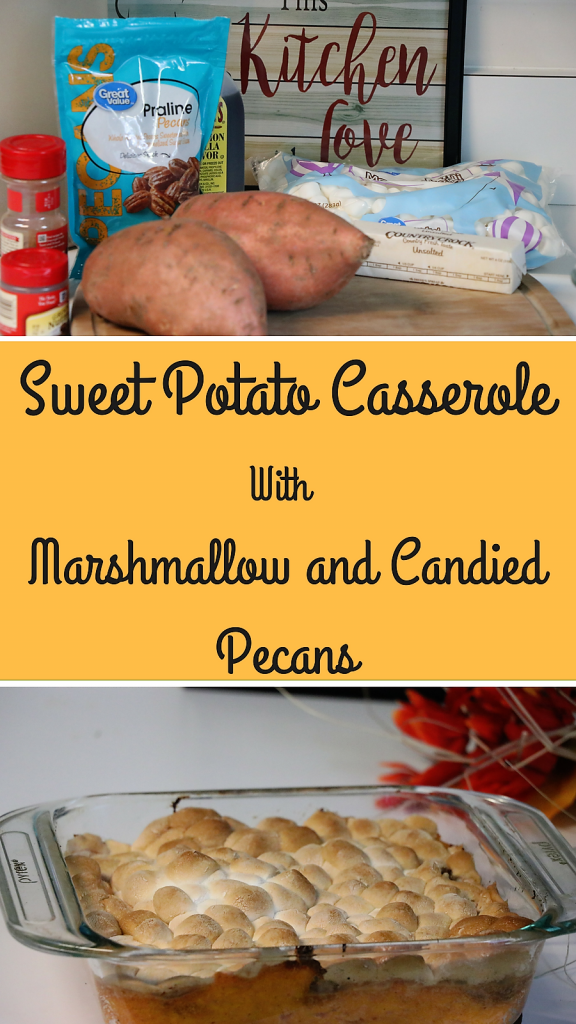 Sweet Potato Casserole
Ah the sweet potato casserole. So sweet and gooey and just perfect for any Thanksgiving dinner. This is such an easy casserole to make, and pairs well with other Thanksgiving staples like your Green Bean casserole.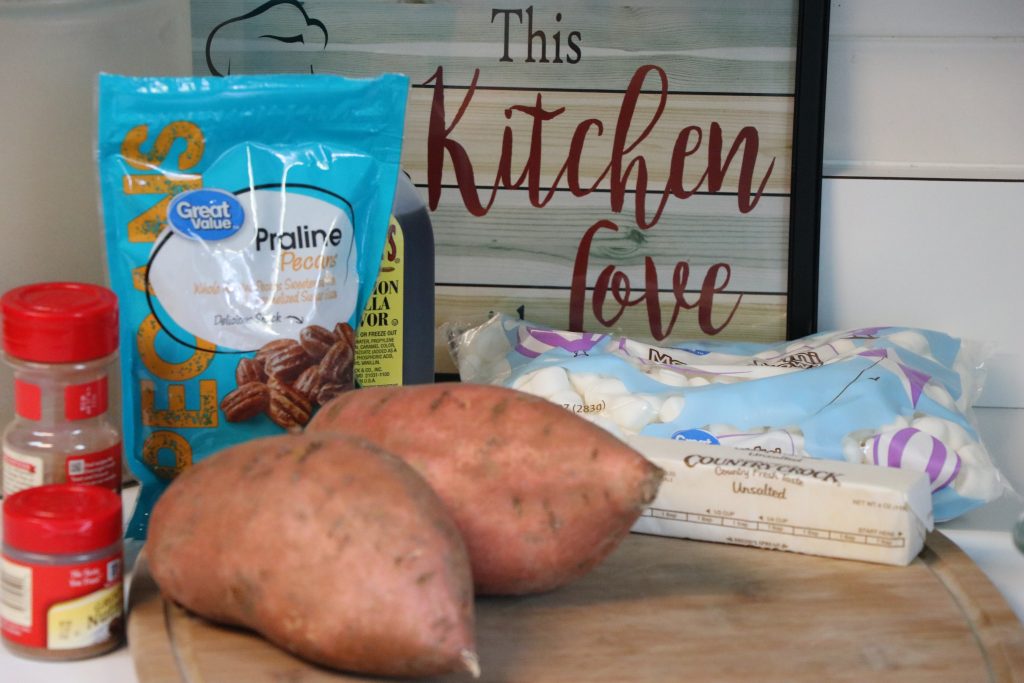 For this recipe, a little really does go a long way. I seriously only used two sweet potatoes and made a full 8 by 8 Pyrex pan. You can easily use more potatoes to feed more people, but two was enough for about 4-6 servings.
First thing you are going to want to do is boil the sweet potatoes. I cut mine up in big chunks, leaving the skin on. The skin is a pain to take off raw but falls right off after being boiled. Let them boil about 15 minutes, until they are soft, and you are ready to move on.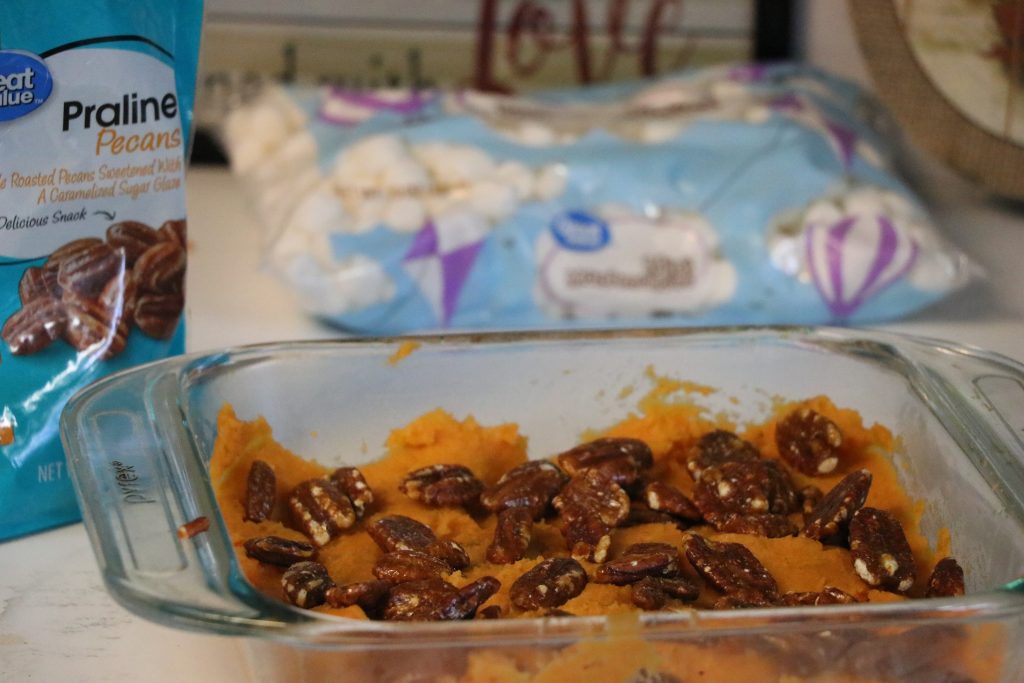 Once they are nice and soft and the skin is removed, put the sweet potatoes into a mixing bowl. Then add butter, brown sugar, cinnamon, nutmeg, vanilla and about 1/3 of your candied pecans. Mash with a potato masher, I got mine from the Dollar Tree, but you can use a fork if you don't have one.
Once it is mashed, add to a baking pan and top with the rest of your candied pecans.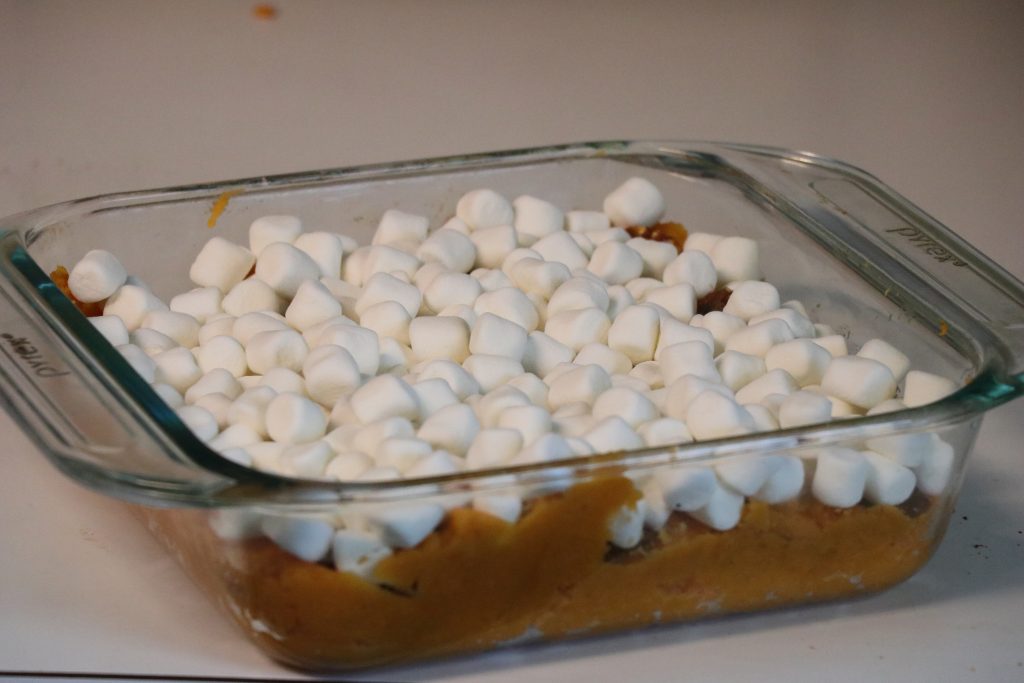 Lastly, you are going to want to top it all off with a generous helping of mini marshmallows! Bake this guy at 350 for about 20 minutes or until the marshmallows are golden and gooey.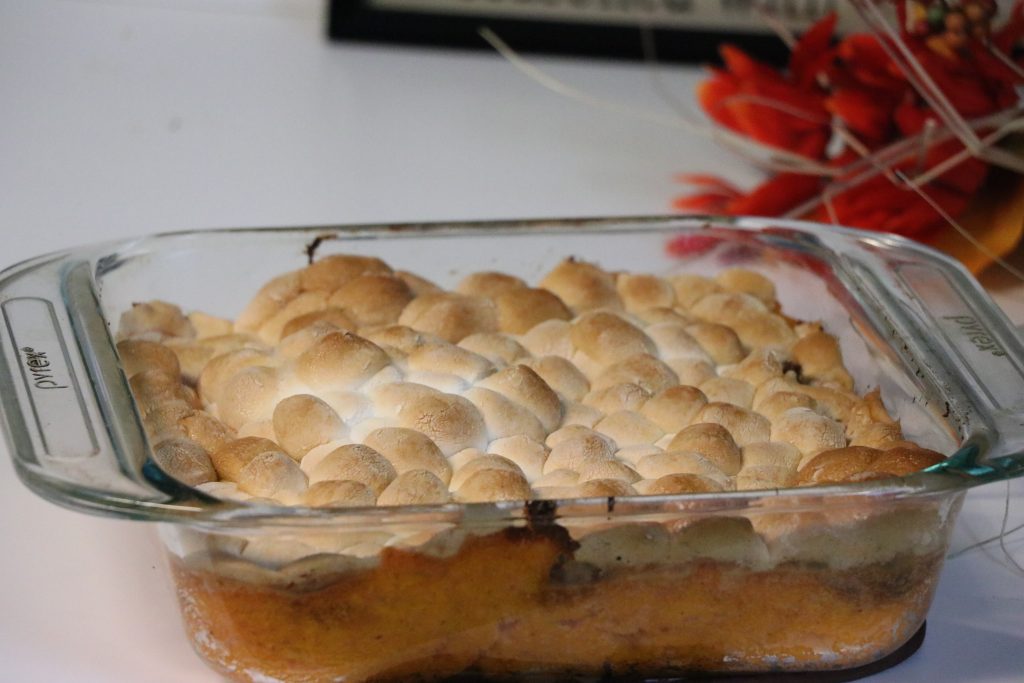 That is it! Once it comes out you are ready to enjoy this baby with the rest of your thanksgiving deliciousness.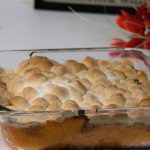 Sweet Potato Casserole

This Thanksgiving classic is just like mom used to make. A sweet potato casserole with candies pecans and gooey marshmallows.
Ingredients
2

Large

Sweet Potatoes

1

Bag

Mini Marshmallows

1

Bag

Candied Pecans

1

Tbsp

Brown Sugar

1

Tbsp

Vanilla Extract

1/2

Stick

Butter

Cinnamon

To taste

Nutmeg

To taste
Instructions
Cut up sweet potatoes and boil for about 15 minutes.

Remove skin from potatoes and add to a mixing bowl.

Add in your butter, brown sugar and vanilla and mash with a potato masher.

Add in your cinnamon and nutmeg to taste.

Mix in 1/3 of your candied pecans.

Top with the rest of the pecans. Then add marshmallows on top of those.

Bake at 350 for 15-20 minutes or until marshmallows are brown and gooey.