As y'all already know, I am not by any means a crafty mom. In my last Dollar Tree crafting post, I talk about how my daughter loves to craft and create, but I am not the Pinterest perfect mom. I had such amazing feedback on that post from like-minded mothers who are also not crafty and not Pinterest perfect. This inspired me to get more crafty and do more fun projects with my daughter! Because despite how perfect, or not so perfect, the result may be, we have fun creating. She does not care what the result looks like, because to her, it is perfectly beautiful! Our next endeavor was this easy kid's Dollar Tree clothespin butterfly. Not only was it SUPER easy, but it was fun (and inexpensive too). Even the least crafty mom can do this one with ease!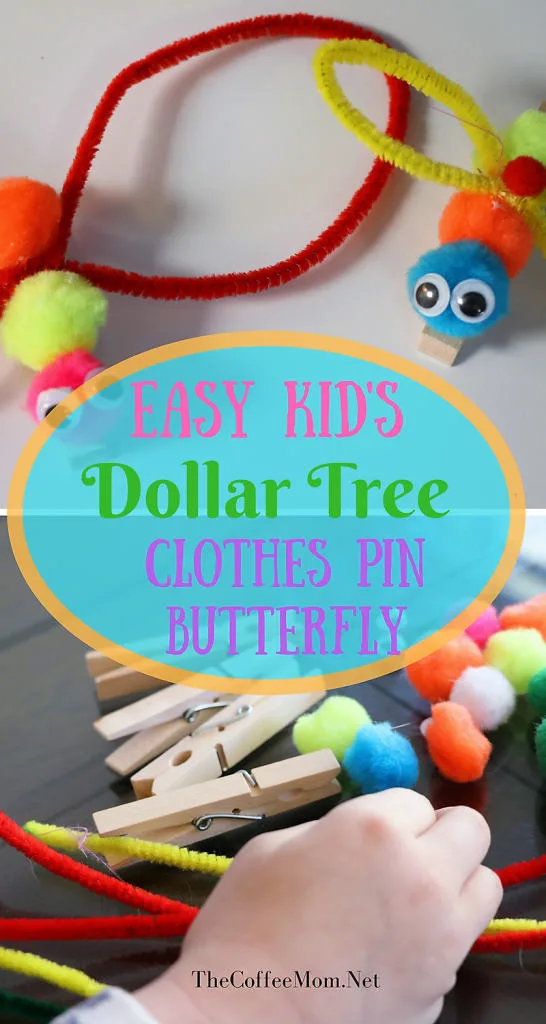 *This post may contain affiliate links*
Easy Kid's Dollar Tree Clothespin Butterfly
This clothes pin butterfly is probably one of the easiest crafts I have done with my daughter yet! It takes very few supplies, and the mess is extremely minimal! TheDollar Tree picture frame we made last week was fun and easy too, but I think this one may be even more so!
Even if you don't have a closet filled with crafting supplies ( I know I don't!) this little butterfly is totally doable! For about $5 you can get everything you need from your localDollar Tree and get to making crafty memories with your little one!
What You Need
This is a really minimal list with only 5 supplies needed!
Clothespins
Puff Balls
Googly Eyes
Pipe Cleaners
Glue
There you have it! The whole list of items to create this little butterfly! Honestly, you don't even really need the pipe cleaners. You can make your butterfly into a caterpillar instead! Leave out the pipe cleaner wings and then you only need 4 items to create your craft!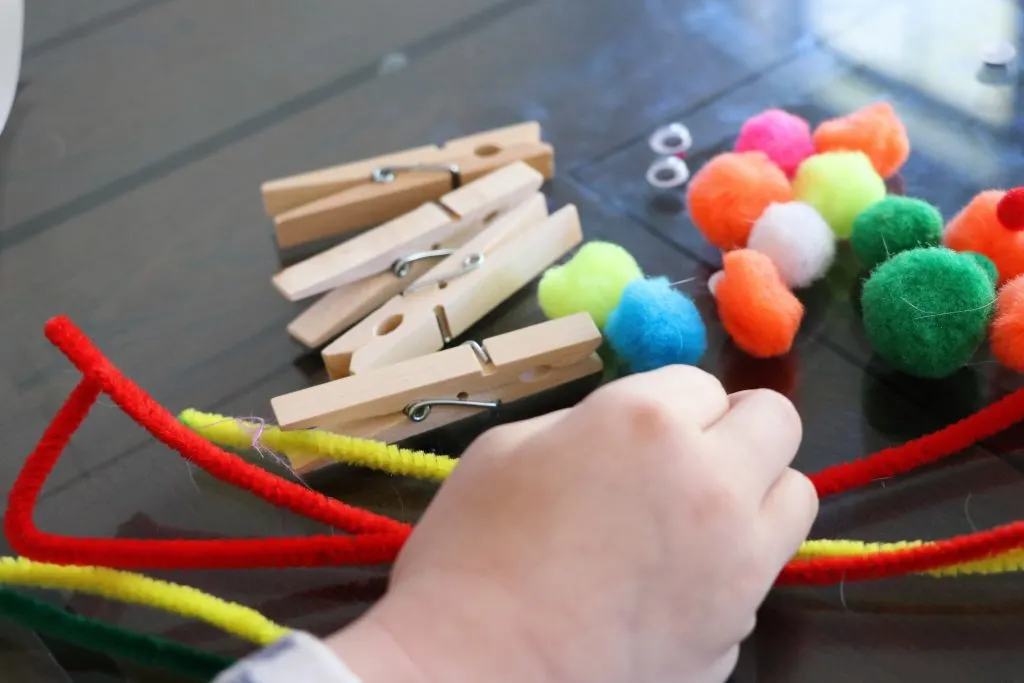 What To Do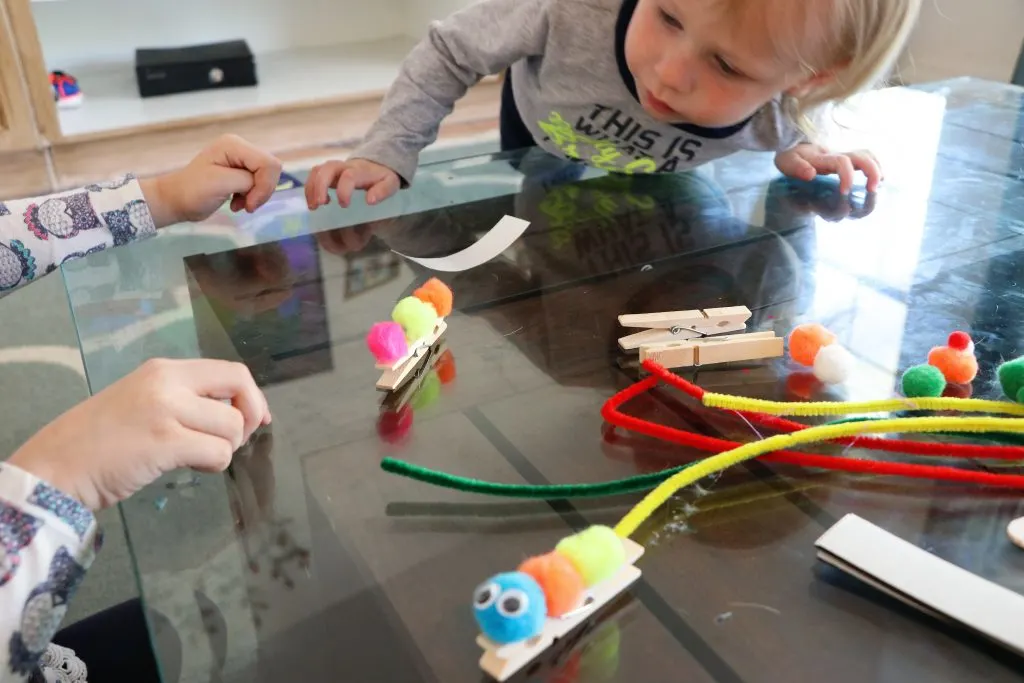 It should only take you a few minutes to make your butterfly, but the kids love making them! First, you need to get out 3-4 of the puff balls per butterfly. The number depends on how big your pom poms are. We used 3 for ours.
Next, all you have to do id put glue along the top of the clothespin and let your little one place the puff balls right on top!
Once the puff balls are in place, just put two spots of glue on the front puff ball where you want the eyes to go. Your little one can place the eyes on top of the glue!
Finally, you will want to craft the wings. We did this using a pipe cleaner. You only need 1 per butterfly. Just create two loops and twist the middle together. Then glue it down in the middle of your butterfly!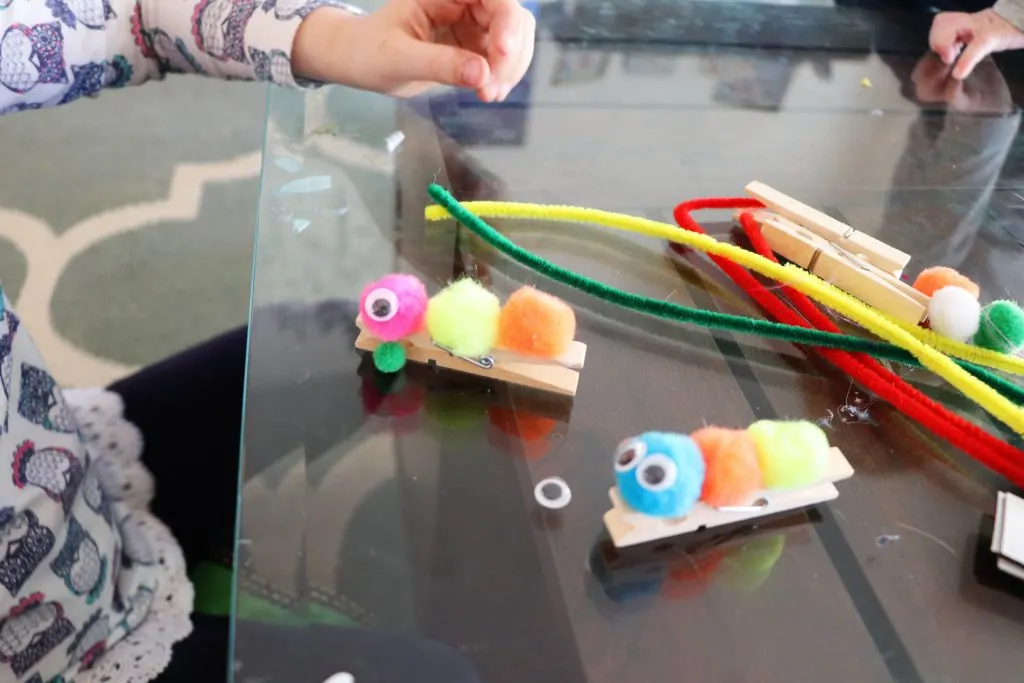 Let her dry and it is done! See, wasn't that super simple?