Enjoy this creamy salmon and shrimp with roasted tomatoes and Italian seasoning without the carbs! This low-carb/keto-friendly seafood dish is delicious, easy to make, and will have the whole family enjoying dinner together.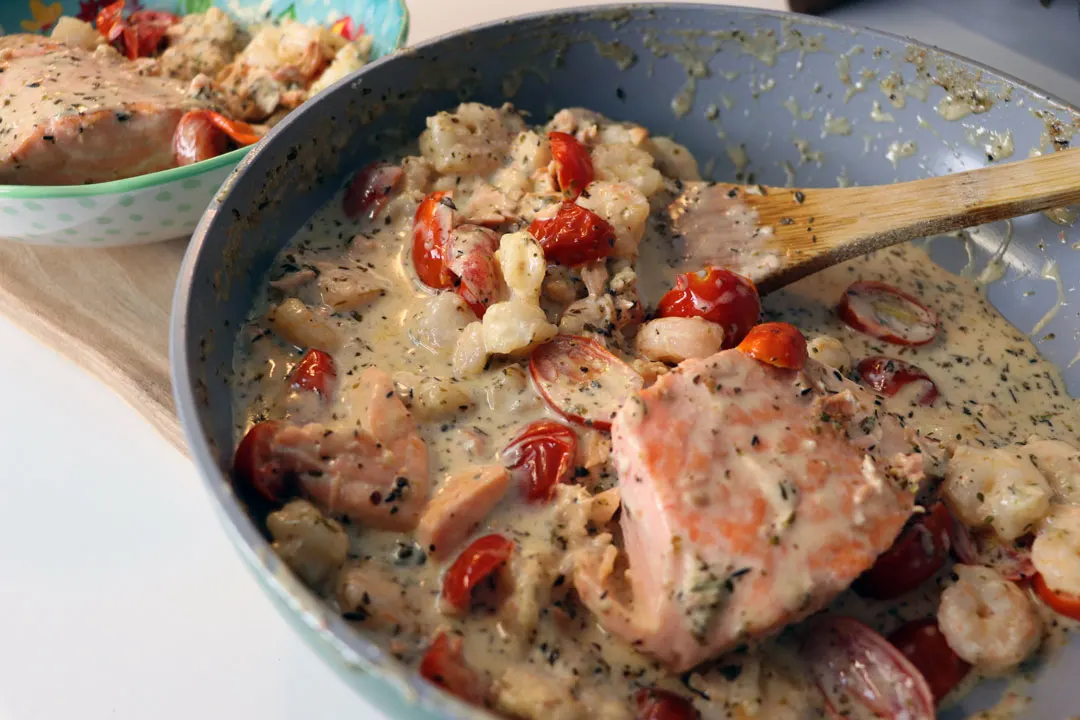 Healthy, creamy, and simply delicious! This is probably my favorite new way to cook shrimp and salmon. I love a quick, family-friendly recipe. On weeknights especially I need something I can cook fast and feed my starving family.
I don't just want quick and simple dinners though. I also need a healthy dinner to feed my family. We can all too easily fall into the trap of frozen meals and take out. Which, some nights I absolutely love. I am a sucker for a frozen dinner, but most nights I want to cook something fresh and healthy for my family.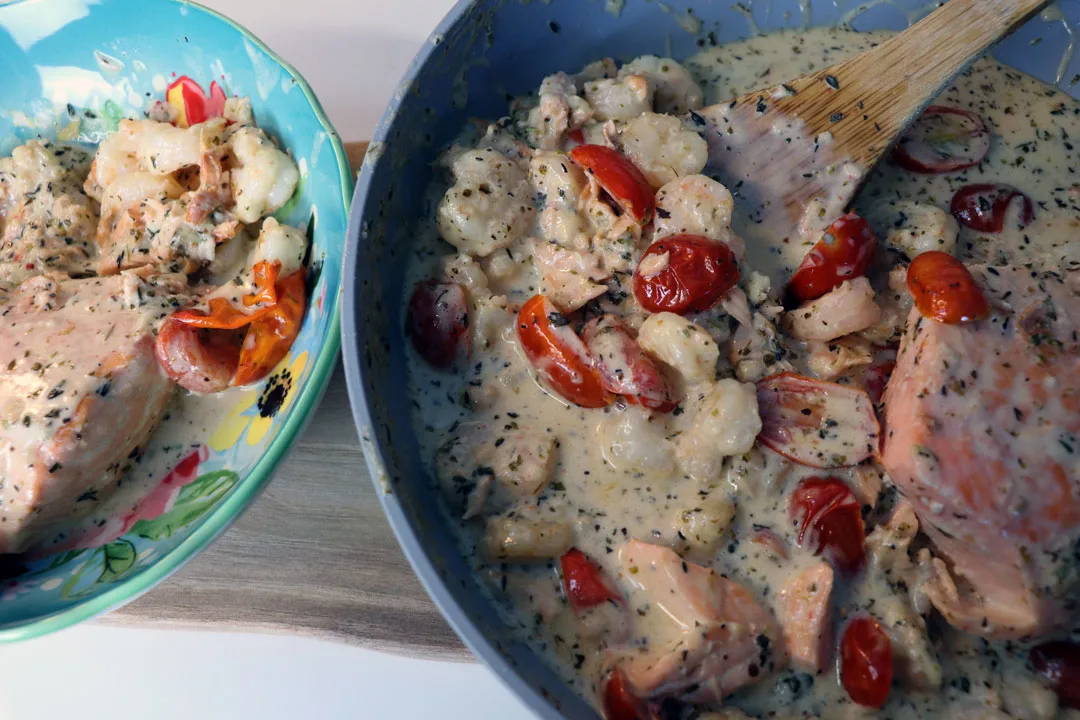 Creamy Salmon and Shrimp
In my quest to make simple and healthy meals for my family, I ended up discovering a new favorite! Seafood has always been a favorite in my house. We love shrimp, salmon, and all manner of delicious seafood dishes. I mean, you can't be a Floridian without loving seafood right?
This creamy salmon and shrimp is perfection. Only took less than 30 minutes to make, and it is low carb and keto-friendly!
Tips for Pan Frying Salmon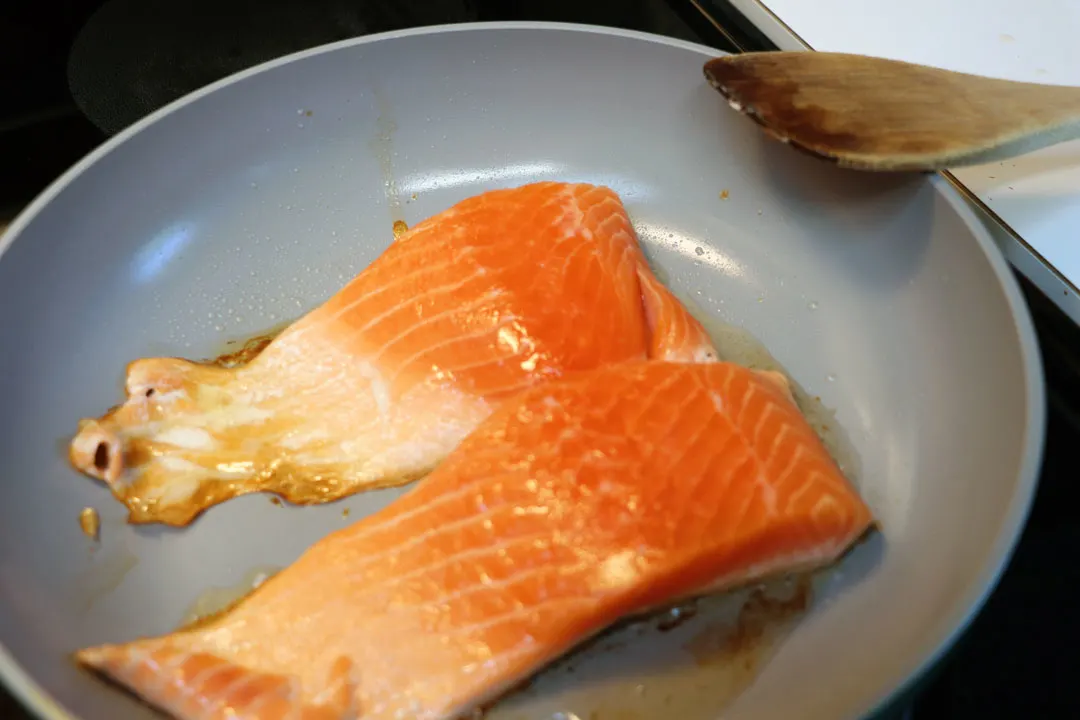 This recipe calls for pan-searing your salmon. As someone who almost always bakes my salmon, I honestly wasn't thrilled about trying something new.
I always get nervous that I will overcook or undercook or just mess something up when I try a new cooking method. But really, pan-searing salmon was SO simple!
Simply place your salmon, skin side down, on a hot pan and let it cook for about 5-10 minutes. The biggest mistake I see is trying to move the salmon too soon. You want this to cook until the skin releases from the pan and you can turn it without breaking your salmon apart.
Then you flip, cook about 5-10 more minutes until it is flaky and you are done! perfect pan-fried salmon every time! I like to use my Caraway Homes pan because it cooks evenly and NOTHING seems to ever stick to it!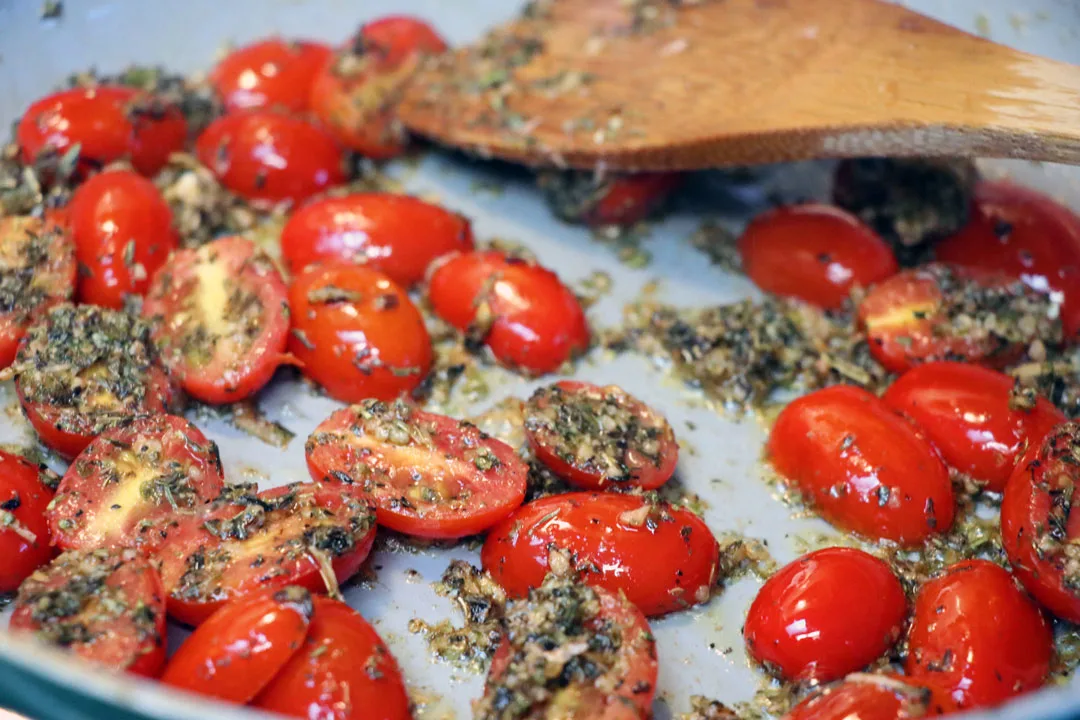 Low Carb, Keto Creamy Salmon Recipe
Whylow carb? Why keto? I know, I eat carbs. I share pasta recipes and love banana bread. But I also go through phases where I cut out carbs and eat keto recipes.
It is all about balance, right? Healthy, intuitive eating. Knowing what my body needs and giving it to it. Right now, that means cutting down on carbs and kicking my body into ketosis.
Ans before you ask, yes, even the kids eat my low-carb meals. There is never any restriction though. As someone who has struggled with disordered eating forever, I make sure I don't talk about "bad foods" or restrict my kids. We just focus on eating healthy and that's it.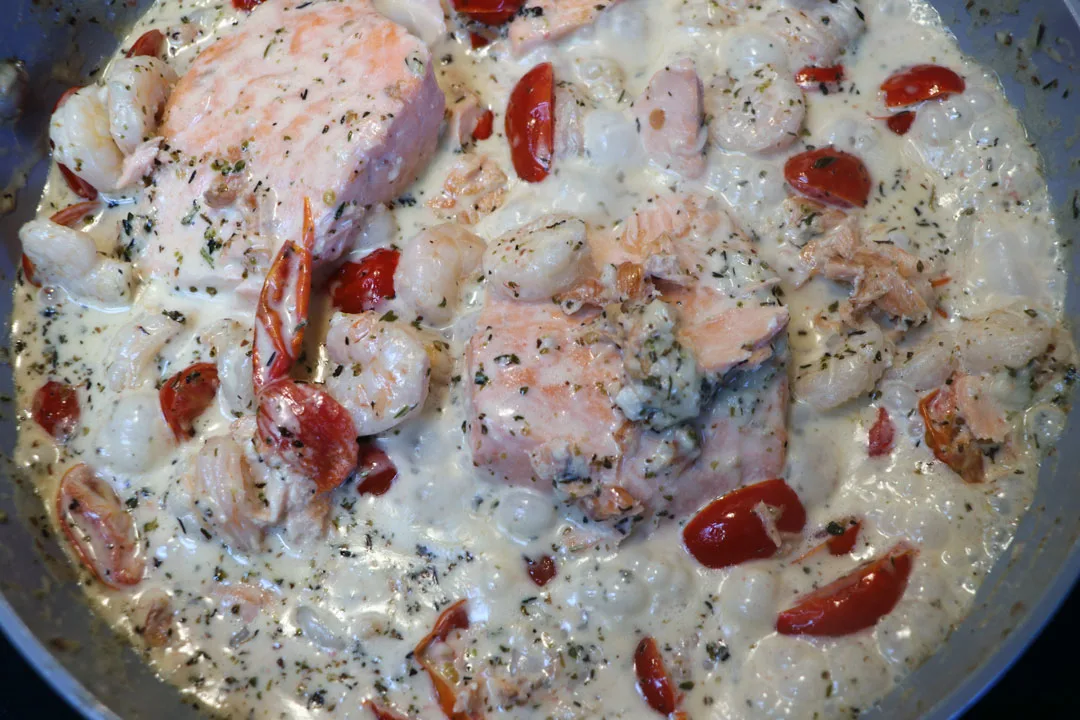 Printable Recipe
Make sure you grab the full-printable recipe here.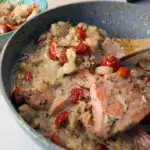 Creamy Salmon and Shrimp
Enjoy this creamy salmon and shrimp with roasted tomatoes and Italian seasoning without the carbs!
Ingredients
Salmon

Shrimp

Cherry Tomatoes

1

tbsp

Italian Seasoning

1

tbsp

Butter

Shredded Parm Cheese

1

cup

Heavy Cream

1

tbsp

Minced Garlic
Instructions
Pan-sear your salmon and shrimp until fully cooked. Remove and set aside.

In the same pan, melt your butter over medium heat. Toss in the minced garlic, halved cherry tomatoes, and italian seasoning. Cook until the tomatoes are soft.

Reduce heat to low and mix in the heavy cream, stirring constantly to avoid scorching. Heat through.

Mix in shredded parm until fully melted.

Add the salmon and shrimp back to the pan. Cover with the sauce and cook about 2-3 minutes, until everything is hot and delicious!
Make sure you check out more family-friendly recipes and tag me on Pinterest or Instagram letting me know what you think of what you tried!
Pin Me for Later
Recreate this creamy salmon and shrimp as often as you want by pinning this recipe to save for later!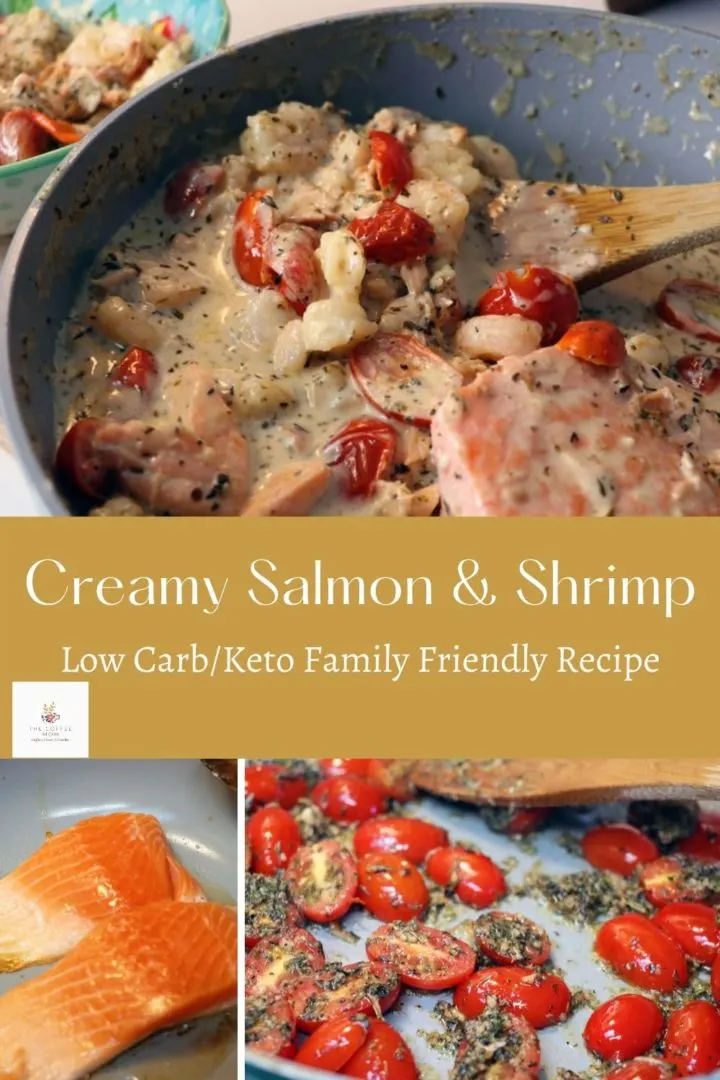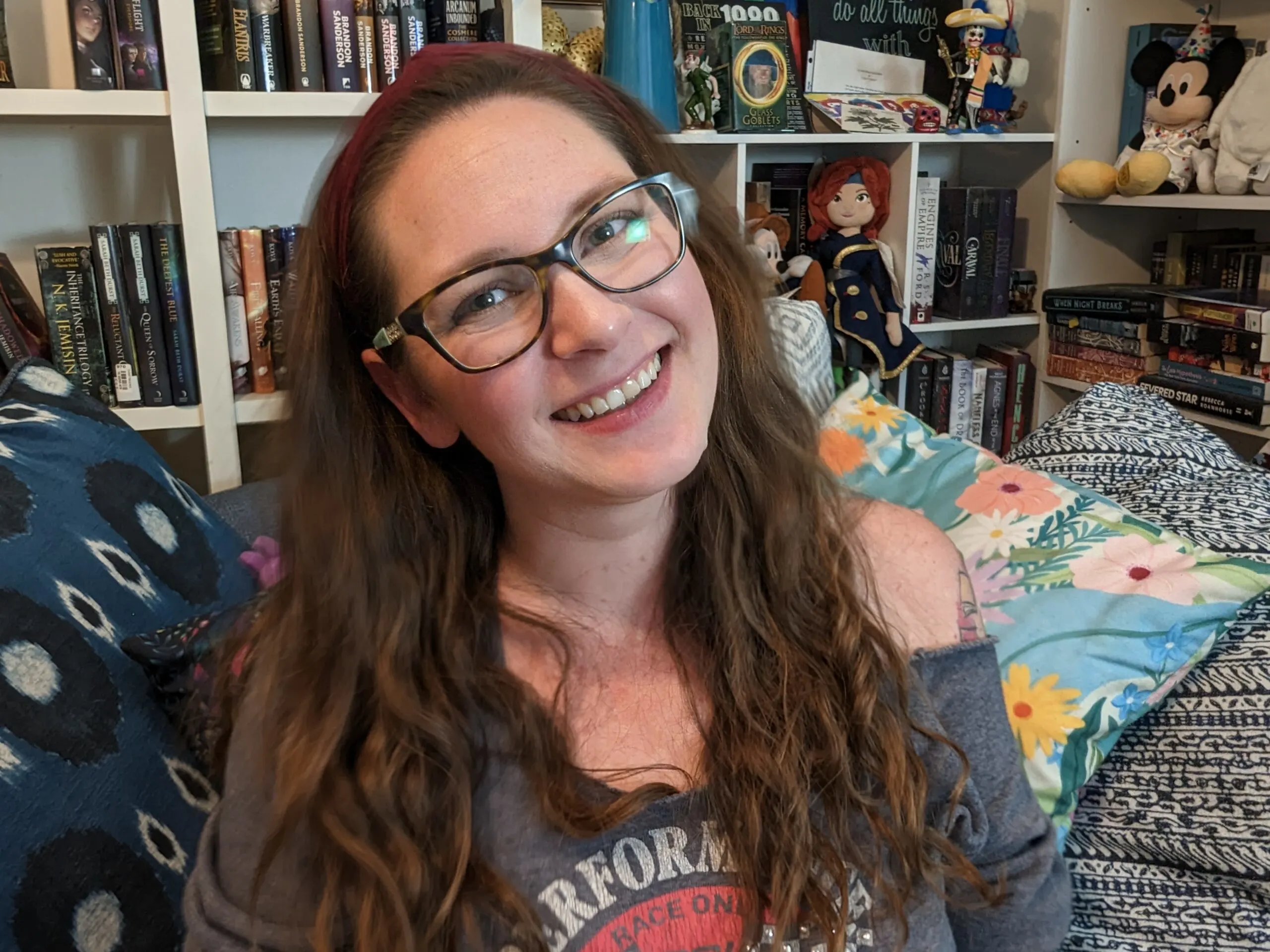 Jessi is the creative mind behind The Coffee Mom, a popular blog that combines parenting advice, travel tips, and a love for all things Disney. As a trusted Disney influencer and passionate storyteller, Jessi's authentic insights and relatable content resonate with readers worldwide.