Does anything go better together than cookies and ice cream? I think not! We love to make cookie ice cream sandwiches with sprinkles as often as possible! These are the perfect kid-friendly dessert that you can get the kids to help you make and then enjoy together as a family!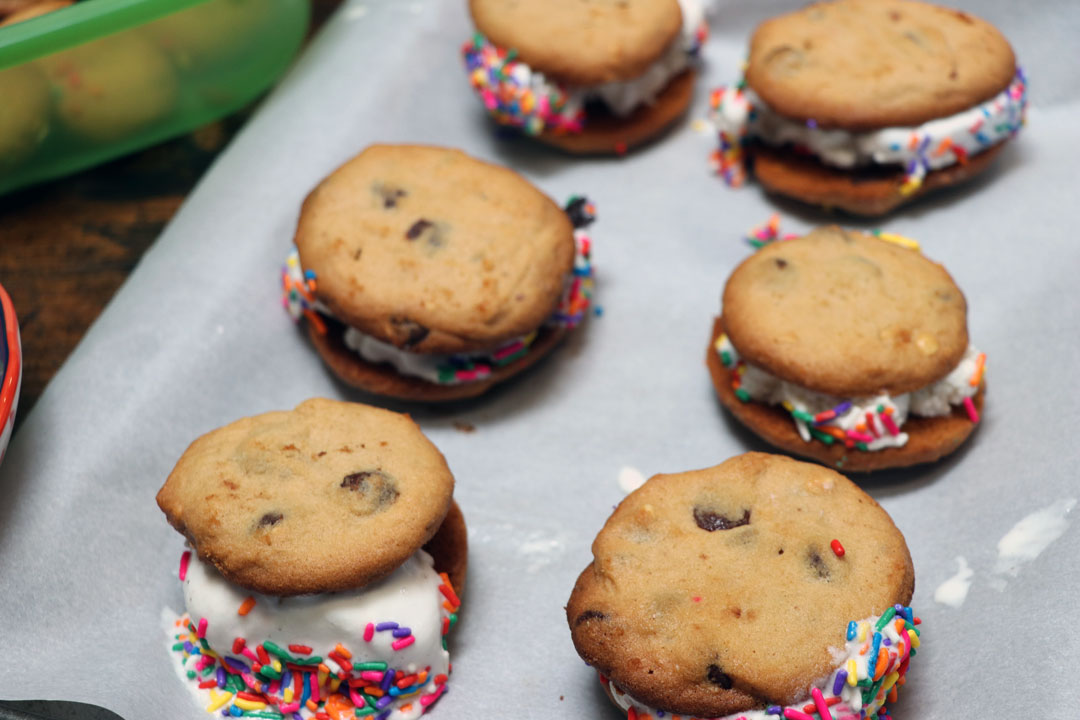 There is nothing sweeter than making desserts at home and getting the kids involved in helping! These ice cream chocolate chip cookie sandwiches are one of my favorite simple desserts to make with my kids.
Not only are they super easy to make, but they are delicious! Honestly, these are almost so easy that I feel silly even sharing a recipe. That being said though, even though this is probably the easiest dessert recipe I have ever shared, it is still one that you will want to remake with your kids again and again!
How to Make Easy Chocolate Chip Ice Cream Sandwiches with Cookies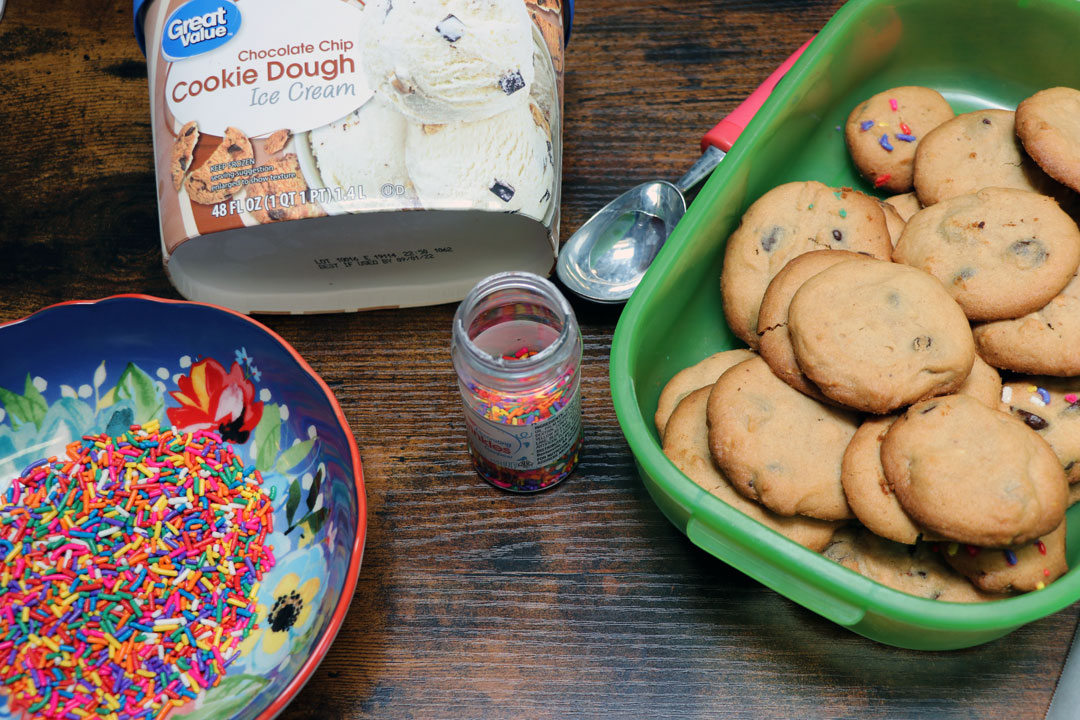 All you need to make these super simple cookie ice cream sandwiches are three little ingredients:
Cookies

Ice Cream

Sprinkles
I said it was easy, and I meant it! These are one of my kids' favorite desserts to make ( and eat).
I ended up using my super simple peanut butter chocolate chip cookies for this recipe, but feel free to use any cookies you prefer. You can make homemade cookies, store-bought dough, or make it even easier with a pack of cookies from the store already baked!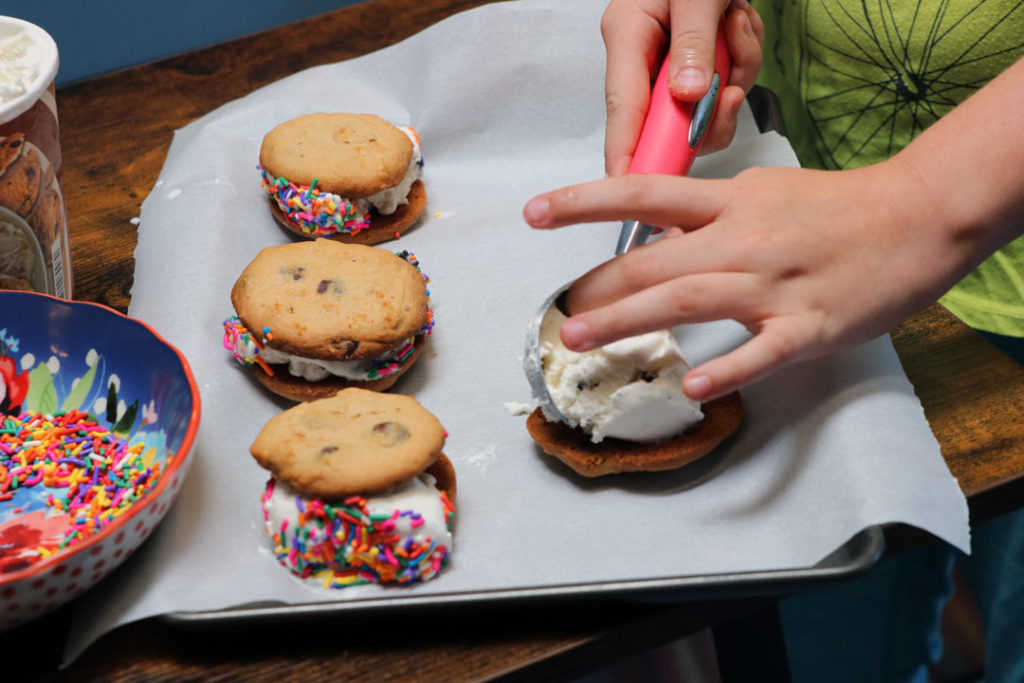 Once you have your cookies, ice cream, and sprinkles, it is time to just build your sandwiches! My kids love this part. They get to get their hands messy and build their own desserts.
I have found that getting the kids involved in the kitchen either with desserts or savory family-friendly meals, really has so many benefits. Kids learn so many things through cooking. They learn math and measurements, time, and well, how to cook! It also makes kids more likely to try new dishes if they made it themselves! Plus, having the kids help in the kitchen is a great way to make memories and have some amazing family time!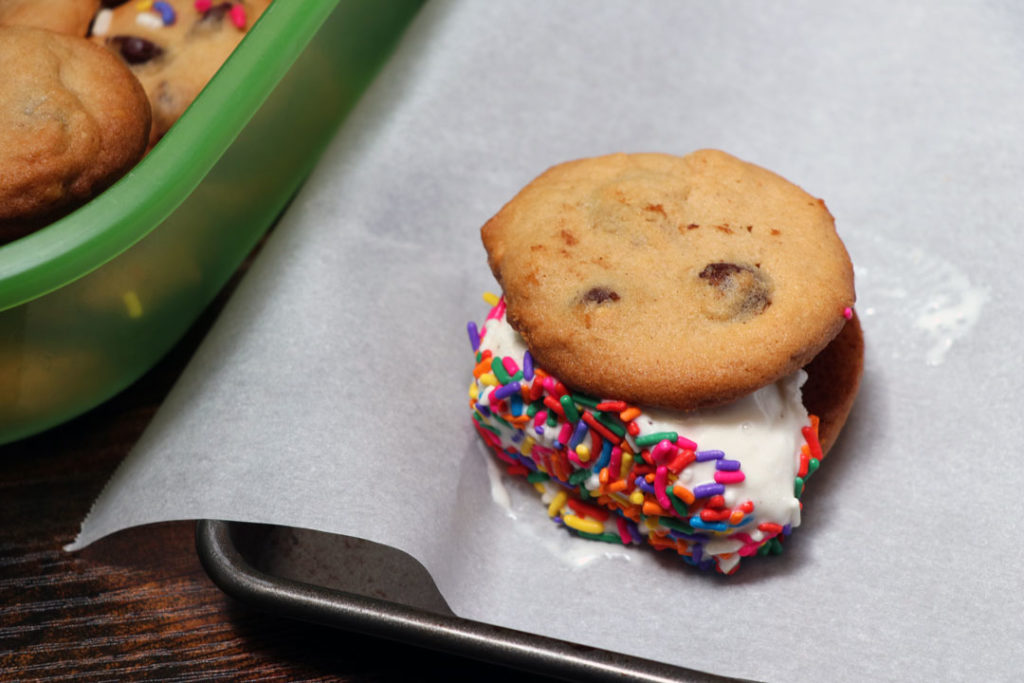 Building Ice Cream Sandwiches with Cookies
To start, lay out a piece of parchment paper on a cookie sheet. Take an ice cream scoop and top one cookie with ice cream.
Place the other cookie on top and squish down! Now comes the fun part, sprinkles!
Have the kids roll the edges of the cookie sandwiches in the sprinkles to totally coat the sides! Now you just pop them in the freezer for about 10 minutes for everything to set and you are good to go with this kid-friendly sweet treat!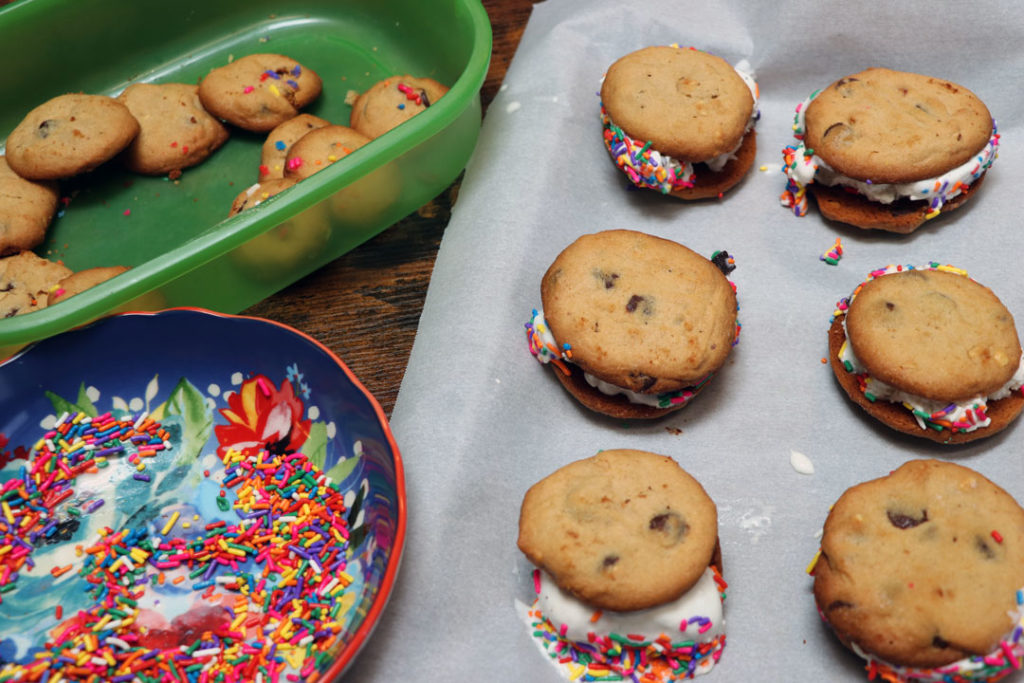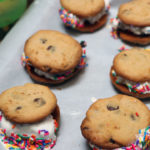 Cookie Ice Cream Sandwiches
Peanut butter cookie ice cream sandwiches
Ingredients
Baked Cookies of Your Choice

Ice Cream Flavor of your Choice

Sprinkles
Instructions
Put your cooked cookies on a lined baking sheet.

Put one scoop of ice cream on your cookies.

Put a second cookie on top of the ice cream and squish down some.

Roll the edges in sprinkles.

Pop in the freezer for about 10 minutes and enjoy!
I'm excited to be one of Google's paid early testers for their Thank with Google pilot program. Thank with Google is an experimental feature that allows you to purchase a virtual sticker and directly show your appreciation for the content I am creating here on my blog.

I love that this allows y'all to feel more engaged and connected when reading one of my posts or trying one of my family-friendly recipes. With this, you have the ability to share what my work here really means to you as a reader.

The variety of stickers is amazing, and I love how y'all get to choose whatever sticker you want as well as send a personal message when you send a paid sticker!
These stickers and thanks truly mean a lot to me. They allow me a form of direct revenue to help support the content creation that I am making and let me keep coming up with and creating new and fun recipes for you!

You can find the Thank with Google at the top and bottom of all of my posts! If you test it out let me know what you think! Thanks as always for your support. Happy Holidays!