Easy chicken enchiladas are a perfect weeknight casserole that the whole family will love.
Sometimes, I need a break from actually cooking. I love to cook, don't get me wrong, but I don't always want to stand in my kitchen for an hour or more every single night just to make dinner. When I want something super simple and quick, I go for easy chicken enchiladas. They take very little time to prep, and are baked and ready after 30 minutes in the oven.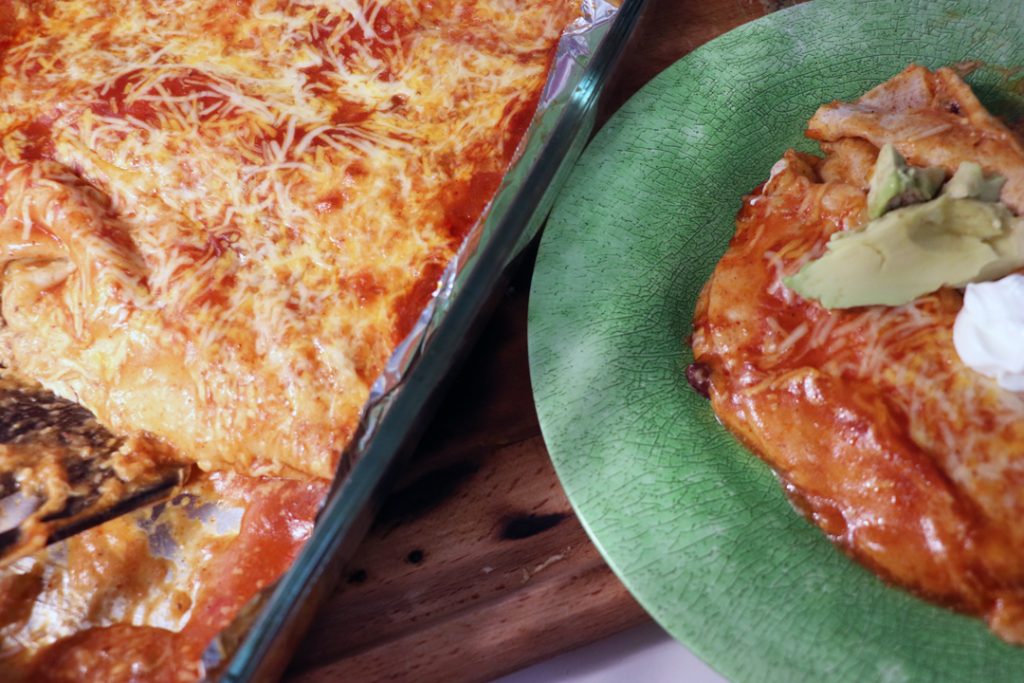 Get your printable chicken enchilada casserole recipe below!
If you know anything about me, then you know that Mexican food is my absolute favorite. I could probably eat some sort of Mexican dish every day for the rest of my life and I would be perfectly happy. So when I need a go-to simple dinner, I'm probably going to find something Mexican inspired. These dishes just tend to be super easy to make and packed with flavor! Plus, my kids love anything wrapped in a tortilla.
Not only is this recipe for easy chicken enchiladas simple, but it is also cheap! And you know I love a meal on a budget!
My Recipe for Easy Chicken Enchiladas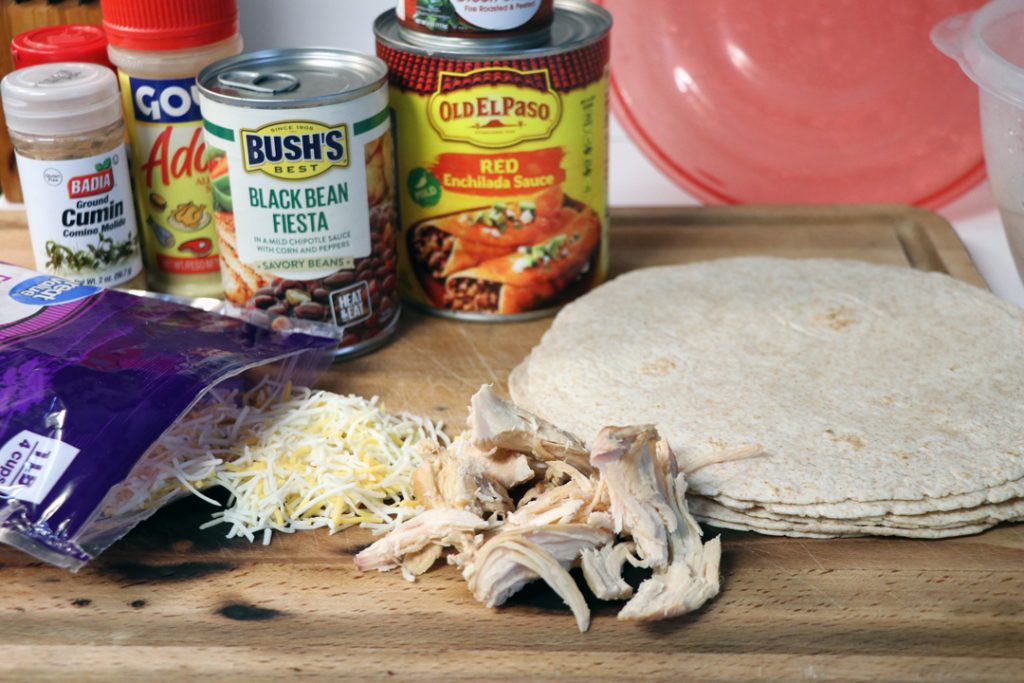 My favorite part of this recipe? You don't even have to cook the chicken! You can pick up a rotisserie or use a slow-cooker shredded chicken, or even leftover chicken from another easy dinner. All you need to do to make a simple family dinner is combine the chicken, some cheese, enchilada sauce, black beans, green chilies and seasoning of your choice.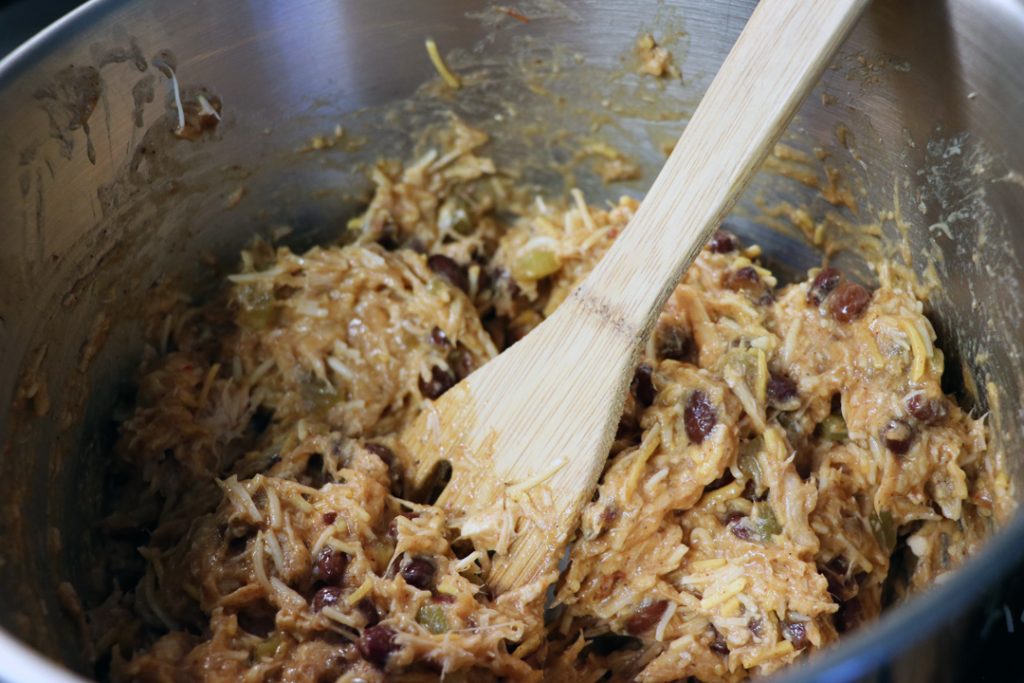 When everything is combined, scoop the enchilada chicken mixture into a flour tortilla and roll it up! Repeat this process until your entire pan is full.
Freezer Chicken Enchiladas
This easy chicken enchilada casserole is also perfect for freezing and eating later. If you are going to freeze your enchiladas, this is the place in the recipe you will want to stop. Once everything is rolled up, you will want to cover them and put them in the freezer. When you are ready to cook and eat, continue with the rest of the instructions. Trust me, you won't want to freeze chicken enchiladas with the cheese and sauce on top. It won't turn out terrible, but it is much better to add those ingredients right before baking. You will also want to add about 10-15 minutes to the cook time if you are cooking from frozen.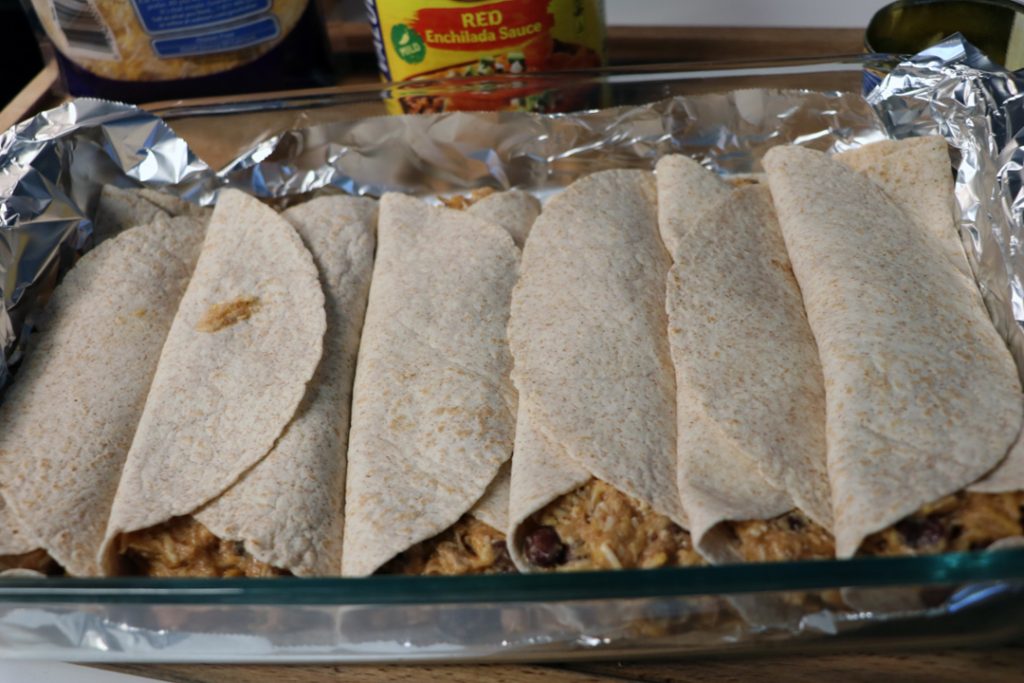 Simple Chicken Enchilada Casserole
Now that we everything is rolled up and/or out of the freezer… Top with some shredded cheese, enchilada sauce, and them more shredded cheese! Yes, I love cheese and these enchiladas are quite cheesy. If you don't share the same love for cheese as me, then you are more then welcome to leave out some of the extra layers of shredded deliciousness. Personally, I recomebr using as much cheese as possible, but that's just me.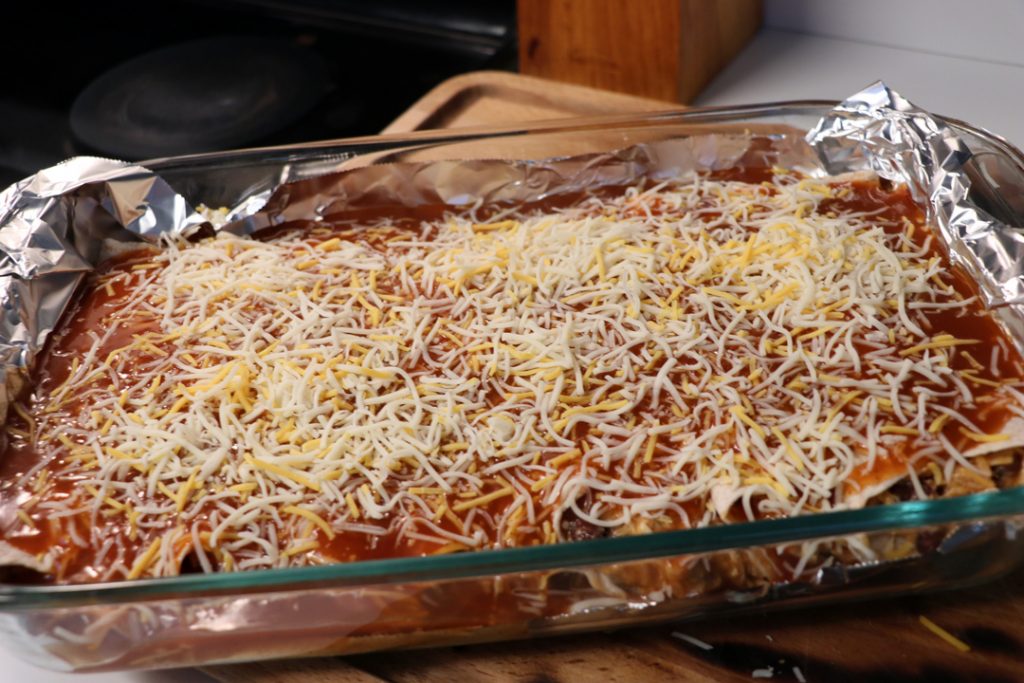 Once you have your dish covered in sauce and cheese, bake for about 30 minutes at 350°. Like I mentioned above, if you are baking this from frozen, you will want to add about 10 to 15 extra minutes to the cook time.
Then you are done! Let it cook, take it out of the oven, and enjoy! I recommend topping them with your favorite toppings, sour cream and avocado for sure, and then just enjoying this super easy meal with your family!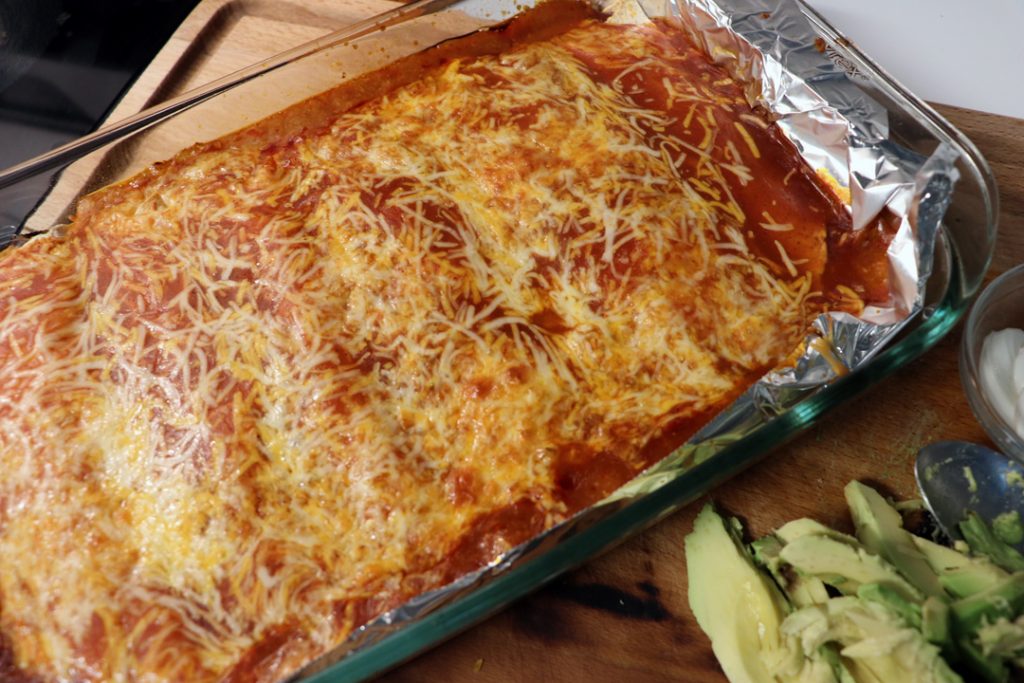 Re-heating Chicken Enchiladas
This meal surprisingly re-heats well also. We did not eat the entire dish in one night, so I saved it for another night. I did re-heat it in the oven since I don't own a microwave. yes, you heard that right, it has been over 7 years since I have had a microwave in my house and I don't miss it at all. Anyways, to re-heat your enchiladas, pup them uncovered in the oven for about 10 minutes at 350°. They will be just as good as they were the first time around!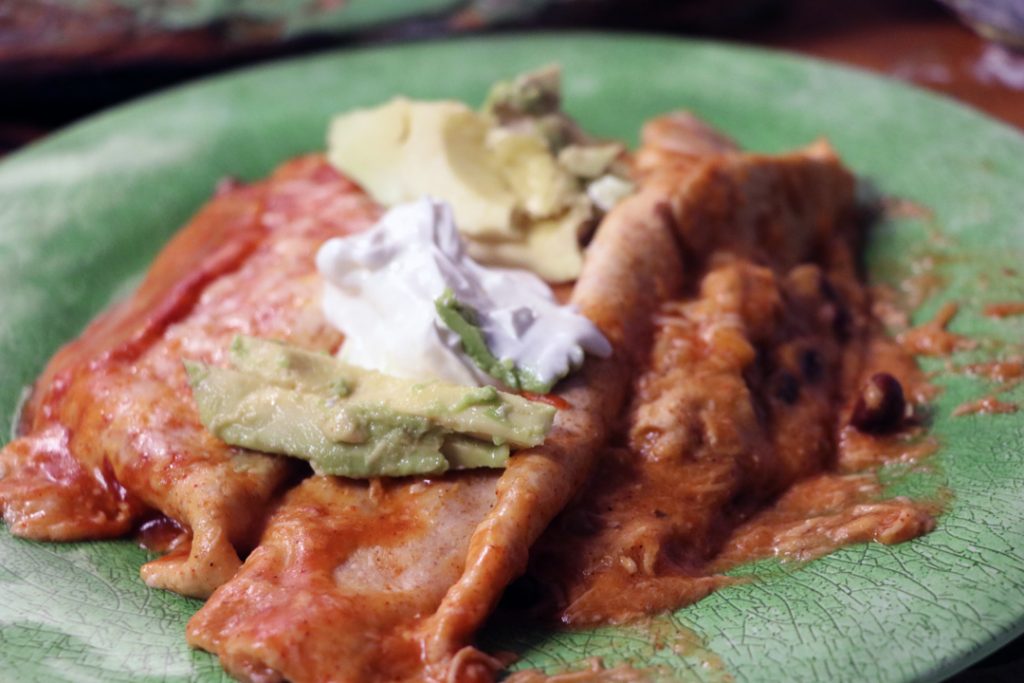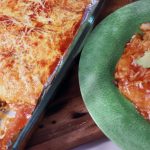 Easy Chicken Enchiladas
Easy Chicken Enchiladas - a weeknight enchilada casserole that is quick to prep, perfect to freeze, and the whole family will love.
Ingredients
3-4

Cups

Cooked , Shredded Chicken

Rotisserie or Leftovers

1

Large Can

Enchilada Sauce

2-3

Cups

Shredded Cheese

1

Can

Black Beans

drained

1

Can

Green Chilies

1

Pack

Flour Tortillas
Seasonings as you like! I used Adobo and Cumin
Instructions
Preheat your oven to 350° and line your large baking pan with aluminum foil (optional)

Combine your cooked, shredded chicken, half of the shredded cheese, drained beans, green chilies, and about 1/3 of the enchilada sauce in a large mixing bowl

Put the chicken enchilada mixture into the flour tortillas and roll up

*** If you want to freeze to make later, STOP HERE. Cover and freeze. Resume the rest of the instructions when you are ready to bake***

When you have rolled up all of the enchiladas, top with more of the cheese

Then top with the rest of the enchilada sauce and cheese.

Bake uncovered for 30 minutes. ***If baking from frozen, add an extra 10-15 minutes to the cook time***

When done, serve with your favorite toppings, like sour cream and avocado, and enjoy!
Pin this Recipe for Later