Something that many of you may not know about me, is that what feels like a lifetime ago, I used to be a bartender. I loved making drinks and talking to customers. It was a fun job, but not one that I wanted to have after my oldest daughter was born. The hours were not conducive to family life for me, so after many years of slinging drinks I left the industry. Every once in a while though, I still like to play bartender at home. The other day I made this delicious summer sangria for out boat trip and it ended up being a huge hit with everyone.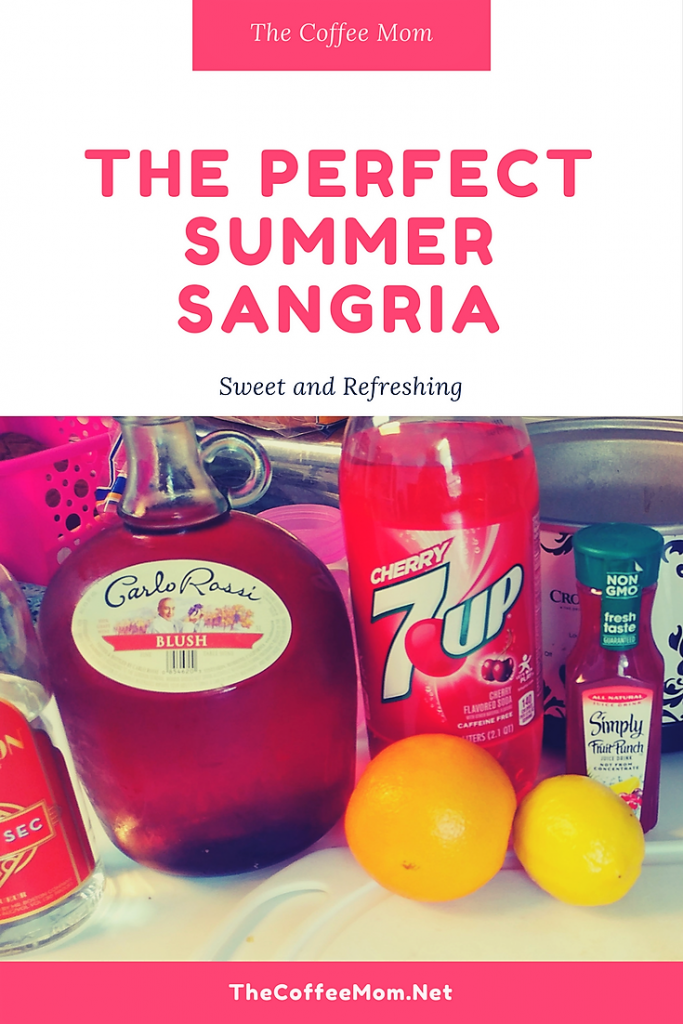 *This post may contain affiliate links. Making a purchase through one of these links will provide me with a small amount of compensation at no extra cost to you*
Blush Summer Sangria
Sangria is the perfect summer adult beverage in my opinion. It is light and refreshing, and filled with fresh fruits. I ended up having a boat day with my family recently, and knew that a summer sangria was a necessity! This is really a simple recipe, that can be easily customized to your unique taste.
Personally, I enjoy a sweeter sangria. So I use a blush wine as my base, but you can easily use a red or a dry white if you prefer a little less sweetness. The ability to tweak the recipe to personal taste is probably one of my favorite things about it.
What You Need
The ingredients for a summer sangria are rather simple. As I mentioned, you can swap out any of them for something you prefer. You can easily pick up all of these ingredients, wine included, with the Walmart grocery pickup option. Seriously, this thing is amazing. You just order online, schedule your pickup time, and an associate brings it all out to your car! If you want to check it out, you can get $10 off of your first order with my referral code here!
Blush Wine
Triple Sec
1 Orange
1 Lemon
Fruit Juice of your choice ( I used a mixed fruit juice)
Lemon Lime Soda ( I used a cherry 7 up)
Frozen Berries
See, not too many ingredients and this will make you a huge batch of sangria.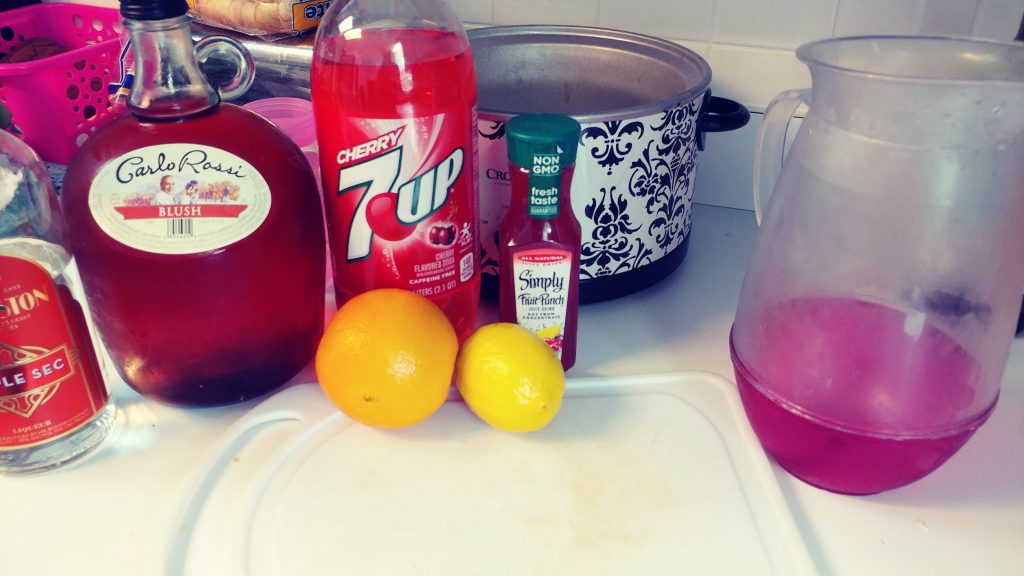 What To Do
Seriously, this is so simple to make. Even someone with no bartending experience will be able to make the perfect summer sangria.
I started with my wine and poured a generous amount into my pitcher. Like I have said in past recipes, I am not a huge fan of measuring, so I eyeball it. My pitcher was filled up about to the line on my pitcher where the pink meets the clear.
After the wine is added, it is time for the Triple Sec. If you don't know, this is a sweet liqueur commonly used in Margaritas. You don't HAVE to use it, but I like mine sweet so I enjoy it. I poured in some of the Triple Sec, again just by eyeballing it.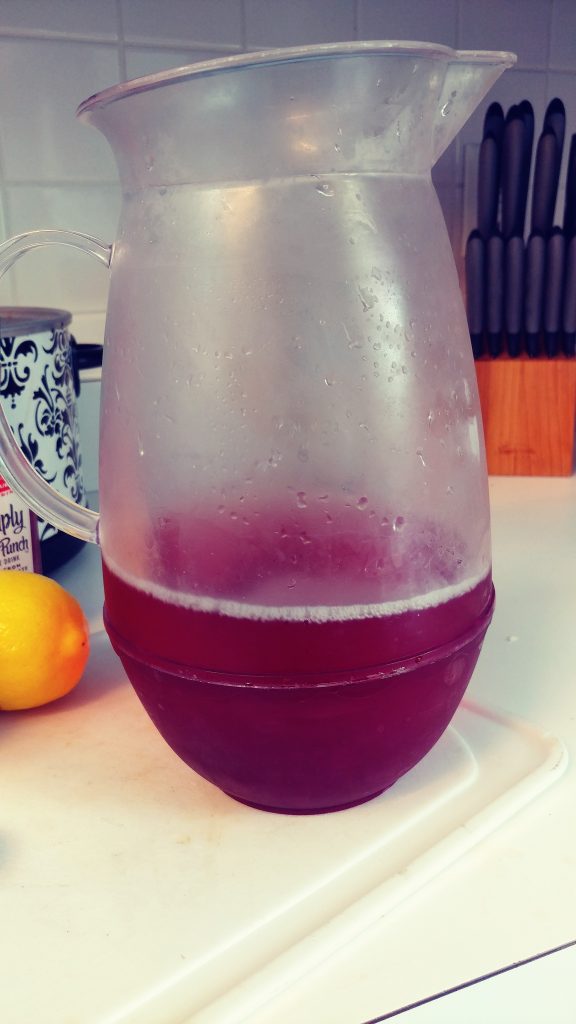 For reference, the photo above is what my pitcher looked like with just the wine and Triple Sec added in. A good three quarters of this is the wine and one quarter Triple Sec.
Once you have all your alcohol in, you can start adding your fruit. I cut up my Oranges and Lemons , then squeezed the juice into my pitcher. Make sure you leave the fruit itself in the pitcher as well because it will soak and give it more depth.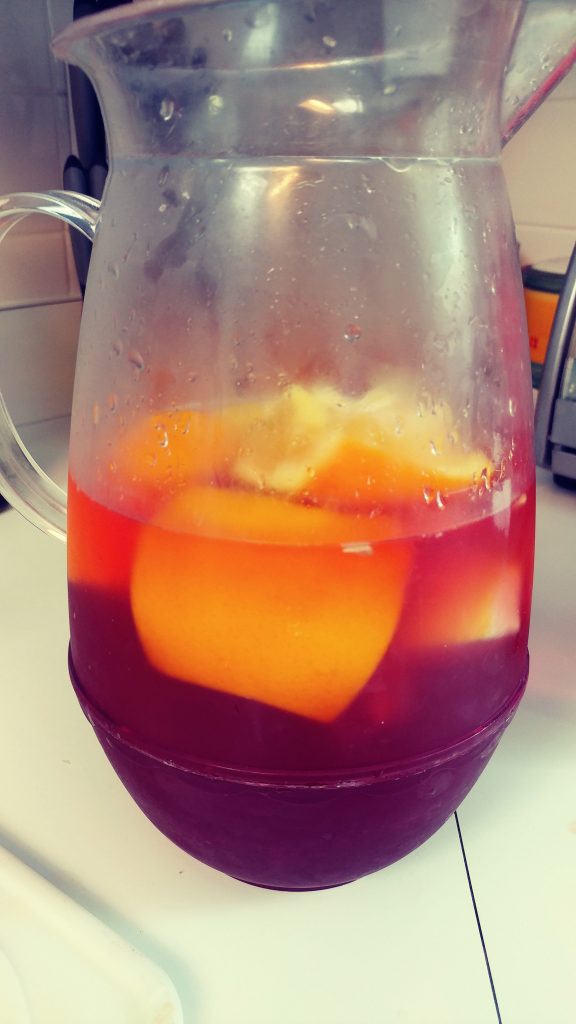 I used a small fruit juice, and added in the entire bottle to my pitcher. You can use any juice you like. Pineapple juice and Orange juice are always good in a sangria.
Next comes the lemon lime soda. If you don't like a sweet drink, you can substitute this out for tonic and it tastes just as good without the added sugar. Again, this is eyeballed to my personal liking.
I ended up adding in some frozen berries at the end because I felt like I wanted just a bit more fruit. Once you have your summer sangria all assembled, let it set in the fridge for a while chill and to allow the fruit to really soak in.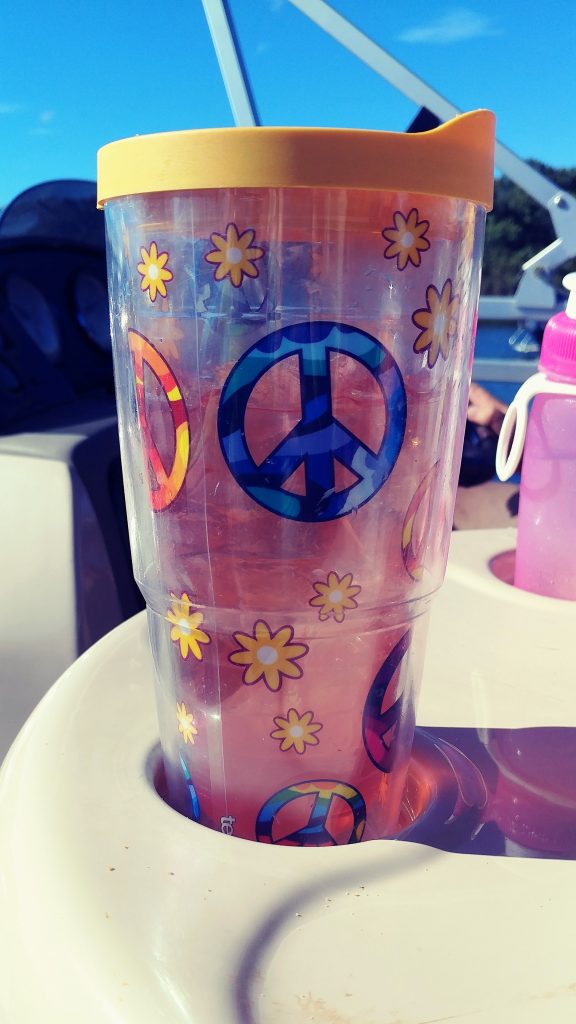 Then all you need to do is enjoy and don't forget to drink responsibly!