I can't be the only person who loves making a whole roasted chicken during the week and saving the leftovers for lunches right?!? It is just so easy to make one chicken, have it for dinner, and then use the rest of the meat all week for salads, sandwiches, and more! Y'all know, I love to cook smarter, not harder, and if I can get away with cooking less during the week, I am going to do it! This whole roasted chicken recipe is one of my favorites! Crispy skin, moist center, and done in about an hour!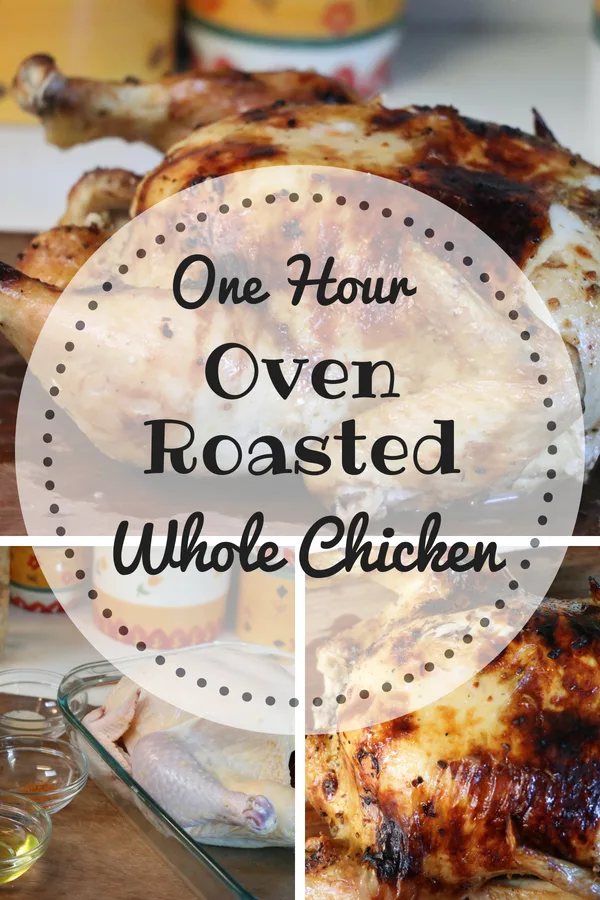 Oven Roasted Whole Chicken
If you thought the video makes this recipe look easy, then you are correct! Even though it takes an hour to cook, prep time is minimal and you can just set it and forget it once the chicken is in the oven. You can go about making your sides, cleaning up a little, or maybe catching up on someHulu shows while you wait for the chicken to fully cook.
I have found that cooking large meals like a whole roasted chicken, early in the week is so helpful when it comes to my desire to not cook later on in the week. Meal prepping has been another thing I have added lately that helps me too. I swear, every week when Thursday/Friday rolls around I just don't feel like cooking. This is when my "let's just go out to eat" desire comes in… so making large meals with leftovers, and meal prepping has really been helping save me some money at the end of the week.
The Whole Roasted Chicken
No lie, doing a whole chicken in the oven was a bit intimidating at first. I was NOT looking forward to sticking my hand up "in there" and pulling out the innards…but honestly it was not as bad as I thought. Just get it in and out and try not to think about it much lol
Once my chicken was cleaned out, I put it in a glass pan while my oven was heating up to 450° . You can really use any seasoning you like for this as well. Personally, I used a little olive oil, minced garlic, Cayenne, salt, pepper, and some McCormick seasoning I had on hand. I rubbed everything on my chicken, and let it cook at 450° for about 20 minutes.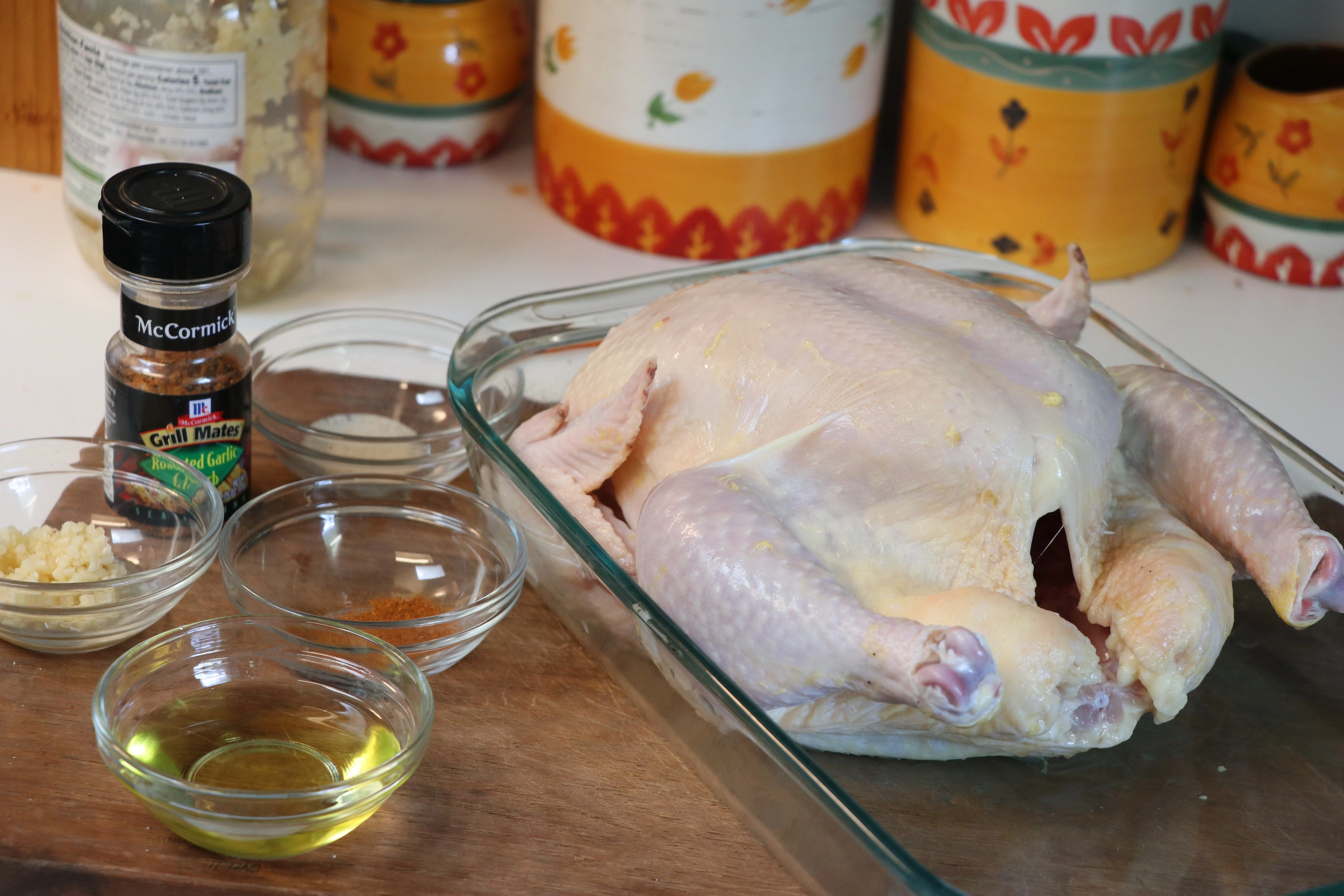 Once the 20 minutes are up, decrease heat to 400° and let your bird keep cooking for another 40 minutes. I like to turn on the broiler for the last 2-3 minutes of the cook time to get the skin nice and crispy as well! When you take your bird out, let her rest a little and enjoy!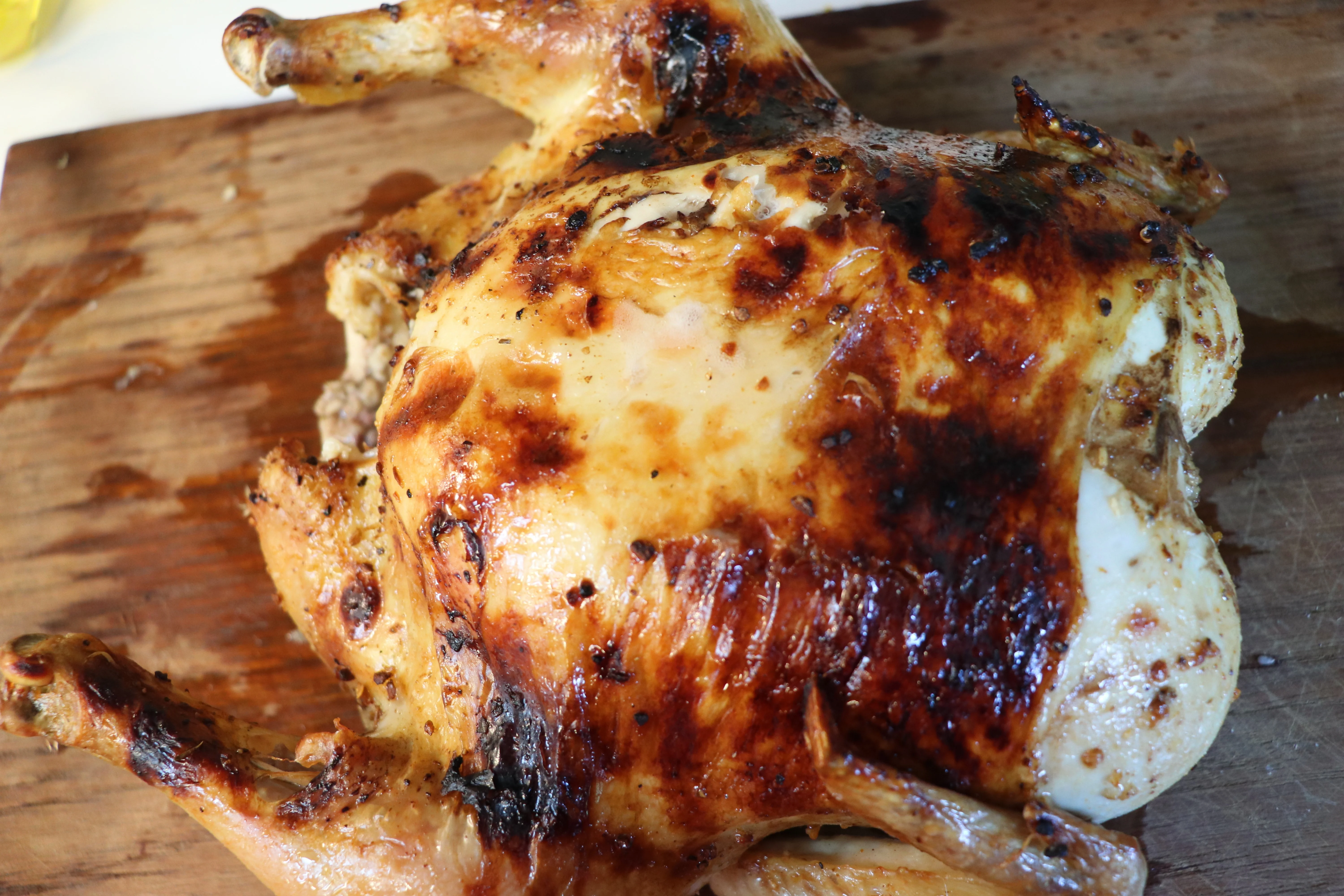 See, this whole roasted chicken is super easy and perfect for a large family, or anyone that is wanting leftovers!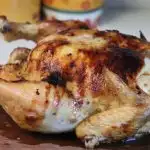 One Hour Oven Roasted Whole Chicken
One Hour Oven Roasted Whole Chicken
Total Time
1
hour
10
minutes
Ingredients
1

Whole Chicken

Tbsp

olive oil

tsp

cayenne

salt/pepper

Tbsp

minced garlic

Spices of Chioce
Instructions
Clean out your chicken and pre heat oven to 450°

Rub your cleaned chicken with all remaining ingredients!

Reduce heat to 400° and bake for 40 more minutes.

Broil for last 3 minutes of cook time for crispier skin