Do you ever have those days where you just stare into your pantry with no idea what to make for dinner? This was me the other night. I had thawed out chicken, but no clue what I was going to make. I scoured my pantry and refrigerator and came up with, what I thought, would be a brilliant idea! Thus, Crock-Pot Salsa Chicken was born. I had been wanting fajitas, but lacked the motivation to go to the store for my missing ingredients. So I threw together this crock-pot dish and prayed it would turn out decent. Well it turned out more than decent. the salsa chicken was a hit!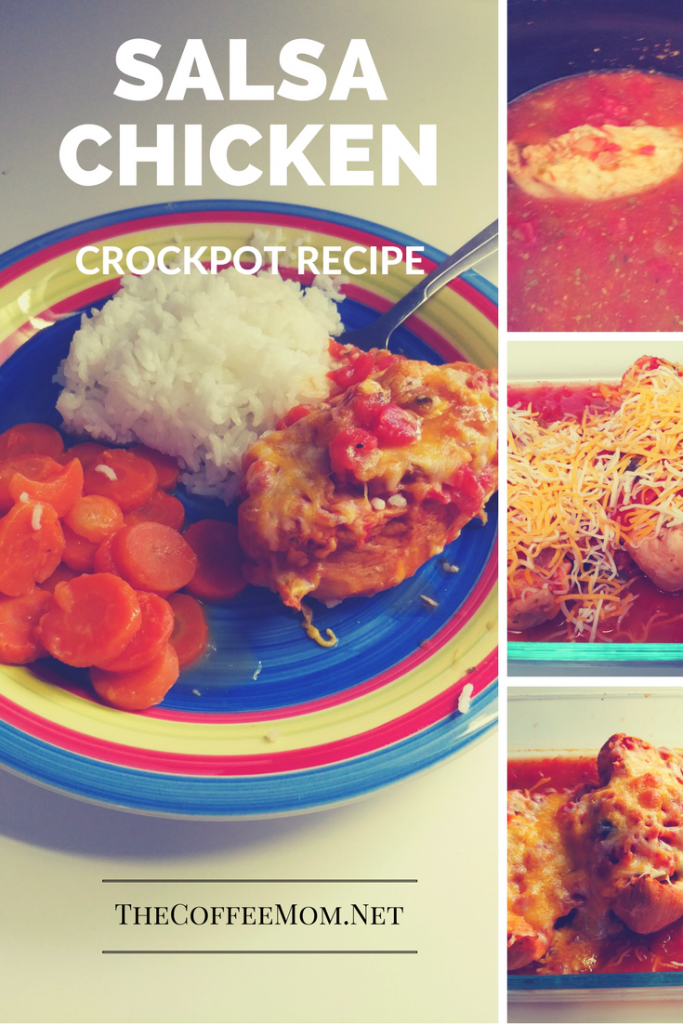 Crock-Pot Salsa Chicken
Now I am typically not one to measure out ingredients. I prefer to eyeball them and taste as I go along. So I started with my chicken breasts and placed them in the crock pot alone with a jar of salsa that I had in the refrigerator. I then added in a can of Rotel, a dash of Cholula hot sauce, a dash of wing sauce, and some fajita seasoning. If you don't have fajita seasoning you can use salt, pepper, chill powder and cumin. You can really make this as spicy or mild as your heart desires! After I had everything in, I added a little bit of chicken broth (or you can use water) just to make sure the chicken was completely covered by liquid. When all the goodness in in, just put on the lid and let it do its thing. I cooked it on low for about 6 hours.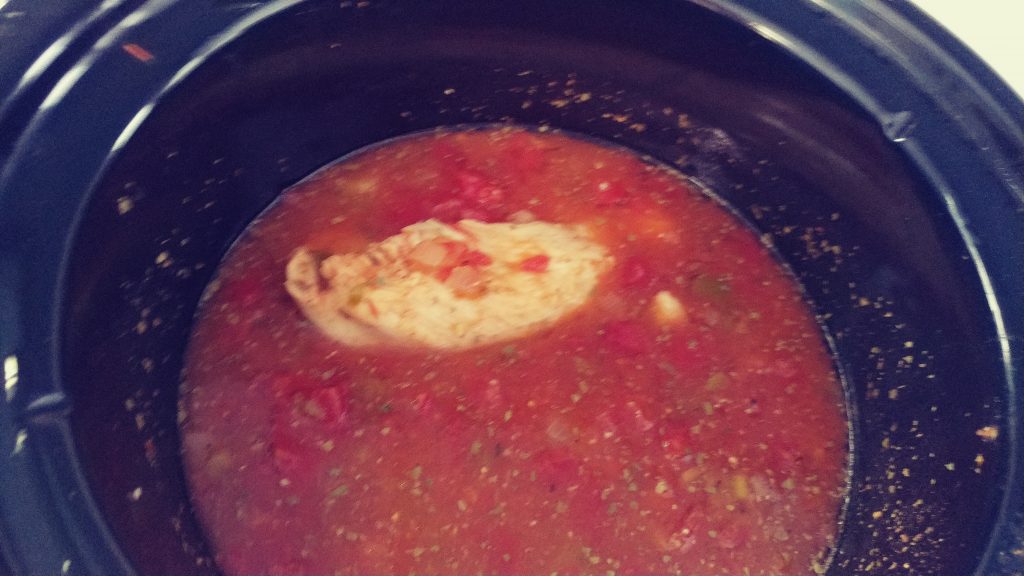 After the Crock-Pot
After about 6 hours, I preheated my oven to 350. I took all of the chicken out and placed it in a glass cooking dish. Since you don't want to lose any of the tomato goodness, I made sure to scoop all of it out, along with some of the cooking liquid and put it over top of my chicken. I used about half a bag of shredded cheese and covered that bad boy up. She went in the oven for about ten minutes to get the cheese all good and melted.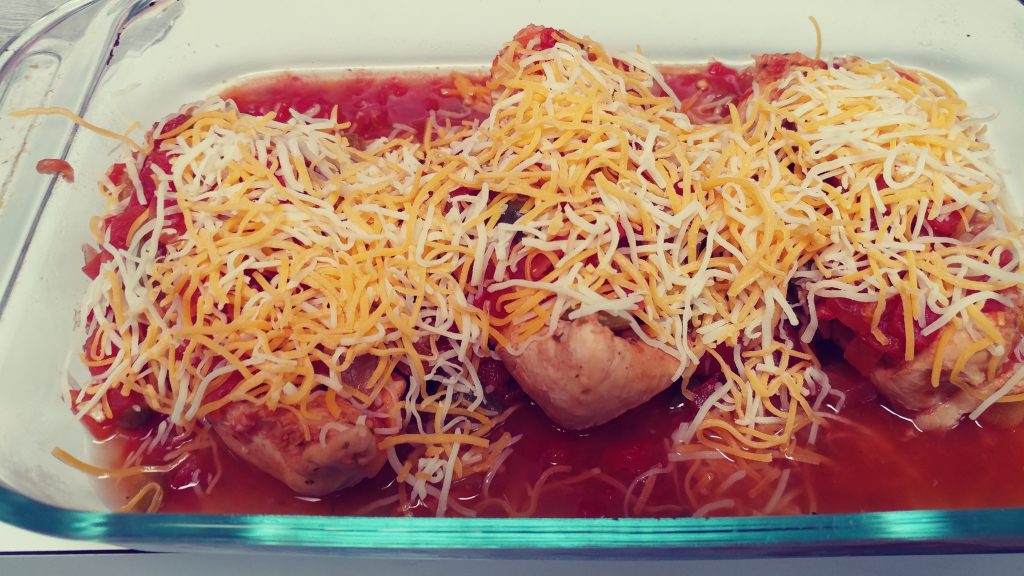 Viola! Dinner was ready. I cooked up some white rice and carrots and we had ourselves a feast! I was nervous that my daughter wouldn't like it, but she ate a huge helping! I think the ranch helped though. She loves to dip anything and everything in ranch. Even my husband said that this is a for sure make again dish! I loved it because it was quick and easy, delicious, and cleanup was a breeze! I found that using crock-pot liners makes my life so much easier. If you haven't tried them, you need to pick some up next time you are at the store because they will change your life.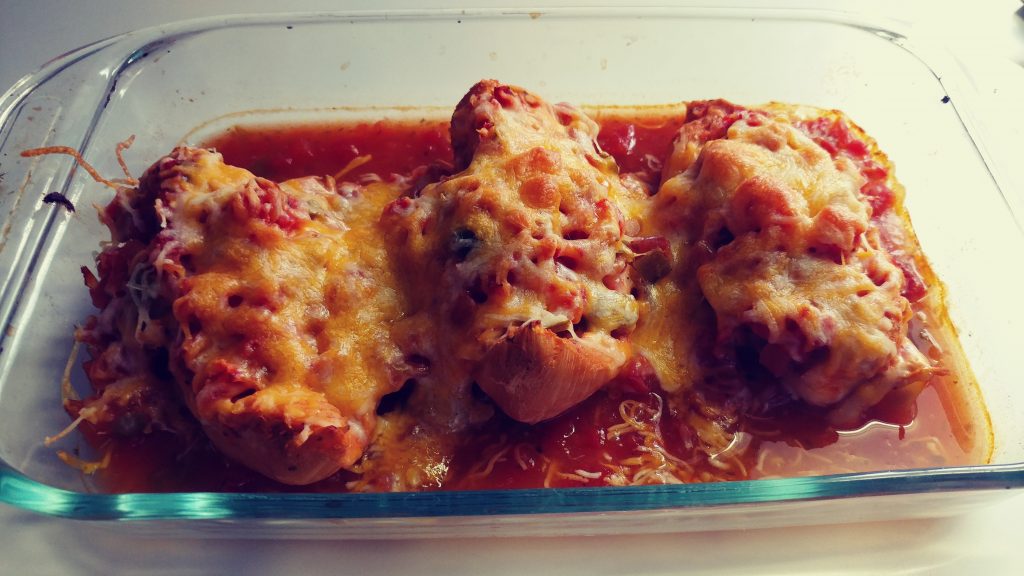 Crock-Pot Salsa Chicken Recipe
| | |
| --- | --- |
| Serves | 3 |
| Prep time | 15 minutes |
| Cook time | 6 hours, 15 minutes |
| Total time | 6 hours, 30 minutes |
| Meal type | Main Dish |
Ingredients
1lb Chicken Breast
1 jar Salsa
1 can Rotel
dash Hot Sauce
dash Wing Sauce
Chicken Broth
Fajita Seasoning
.5 bag Cheese
Directions
1
Add all ingredients, except the cheese, to your crock pot.
2
Cook on low for 6 hours.
3
Preheat oven to 350
4
Remove chicken and salsa mixture from crock-pot and place in a baking dish along with some of the cooking liquid
5
Cover with cheese
6
Bake for 10 minutes or until cheese is melted
7
Serve over rice and enjoy