One thing you may not know, is that I have been doing the Keto diet for about three weeks now. While I haven't been super strict; I like to call it "lazy Keto", I have still managed to lose 12 lbs and counting! Doing this isn't just a diet for me though, it is a total change in my lifestyle. Aimed at eating a more healthy diet for me and my family. Finding delicious and low carb recipes has been somewhat of a journey though. Coming from a family who is used to eating pasta quite often to one who is cutting out most carbs and sugars all together has been somewhat of a struggle at times. We have always been big seafood fans though, and recently we have been incorporating more and more salmon into our weekly meal plan. This Keto salmon with creamy dill sauce has become a new favorite for not only me, but for my kids as well!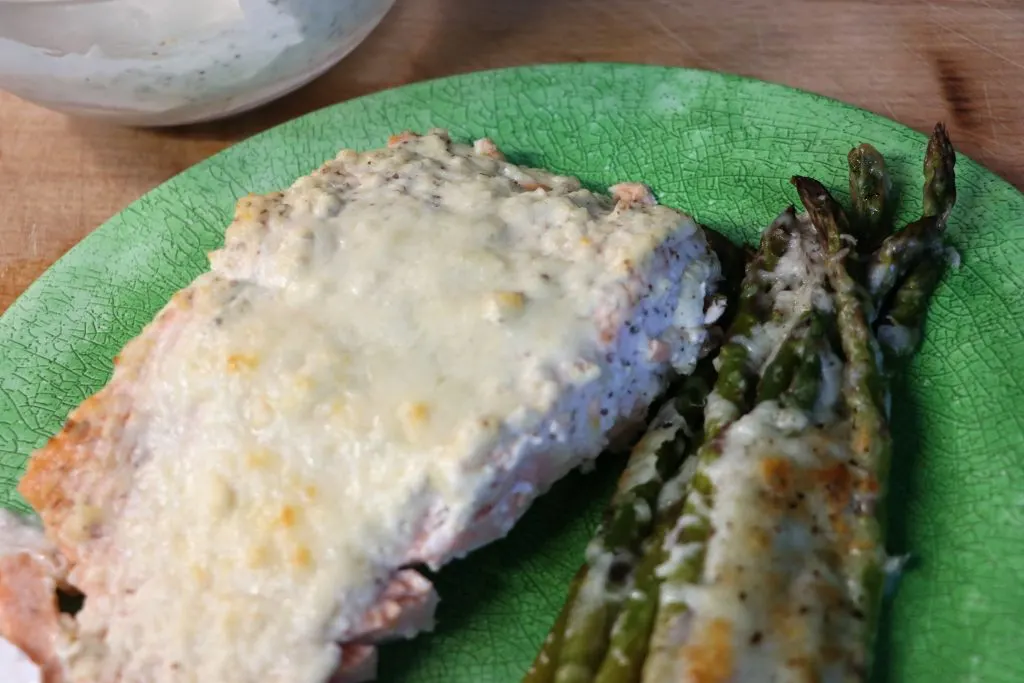 Salmon and Keto
Salmon is pretty much the perfect Keto food. High in good fats, filling, and easy to cook. So it should come as no surprise that salmon has become my go to for at least one meal a week since I have been doing Keto. While we have always eaten loads of salmon, I have had to alter the way in which I make it to be more Keto friendly. Typically, I would use honey to glaze my salmon while baking it. Yes, honey salon is absolutely delicious, but the sugar in it will throw you out of ketosis with the quickness. So I have been coming up with new, and equally delicious, recipes that keep sugar and fat content in mind!
Creamy Dill Sauce
For this recipe, I made a creamy dill sauce to top my salon with. Using mayonnaise, sour cream, Dijon mustard, dill, and fresh lemon juice. If y'all have seen any of my other recipes, you know that I tend to eyeball ingredients instead of measuring them out properly. So when I tell y'all my "measurements" keep that in mind and use your own personal tastes, likes, and ideas to get the recipes exactly how you would like it.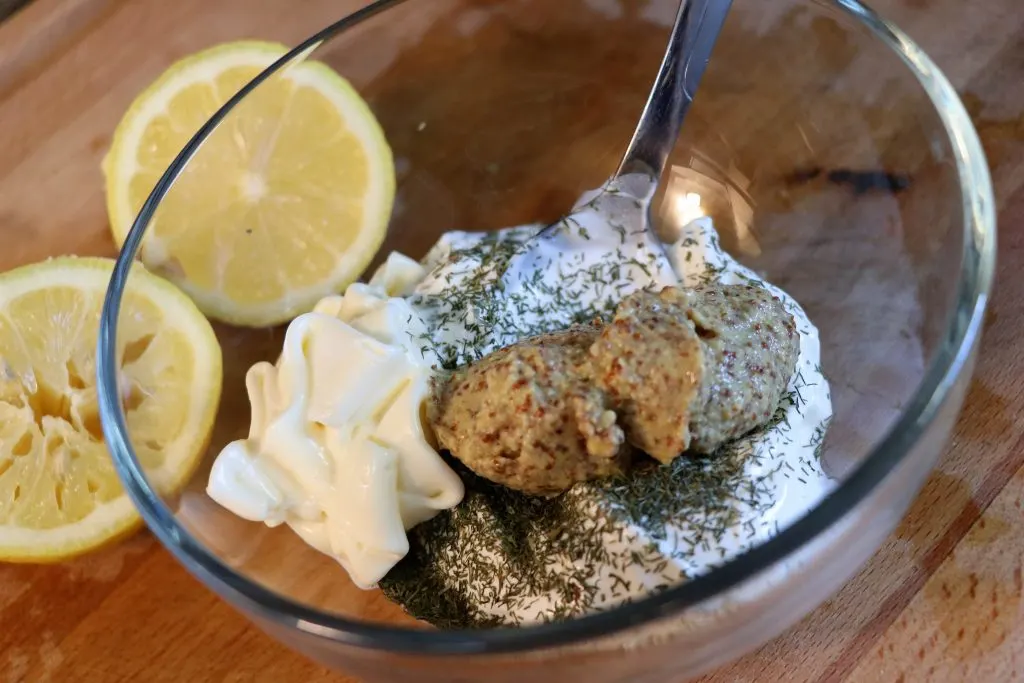 For this sauce, I used about 3/4 of a small container of sour cream ( probably about 1/3 cup), about 1-2 Tbsp of mayo, about 1 Tbsp of Dijon mustard, 1-2 Tbsp of dill, and the juice of 1/2 of a fresh lemon. Combine them all together and set aside for a bit until you are ready to use it. This sauce would also be delicious on chicken and steak. I plan to try it out on both very soon and will keep you updated on my thoughts.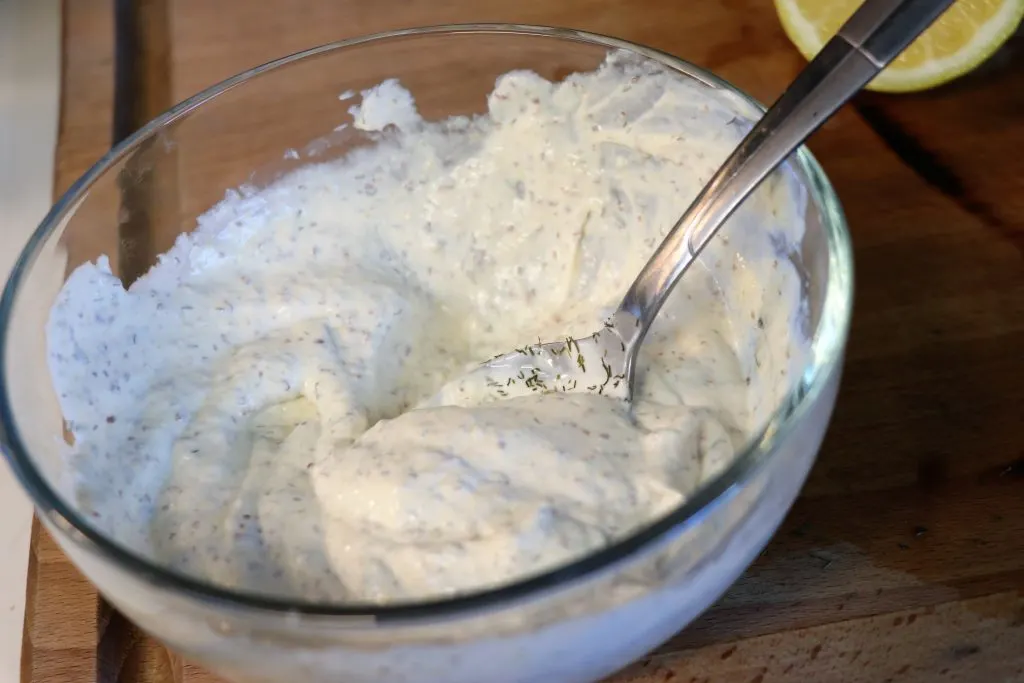 Prepare Your Salmon
Once your sauce is done, you can get your salmon ready to bake. I like to do mine in a foil lined pan in the oven. The foil makes for some super easy clean up, which is always important to me! All I did to prepare the salmon was top it with some minced garlic, salt and pepper.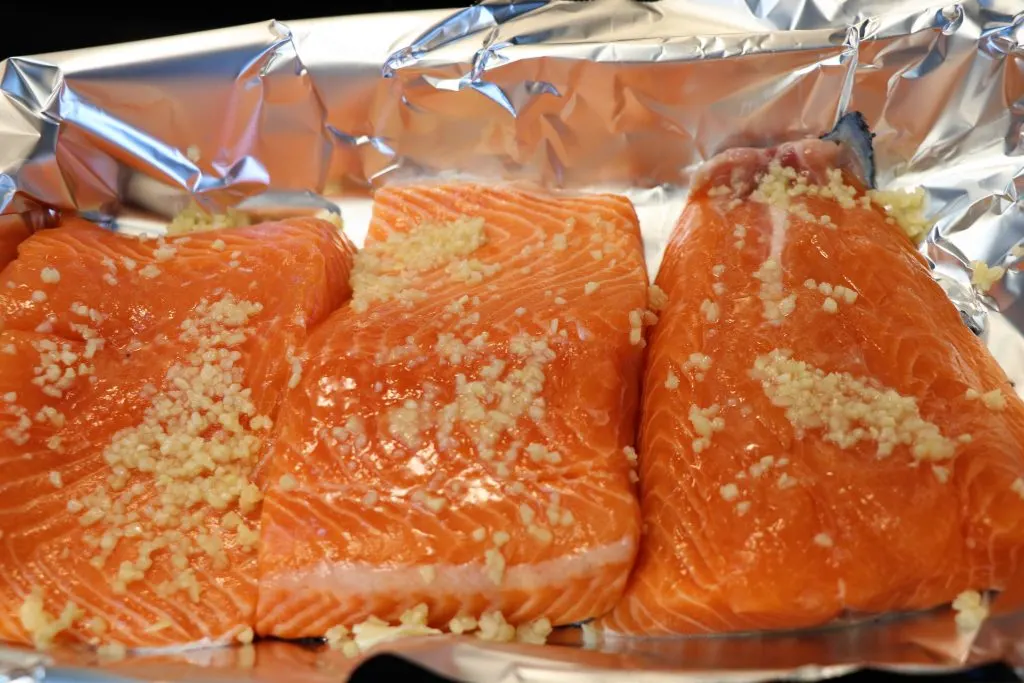 Then I took about half of my sauce and topped my salmon along with grated Parmesan cheese. Cover the salon, and pop it into a 425° oven for about 20 minutes.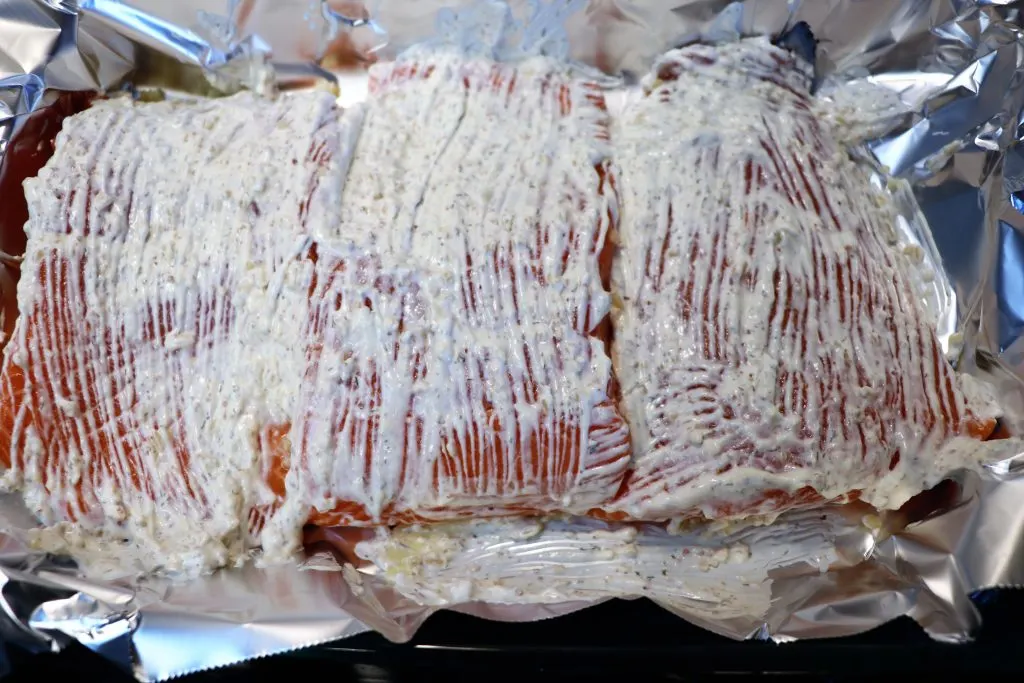 After 20 minutes, remove the cover and bake for about 10 more minutes. You can also turn on the broiler for the last 2-3 minutes to get a nice browned crust on the top! I took the rest of the sauce and used it for dipping. I devoured it, my kids devoured it, even my husband loved it and he doesn't usually eat anything "too creamy".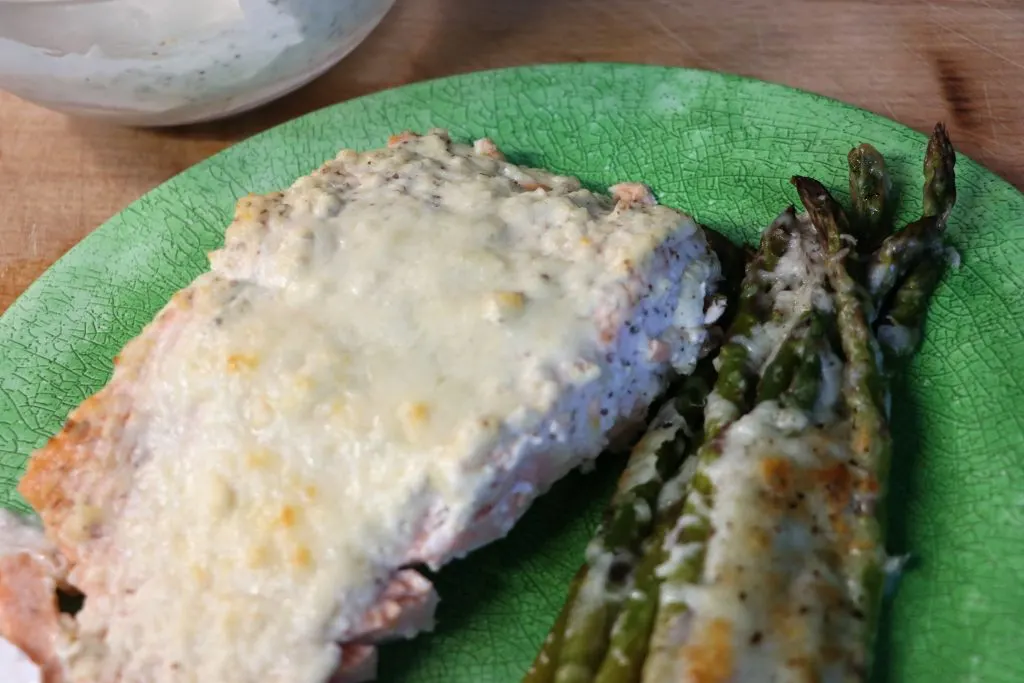 So if you are looking for a delicious and easy to make Keto salmon recipe… This needs to be on your next weekly meal plan! Bonus, it was also really good leftover for lunch the next day!
I love sharing recipes, and since I am full swing on this whole Keto thing right now, don't forget to keep coming back to see new Keto meal ideas often! And if you have any favorite, easy to make Keto recipes, I would love to hear about them in the comments so I can try new things for my family and I!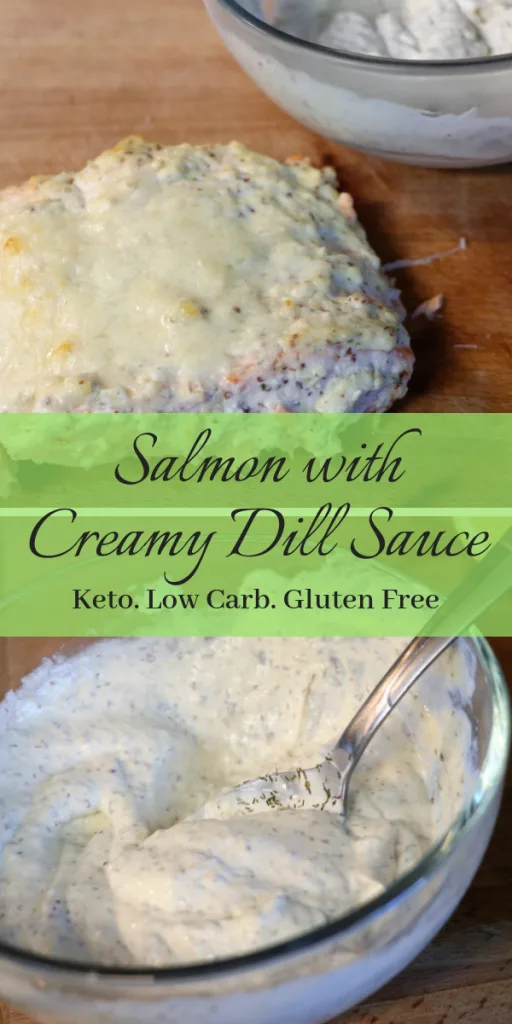 Don't forget to follow The Coffee Mom on Facebook, Instagram and Twitter to stay up to date with all of our family travel, parenting tips, family friendly recipes and so much more!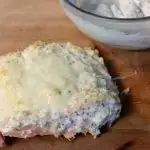 Keto Salmon with Creamy Dill Sauce
Low carb Keto salmon with creamy dill sauce. Low Carb, Gluten Free, Keto salmon perfect for weeknight meals. Done in 30 minutes and perfect for a busy keto loving mom!
Ingredients
1-2

Lbs

Fresh Salmon

1/3

Cup

Sour Cream

1-2

Tbsp

Mayonnaise

1-2

Tbsp

Dill

1

Tbsp

Dijon Mustard

1-2

Tbsp

Minced Garlic

Juice from 1/2 Lemon

Parmesan Cheese

To Taste, Optional

Salt & Pepper

To Taste
Instructions
Make the creamy dill sauce by combining the sour cream, mayonnaise, Dijon mustard, dill and lemon juice in a bowl

Place your salmon skin side down in a foil lined pan. Top with minced garlic, salt & pepper.

Use about half of your creamy dill sauce to top the salmon, along with the optional Parmesan cheese.

Cover and bake for 20 minutes.

Remove cover after 20 minutes and bake for an additional 10 minutes. You can broil for the last 2-3 minutes for a more browned top!

Serve with the reserved creamy dill sauce and enjoy!