If you run or manage a small business, you will have been affected by the COVID-19 pandemic. No business has avoided the difficulties that this pandemic has brought to the world, and many have shut down altogether due to the lack of revenue during the extended lockdown periods of last year.
Your workplace will need to have adapted to the new coronavirus restrictions in your local area and industry – there's no way around it. In this blog, we'll ask you: is your workplace COVID-safe, and are there any gaps in your coronavirus strategy?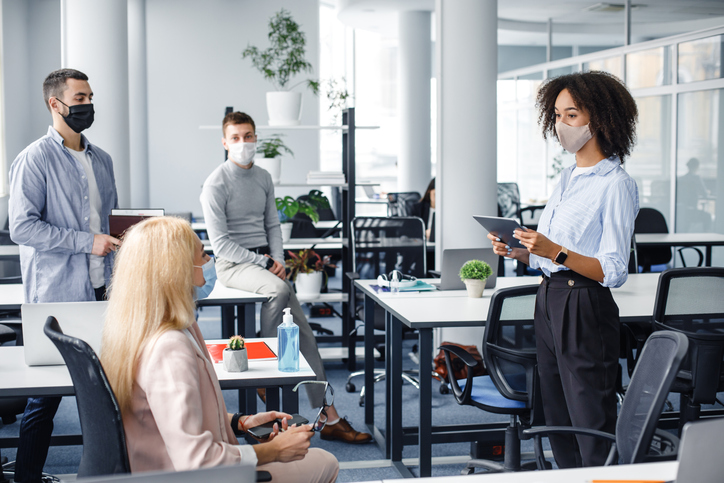 Workplace capacity & the hybrid model
If your business is an office-style setup, you may have had to work from home during the pandemic. But now that vaccination programs are being administered around the world, the chances are, you can begin to reopen your space to your colleagues once more.
Workplace capacity, however, is a big topic when it comes to coronavirus safety. Many offices are running with reduced numbers, to try to prevent any further spread of the disease. This means that some people will need to work from home, while others are in the office – and these positions will swap around throughout the week, to give everyone a chance at having a hybrid-style routine.
In order to make things fair for everyone, you need to try to give everyone a similar amount of time in-office and at home. This can be tricky to work out, but it will ensure the further safety of your employees, and that's what matters most.
Industrial cleaning: are you on top of your workplace hygiene?
Hiring a professional cleaner for your workplace is probably something you are already familiar with. But many workplaces are upping their game in the wake of the COVID-19 pandemic, to try to stop coronavirus in its tracks if it does enter the building.
Investing in one-off deep cleaning services, such as commercial floor scrubbers, is a good way of intensifying your workplace cleaning regime. These deep-cleaning services can be commissioned every month or so, to be coupled with your standard daily commercial cleaners, to make your workplace as hygienic as possible.
Personal choice: the vaccine conundrum
Now comes the tricky part: the "personal choice" conundrum. Many employers are making vaccinations mandatory for their workers to return to public working spaces such as offices, restaurants or industrial work environments.
This is a very tricky choice to make as a business owner. On one hand, vaccinations have been used for years to strengthen our immune systems and are clinically proven to work. Everybody should be accepting the vaccine, in theory; however, some people are suspicious of its effects.
When trying to make your workplace safe for everyone, mandating vaccines seems like the obvious choice. However, it is a decision worth mulling over: are you taking away people's personal freedoms by enforcing a vaccine if they want to keep their job?
Final Thoughts
The coronavirus pandemic has presented many physical and moral challenges to our world, and a business owner, you're right in the thick of it. Use this guide to help you make your workplace safer in the age of coronavirus.