Looking for some microscope experiments for kids that are affordable, easy, and fun? These super simple, kid-friendly science experiments will help encourage a love of science in your kids while beating stay-at-home boredom.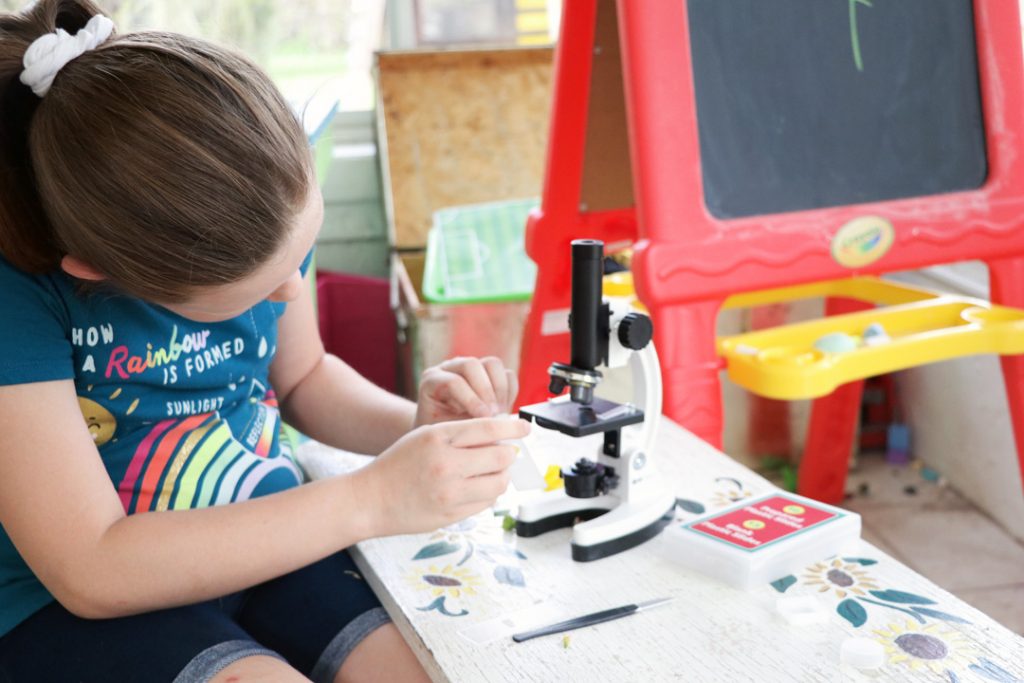 This post has been sponsored by AmScope. All opinions are 100% my own.
Kids are naturally curious, and curiosity is important when it comes to accelerating learning. By encouraging our kids' natural curiosity, we can help them find true love for learning early on in life.
No matter if you are homeschooling, doing virtual school, or your child is attending school in person, encouraging learning at home, especially in the STEM area, can truly set them up for success in and out of the classroom.
Looking at objects under a microscope gives kids a whole new perspective on every day objects in their world. They may discover that things they thought were perfectly smooth have angles and ridges. Or, they may see how something they thought was round is still made up of straight edges.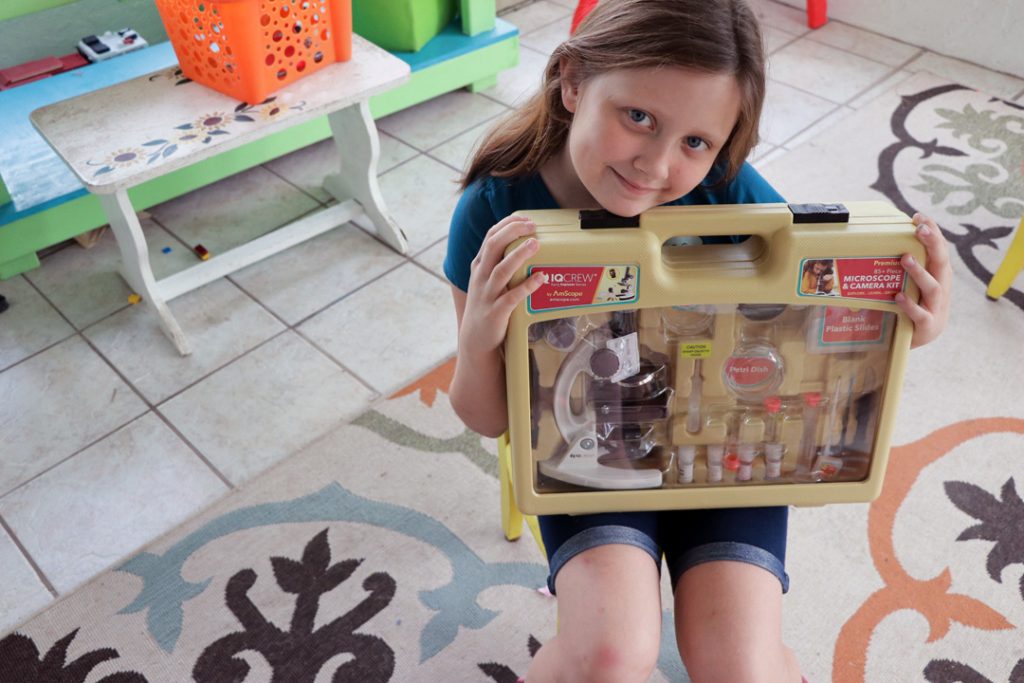 The Best Microscope for Kids
Before we even get into the five easy microscope experiments, you need to have a microscope! AmScope is the #1 online store for microscopes and accessories with over 500 models in stock for kids of all ages. One thing is for sure: you are guaranteed to find something for your little scientist with AmScope.
The product we are using is the IQCREW by AmScope 120X – 1200X Kid's 85+ piece Premium Microscope, Color Camera, and Interactive Kid's Friendly Software Kit. This kit was designed by engineers and teachers to help improve a child's science and computer skills all at the same time.
My favorite part of this particular microscope kit is that it includes a color digital USB2.0 eyepiece camera. This lets your little one view samples on either a PC or MAC computer so they (with your help, of course) can download and edit pictures of their specimens directly from their microscope. This makes it super simple to save images of some of these experiments to use for school projects or even to show off to science-loving relatives!
This kit is priced under $100, making it one of the more affordable models on the market today. Plus, the quality is insane, especially for the price point.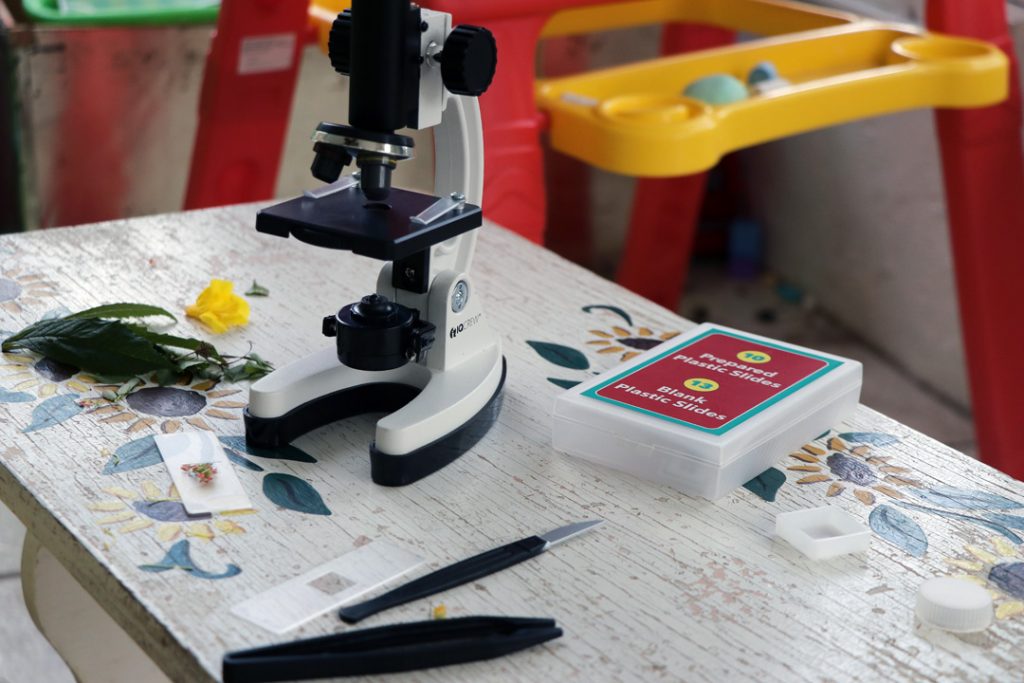 5 Easy Microscope Experiments for Kids
Now that you have a wonderful microscope, you can get down to science! These experiments are not only super easy and perfect for kids, but you can also do every single one of them with simple things from around your home.
So, open the pantry, head out into the yard, and help your kids do some awesome and educational science experiments.
Flowers Under the Microscope
Through the eyes of a child, all flowers look pretty similar. But under a microscope, they are all SO different. This super-easy way to learn about nature and the cellular makeup of plants literally only requires you and your child to step outside.
First, head into the yard or go to the park and collect a few different flower or plant specimens to examine.
Next, have your child help you create slides with the plants and then take a look. They can write down what they see and compare/contrast the different plants!
Check Your Cheek Swab Under the Microscope
Another super fun thing for your kids to look at under the microscope is their own cheek swab!
You will need a microscope stain for this (but no worries, it comes in AmScope's Kids Premium Microscope).
To get started, simply swab your little one's cheek with a clean toothpick. Then, wipe the toothpick in the middle of the blank slide to prepare. Finally, add in a drop of the stain and place the coverslip over the slide.
Now your little one is ready to take a look at what's inside their own mouth!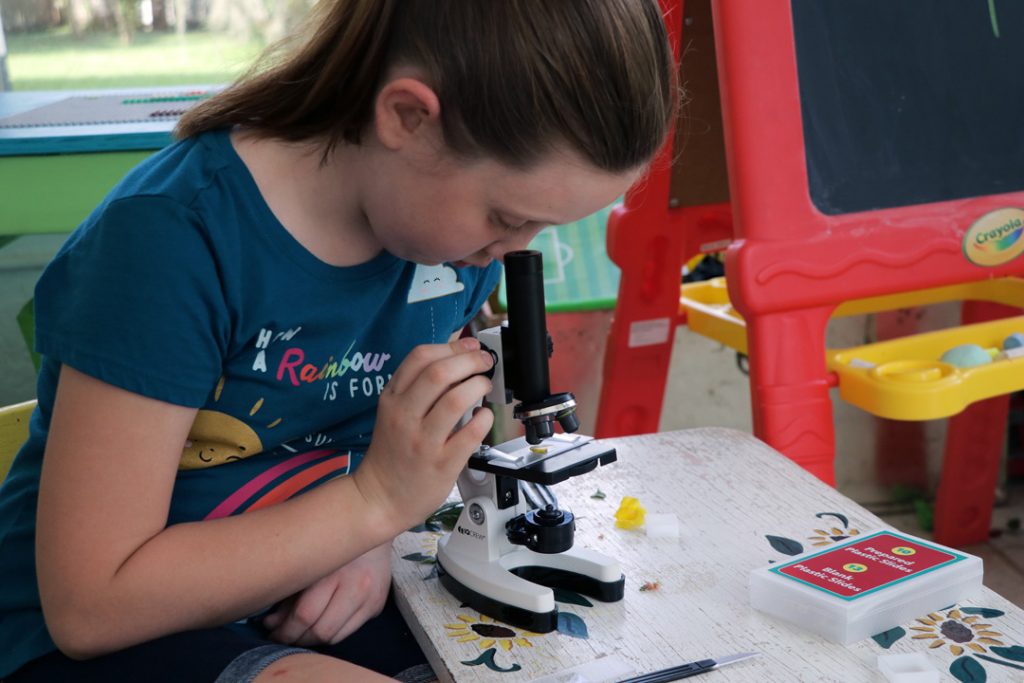 Have You Ever Looked at Hair Under a Microscope?
Hair looks pretty wild under a microscope! It is especially interesting since no two hair types are the same.
Collect hair from brushes around the house and then clip it down into small, 1/2-inch pieces. This can be human hair or pet hair.
You can make this experiment more interesting by making hair slides for all the people (or pets!) in your family so you can compare/contrast what you see.
*To make the hair slides easier to see, make a wet mount on a slide so the specimens are suspended in water. While the hair can be placed on a dry slide, the water helps flatten the hair and makes it slightly easier to see under the microscope*
Salt vs. Sugar
To the naked eye, salt and sugar look super similar. Up close though, you can see the differences between the two.
When making slides with salt, sugar, or other spices, you may not be able to easily place a cover over the crunchy grains, but that's okay. Just leave the slide uncovered but be careful not to bump the slide when you are zooming in.
You can also create wet mounts with salt and sugar to compare how they look wet vs. dry!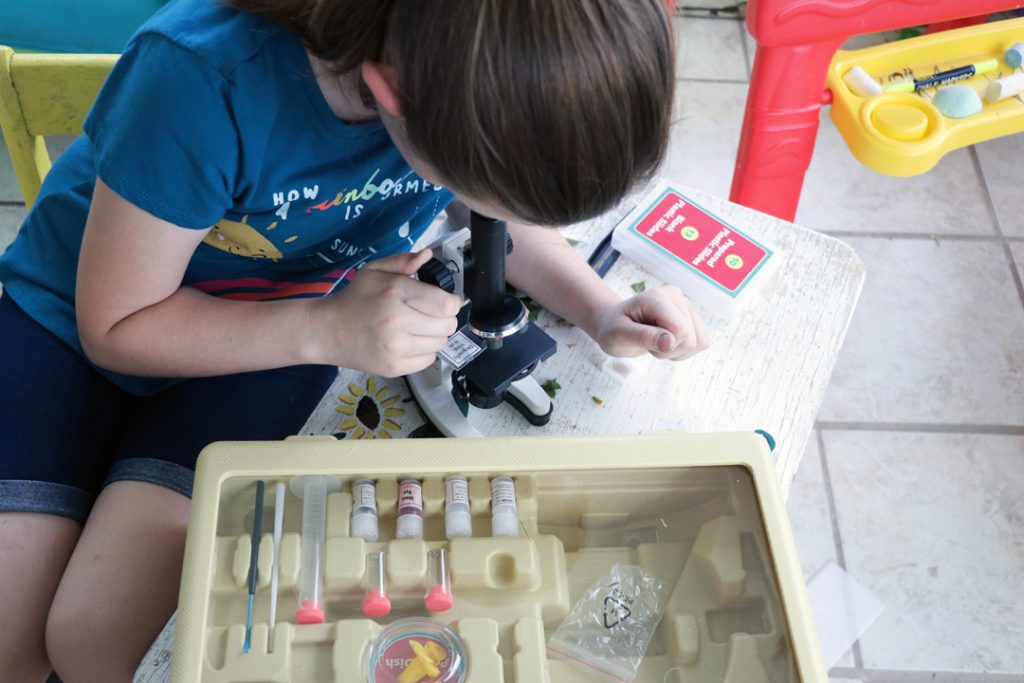 Take a Look at a Spider Web
You will need to be careful when preparing this slide, but it is totally worth it once your kid can look at how amazing a spider web is under a microscope.
First and foremost, make sure you don't harm the spider when looking for a web for this experiment. Also, if you don't know what type of spider you are dealing with, it's always best to proceed as if it is venomous.
A fresh web works best for this little experiment, but you can make it work with a cobweb as well. Start by putting a very thin layer of clear nail polish onto the slide, letting it dry slightly so it is still tacky (wait about a minute but DO NOT TOUCH).
Carefully place the sticky-side of the slide against the thickest part of the web so you can capture it. Gently pull the slide towards you, and then cut the excess pieces of the web. Now, you should have a piece of spider web attached to your slide!
It's now time to put on another slide and enjoy the magic that is nature! This is one I think every kid will really enjoy!
At-Home Science Experiments for Kids
If you liked these microscope experiments, let me know by sharing your pictures with me on social media or telling me about them in the comments here!
If you are still looking for a STEM-inspired gift for your little scientist this holiday season, make sure you check out AmScope's Kids Premium Microscope.
Pin for Later
Make sure you save these "5 Easy Microscope Experiments for Kids" by pinning the image below!