I love this time of the year. To me, Halloween really marks the start of the holiday season. It is the first of many fun fall family adventures and togetherness. Every year, we do Halloween with my dad and step-mom. They live in a rather rural neighborhood with dirt roads and ALL of the houses get super into the spooky spirit! Typically we have dinner all together before we head out to trick or treat, and this year I am bringing a spooky dessert in the form of a Halloween graveyard pudding!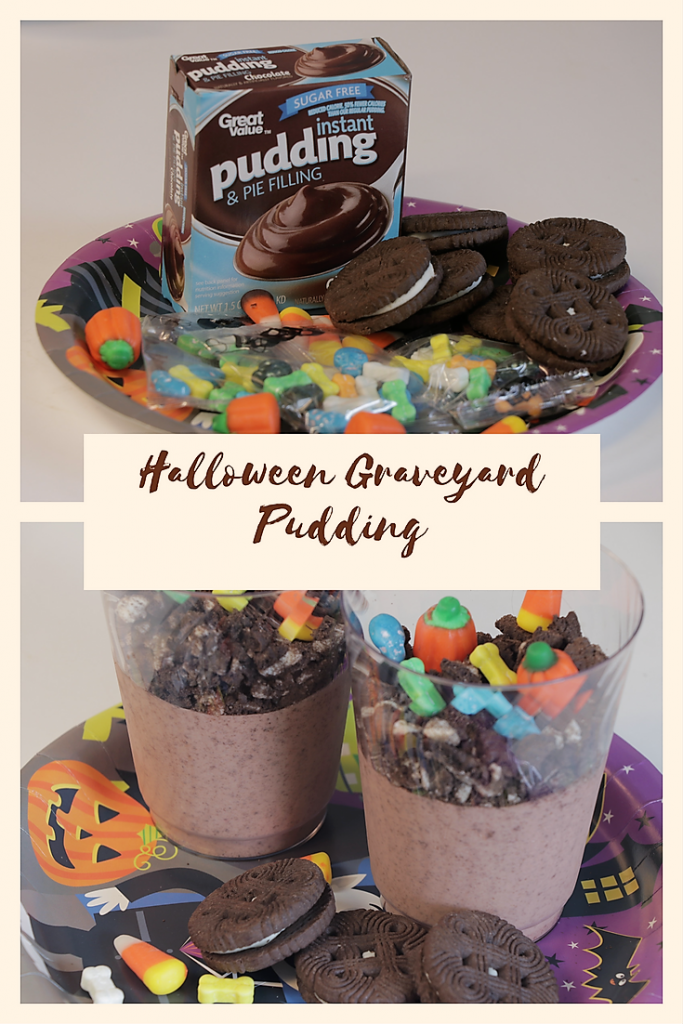 Halloween Graveyard pudding
Now that my kids finally have costumes, we are just about ready for trick or treating! My daughter looks forward to this every year. Our family, along with some friends with kids, all go to my dad's house for a Halloween night spectacular! We start the night with a big pot of my step-mom's famous chili and head out to trick or treat.
Now, they don't live in a regular neighborhood. They live in the country with dirt roads, which makes walking to trick or treat something that just doesn't happen. What we do though, is hook a decorated trailer up to my parent's Polaris and haul ourselves around to get candy. This is something that pretty much everyone in the neighborhood does, and every year it is fun to see how decked out the trailers are!
We also love trick of treating here because there are a lot of cops in my parent's neighborhood. It really is an everyone knows everyone area, and the cops are no exception. Most of them pull their cars out and turn the lights on to help ensure people drive slow.
It is always a fun time, and this year I am making my Halloween Graveyard Pudding to compliment our before trick or treating meal. Seriously, this was so easy and super inexpensive to make. The kids love it, and so do the adults! You can do it in one big pan or make it into mini parfaits.
What You Need
This is super simple, I promise. All you need to make this spooky treat is Pudding Mix, Halloween Candy, Milk, Cool Whip (optional) and Chocolate Cookies.
Seriously, that is is, and you are on your way to a fun Halloween themed dessert.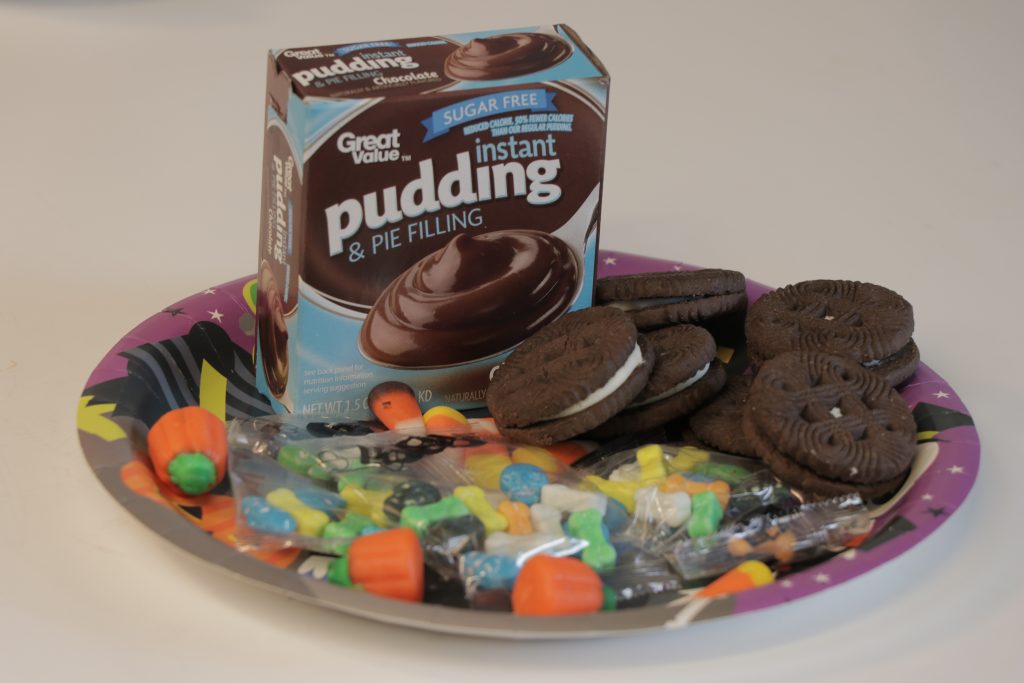 What To Do
Now that you have all of your ingredients, you get to "cooking". There really isn't any actual cooking involved, more like just assembling the pieces.
First you just need to make the pudding according to the package directions. Mine just needed to add 2 cups of cold milk and mix. I added in a spoon-full of Cool Whip to make it a bit creamier, but this step is totally optional. Once you have your pudding all mixed up, just pour it into individual cups and let it set in the refrigerator.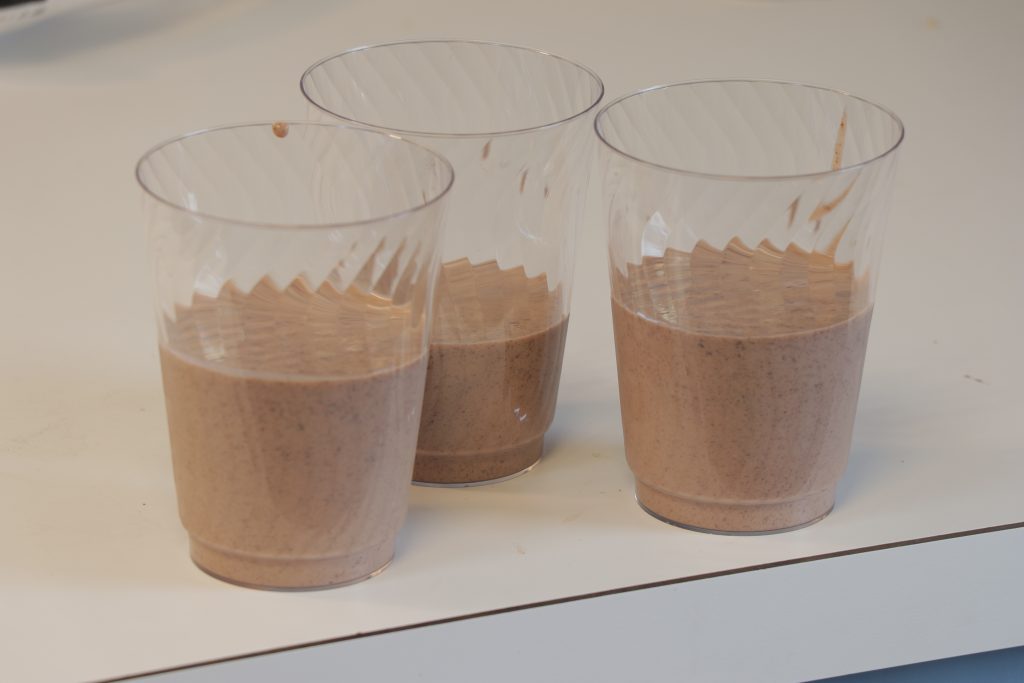 Once your pudding has set, it is time for the fun part! First you want to take your cookies and crush them up. I put them into a Ziploc bag and crushed them with a glass.
Pour your cookie crumbs on top and decorate with your Halloween candy. I was able to find these Bones and candy corn at my local Dollar Tree.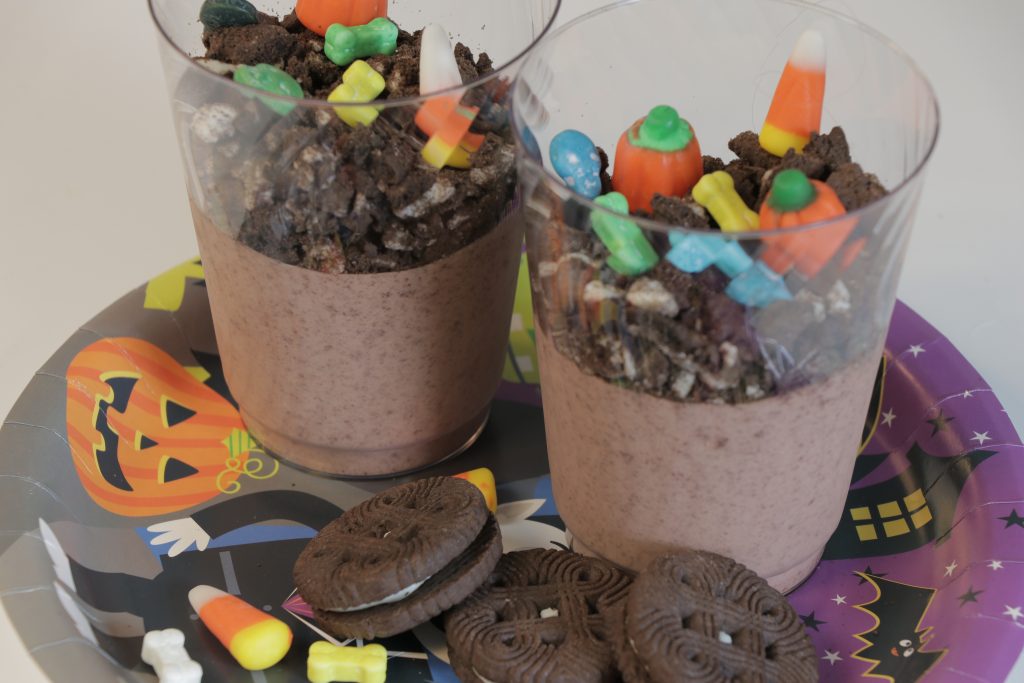 And there you have it! A perfectly sweet and spooky Halloween Graveyard Pudding. It was simple, fun and my daughter loved it!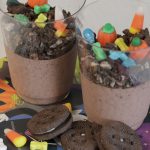 Halloween Graveyard Pudding
Spooky Halloween Graveyard Pudding
Ingredients
1

Box

Pudding Mix

1

Spoon-full

Cool Whip

Optional

Halloween Candy

Chocolate Cookie Crumbs

2

Cups

Milk
Instructions
Make Pudding according to the directions on the box. Mine used 2 cups of cold milk.

Mix in your spoon-full of Cool Whip for a creamier texture.

Pour into cups and let chill until firm

Break up cookies and add to the top of the pudding

Adorn with Halloween candy and enjoy!