Here at Coffee Mom headquarters, we love a good family movie night. Sitting down with the family to watch a movie and eat popcorn always culminates in great memories for us. Now that Halloween is almost upon us, we decided to do a family-friendly spooky movie marathon, and no Halloween movie night is complete without some spooky Halloween popcorn.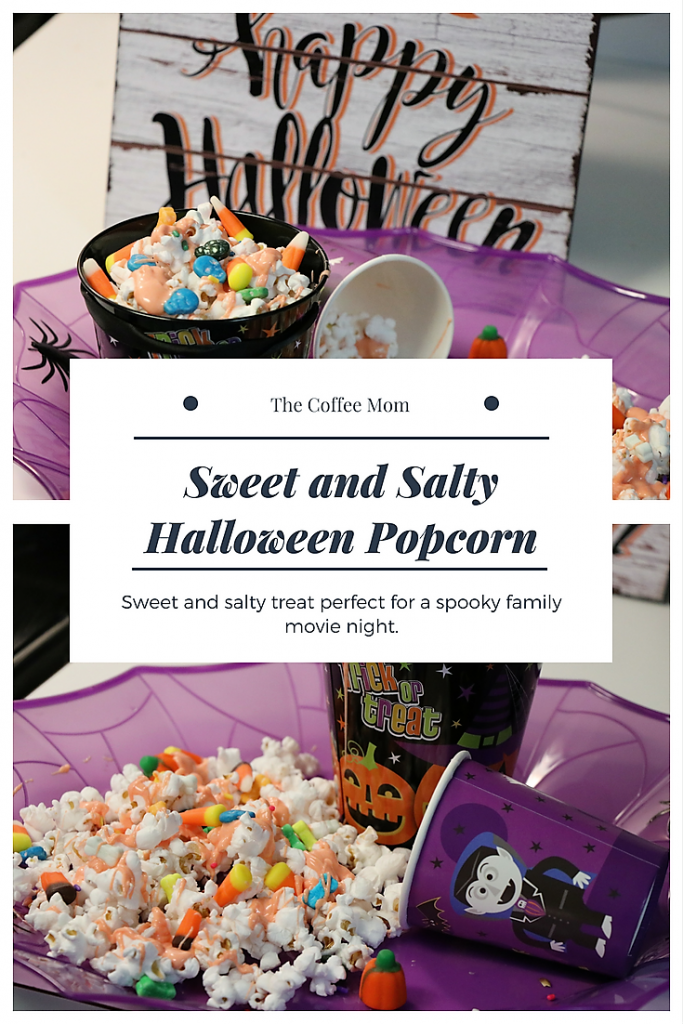 *This post may contain affiliate links. If you make a purchase through these links, I will get a kickback at no extra cost to you. So thank you very much!*
Spooky Halloween Popcorn: Halloween Movie Night Snack
We love family movie nights, and try to do it a few times a month. The kids are bathed and in their pajamas, popcorn gets popped, and we pick a fun family movie. In the month of October, we like to do "scary" movies and my daughter loves it. Her favorite right now has been Coraline, but I am more partial to The Nightmare Before Christmas. Either way, we ended up upping our movie night game recently with some spooky Halloween popcorn. It was sweet, salty, and super easy!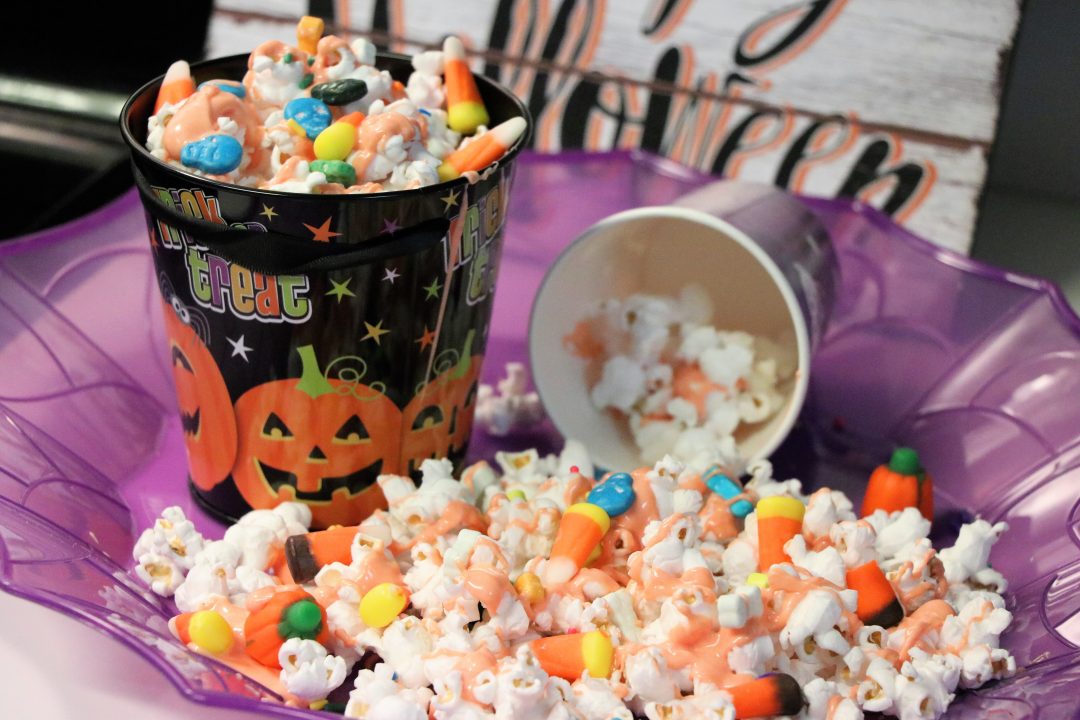 So believe it or not, I do not own a microwave! I know, let that sink in for a minute. We have not had one in a few years, and I honestly don't even want one. For a while, we would make popcorn on the stove in a cast-iron skillet, but recently we made a new little investment. We picked up this little air popper, and it has totally changed our popcorn game. It was only $15 and we noticed that more of the kernels pop, it takes less time, and tastes amazing. So if you are looking for a fun little kitchen gadget, for sure check it out.
So once we made our popcorn in the popper, I added the fun toppings. Some candy corn, skull, and bone candy, and melted white chocolate. I couldn't find the orange candy melts at my store, so I improvised. White chocolate melts with orange food dye! I do wish my orange would have been a bit deeper, but it still tasted amazing.
That is it! Seriously, it is so easy and guaranteed to please any crowd. We love Halloween treats, we also made some Graveyard Pudding recently that would go well with the spooky Halloween popcorn for a party.
Spooky Halloween Popcorn
Sweet and salty Halloween treat
Ingredients
Popcorn

Halloween Candy

Candy Melts
Instructions
Melt your candy melts using a double boiler. I use a small pot with water and place a bowl on top with the candy.

Pour melted chocolate over your popcorn. As much or as little as you desire.

Add your candy and enjoy!