Family life is very busy but when mealtime rolls around, life will normally slow down a little.
After all the food prep has been done and you're all sitting down together, you can take time to rest, eat delicious foods, and connect with one another while eating. Well, that's the theory anyway. But if your family mealtimes fall short, here are some tips that might be useful to you.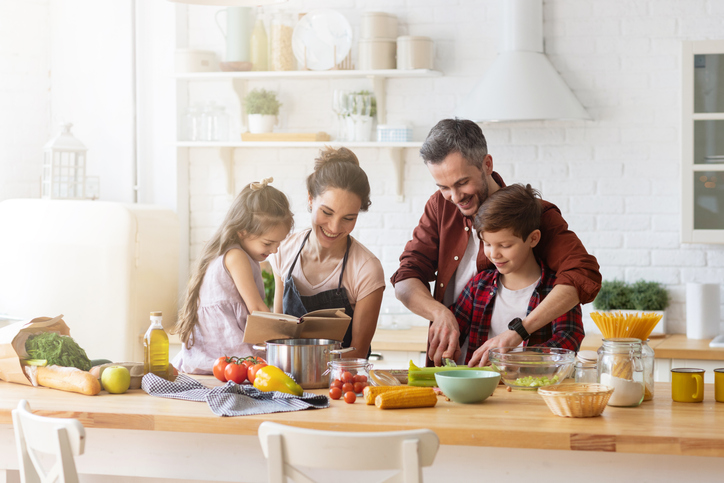 #1: Insist on a no-phone rule
As we suggested, family mealtime should be a time to connect with one another, but this won't be made possible if everybody is looking down at their phones. So, insist on the no-phone rule, as there will then be more scope to talk to one another. Admittedly, the younger members of your family might kick up a fuss at first but once they get used to having no phone during mealtimes, they will calm down eventually.
#2: Find things to talk about
When talking to your family, you can go beyond the usual 'how was your day' question. You can also overcome awkward silences if that is the norm in your family. Mealtimes grant rare opportunities for people to find out more about each other so be creative when you're coming up with topics. Check out these great conversation starters and use those that will get your family members talking.
#3: Try new recipes
Variety is the spice of life, or so the saying goes, and this is especially true at mealtimes. Expand your family's taste palettes by trying new recipes at home and give them an extra incentive to hurry to the meal table.
If you need some ideas, check out the simple and delicious family recipes on our website. We have some great lunch, dinner, snack, and dessert ideas that will please even the fussiest members of your family.
#4: Have theme nights
This is linked to the previous point, as you will have the incentive to come up with something new if you have theme nights. You could have a different theme for each day of the week, such as Taco Tuesday or Spaghetti Sunday, or you could designate one night a week for different themes throughout the year. Check out these themed dinner ideas for some good examples.
#5: Give yourself a night off from cooking
Why should you be the person who is always busy in the kitchen? If your kids are old enough, give them the opportunity to prepare your family meals. Admittedly, you might need to keep an eye on them, but you will still have time to relax a little if you're not in charge of everything. This is also a good idea if your kids are fussy eaters, as they will be more inclined to eat their meals if they have had a hand in preparing them.
You could also incorporate this idea with the last point on this list. If you're having a theme night, order food instead of making it. Use specialist food service, such Barrio Queen Mexican Food Catering for your Mexican nights, and give your whole family a special treat on certain nights of the week.
These are just some of the ways to improve your family mealtimes but if you have any other tips for our readers, please leave us a comment below.