One of the biggest questions I have been getting asked lately has to be some variation of how to drive traffic to a blog. There are so many, amazing ways to really grow your traffic, but today I want to focus on one particular method that can really help you get a nice healthy traffic boost!
If you are a food blogger or a blogger who regularly posts about food and recipes, then this post is for you! I want to talk about how you can use Yummly to drive traffic to your blog and get more eyes on your recipes!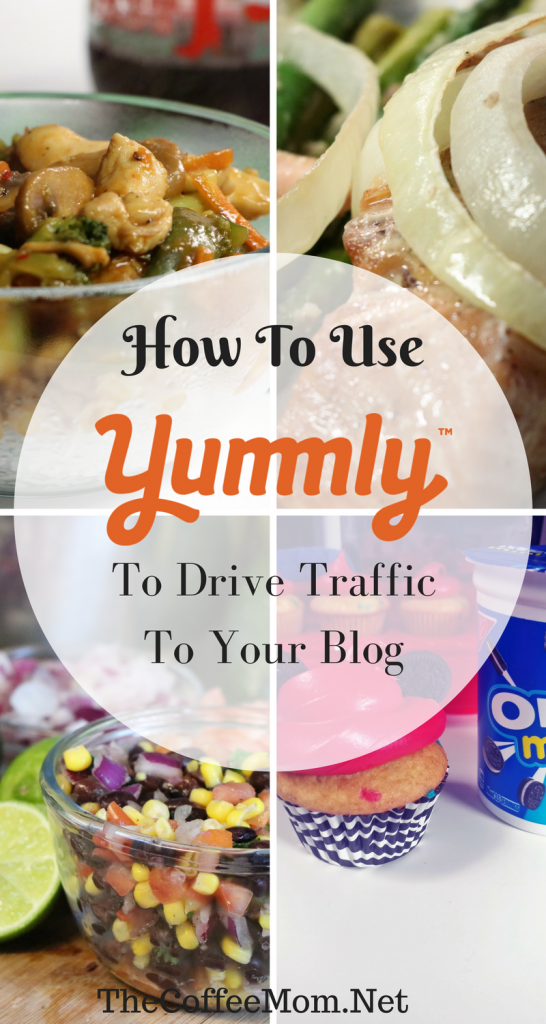 How To Use Yummly To Drive Traffic To Your Recipes
So we all know that Pinterest is my jam. It is a wonderful way to get traffic to a blog and a fun way to find recipes and other helpful tips and tricks. Even though I love Pinterest, there is a new love that has been stealing my heart lately, and that is Yummly!
What Is Yummly?
So what exactly is Yummly? Well, it is a social sharing site just for recipes! You can search for new recipes, share what you find with other members, and most importantly for us, you can get your original recipes featured!
I feel like Yummly is the hidden gem of the food blogging world. Honestly, I had never heard of it until recently, but oh man am I obsessed now! Looking through their site I can finds tons of delicious recipes to try from other bloggers.
You can share recipes to your own Yummly recipe box and save them for later use. All you have to do is set up your account, and click on the Yum button on any food blog and it will go to your very own recipe box! All of your favorite recipes in one spot, how could you go wrong?
How Can Yummly Get Me Traffic?
Now that you know what Yummly is, we can talk about how you can use Yummly to drive traffic to your recipes! It is really simple really!
First, you just have to make sure you have a Yummly sharing button on your blog. I have mine through the Shareaholic plugin ( which you can see on the sidebar of this page).
You can also check out the Yummly Plugin for WordPress blogs. The plugin is a great way to make sure your recipes are optimized for the site. It helps make recipe cards that are fast loading and easy for users to print.
Once you have the sharing options all setup, you are good to go! The sharing buttons will encourage users to share your post to Yummly. I personally like to Yum my recipe myself one time to get it out there as well!
Another thing that you can do is join their publishing network. All of the requirements for that are listed on their website. Becoming one of their publishing partners will help get your recipes seen by a whole host of new people!
You can check out my publisher page right here in case you are interested!
What Are You Waiting For?
Seriously, why are you waiting? If you make food and recipe content, it is time to start using Yummly to drive traffic to your recipes! You don't even have to be a food blogger!
I'm not, but I do create recipes often so it has really been an awesome way for me to expand my audience and reach! So go on, make your account and start Yumming!