Every time I go to my local Publix, I like to grab a few of their recipe cards that they have. The meals always look so delicious and decently easy to make. Recently I picked up one of the cards for a Cowboy Chicken and Rice, and I knew I had to make it. Now, I ended up making the recipe my own and modifying it to be a slow cooker Cowboy Chicken and Rice. It turned out delicious and was so simple to make.
*This post may contain affiliate links. Meaning if you make a purchase I will receive a commission at no extra cost to you*
Slow Cooker Cowboy Chicken and Rice
One of my favorite things to do is to take recipes and adapt them to a slow cooker. Seriously, my slow cooker is basically my best friend. I have three of them, in varying sizes. For this variation of Cowboy Chicken and Rice, I ended up using my smaller 4 quart slow cooker to do the job. You won't need anything huge for this meal, unless you want to double it for a larger family. We are a family of 4, and still had quite a good bit of leftovers for lunches from this.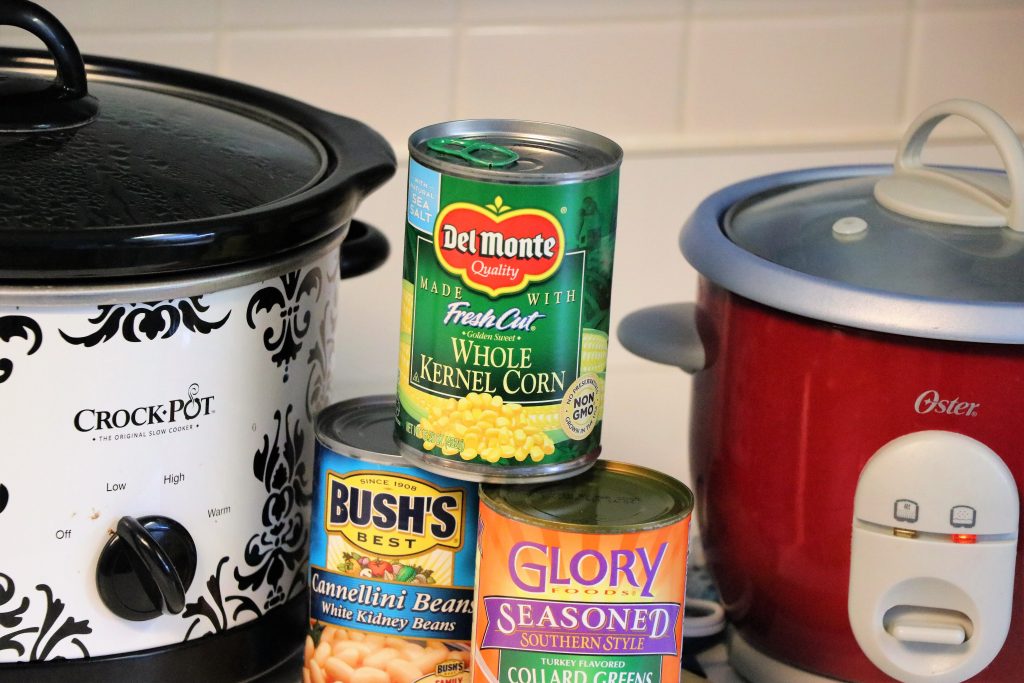 Adapting To A Slow Cooker
No matter if you are using this Slow Cooker Cowboy Chicken and Rice, or adapting another of your favorite recipes to a slow cooker, there are a few things that you should keep in mind. First, try to leave the lid on your slow cooker as much as possible. The more you remove the lid, the longer your meal will take to cook.
Secondly, you don't have to add everything at the same time. Certain ingredients will cook faster and break down in the slow cooker. One example is adding in any frozen vegetables. These can get mushy very quickly so I reserve them for about the last hour of cooking.
There will be more liquid than you think. So, when I first started using my slow cooker, I always ended up adding too much liquid when cooking. Your meat and vegetables will provide quite a bit of moisture. I typically only add in a small amount of extra liquid, unless I am making a soup or stew.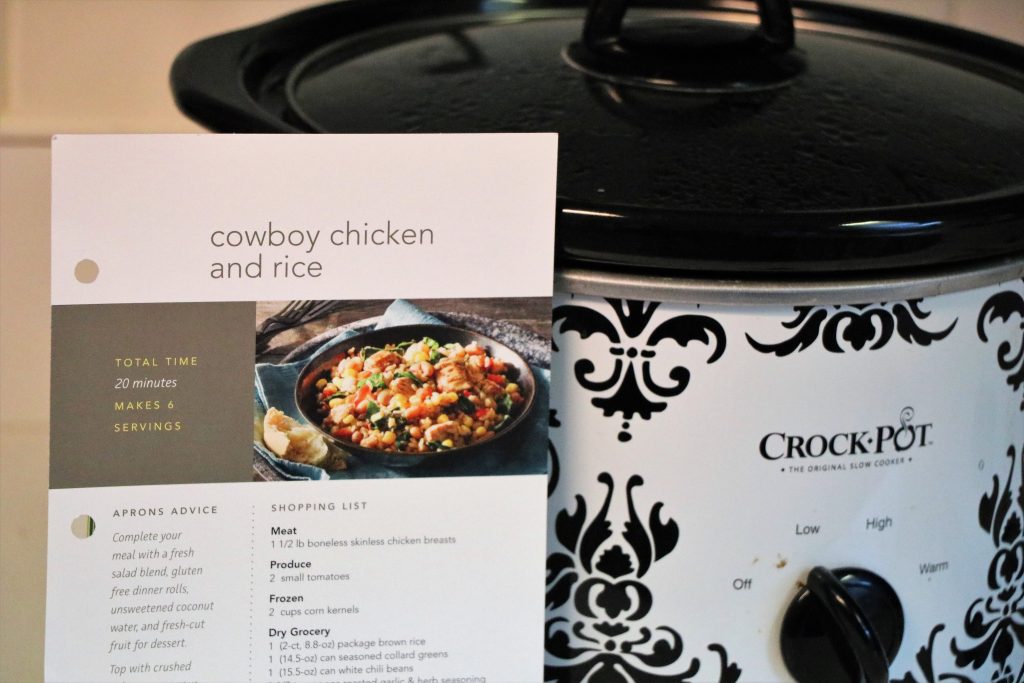 Cowboy Chicken and Rice
As I mentioned earlier, this is a recipe that I adapted from the Publix Apron recipes. You can check out the original recipe on the Publix Website if you are interested. A few things that I changed was I nixed a lot of the fresh produce and substituted in either canned or frozen, simply because I had it at home. You are more than welcome to use fresh produce though. I just like using what I have on hand.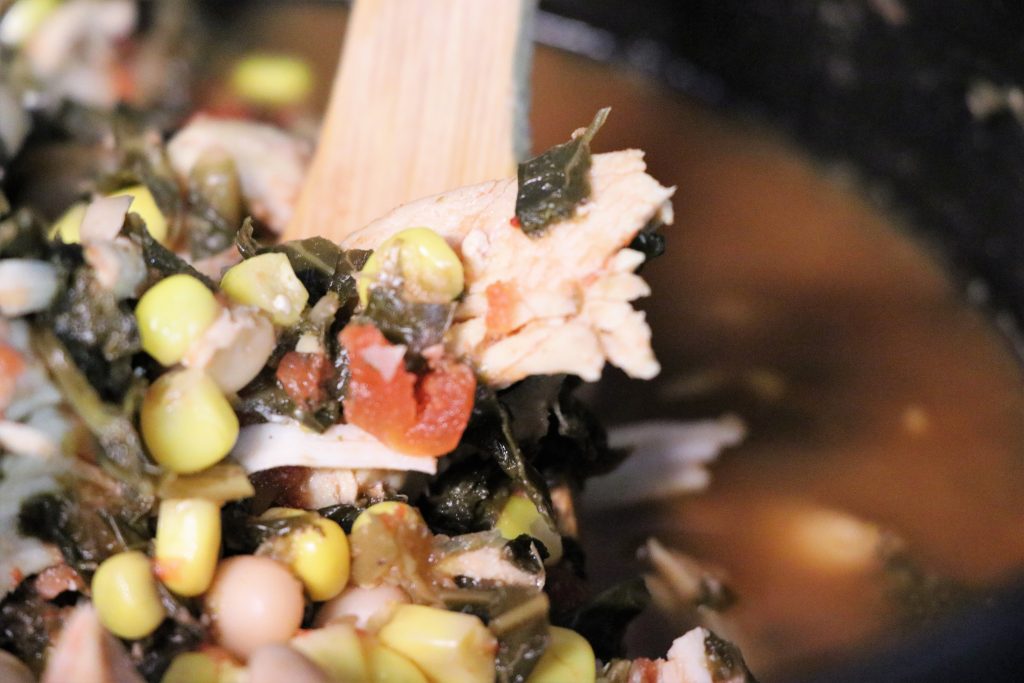 The other major change I made was I did not cook the rice in with the rest of the dish. In the original recipe, it suggests using instant rice and mixing it in with the rest of the dish. used my rice cooker to make the rice and just topped it with the Chicken in the bowl.
Changes I Would Make Next Time
Maybe I am strange, but I like changing up my recipes. Trying new things, adding or omitting ingredients, it is fun to me. Next time I make this slow cooker cowboy chicken and rice, I think I want to add in some hot sauce while I am cooking it. This will give it a little more heat, and I love spicy foods. I also think this would be really delicious with black eyed peas added in as well, and maybe a bit of cooked bacon. Really, the possibilities are endless with this type of meal.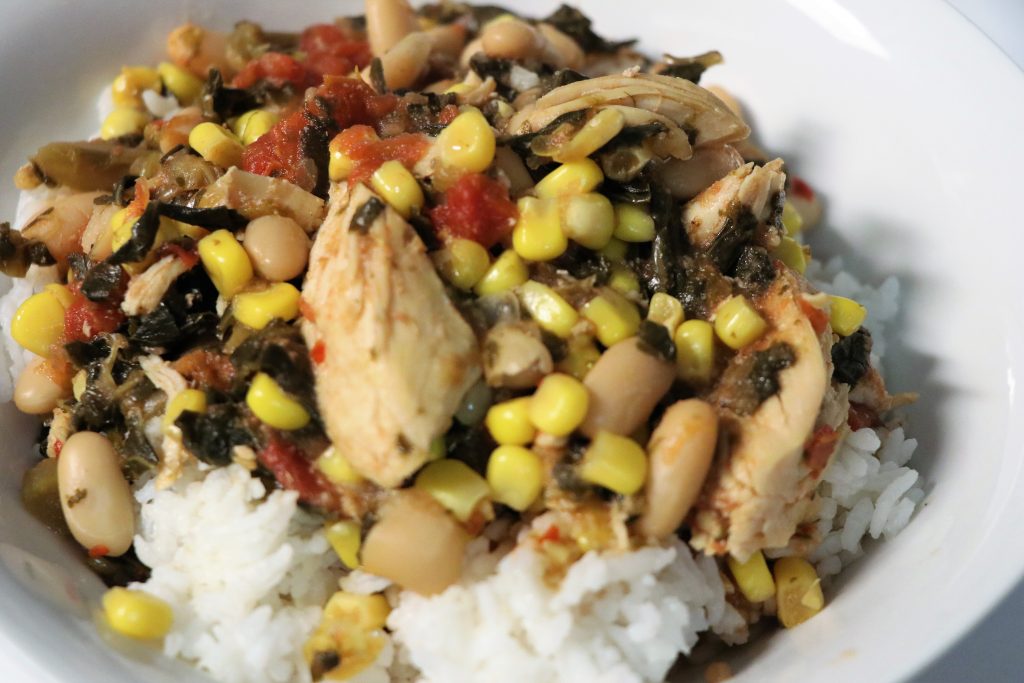 Printable Recipe
Slow Cooker Cowboy Chicken and Rice
Slow Cooker Cowboy Chicken and Rice is an easy and family friendly meal that you can just dump and forget until time to eat!
Total Time
6
hours
10
minutes
Ingredients
1

Lb

Chicken Breast

1

Can

Diced Tomatoes

1

Can

Seasoned Collard Greens ( 14.5 Oz)

1

Tbsp

Red Wine Vinegar

1

Can

White Chili Beans (drained)

1

Can

Corn (drained)

1

Onion ( fresh or frozen)

Cooked Rice

1

Tsp

Garlic Powder

Salt and Pepper

To Taste

Cayenne Pepper

Optional

Hot Sauce

Optional

1

Tbsp

Minced Garlic
Instructions
Put your chicken, onion ( if fresh) seasonings, minced garlic, and red wine vinegar into your slow cooker. You can add in your hot sauce here as well if desired.

Cook on low for about 4 hours

Add in corn, tomatoes, beans, collards, and onions ( if frozen). Cook for 2 more hours.

Remove chicken from the pot, shred, and add back in.

Make your rice any way you desire. I use a rice cooker.

Top your rice with the chicken and enjoy!