If you are looking for a sweet and spicy recipe that will make everyone beg for seconds, then you need to make bang bang shrimp tacos with creamy cilantro lime slaw.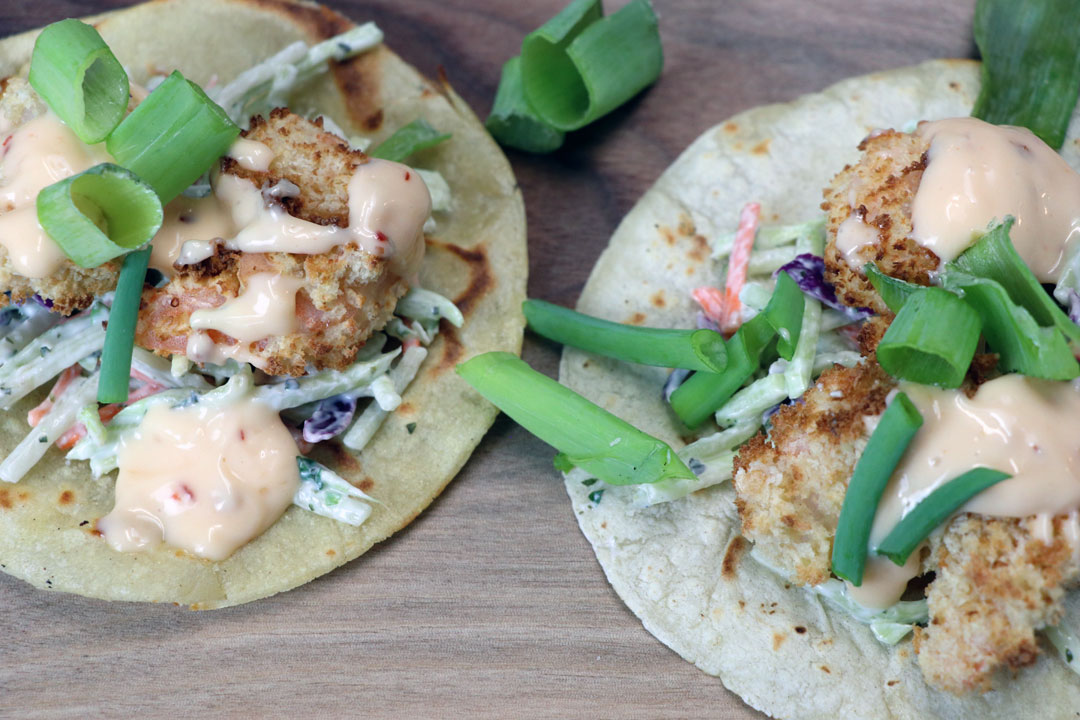 Bang Bang shrimp are my favorite Bone Fish dish. I used to go there all the time just to get these sweet and spicy shrimp, but lately, I really have been trying not to go out as much lately.
I knew they had to be not too difficult to make, so I decided to try to make some copy-cat bang bang shrimp. Surprisingly, the bang bang sauce is super easy to make at home. And shrimp is simple as well.
These delicious shrimp needed something more though, and sincetacos are probably my favorite dish ever I decided to play around and turn my favorite restaurant copy cat food into something new and delicious!
How to Make Bang Bang Shrimp Tacos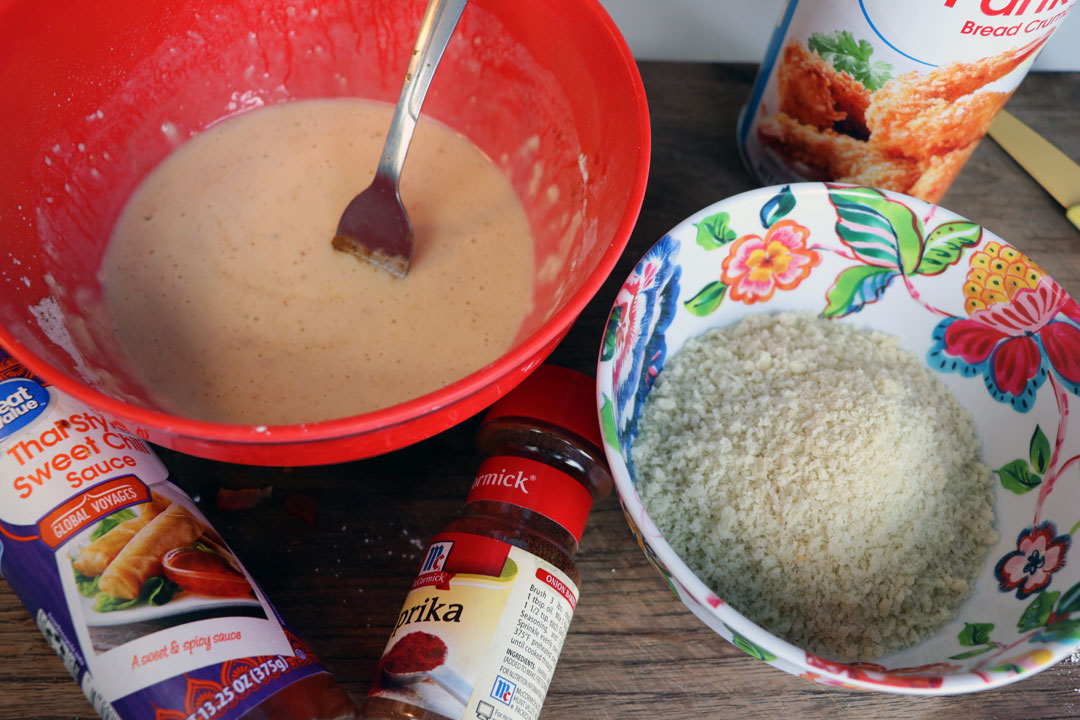 Start with the ingredients. Everything you need to make this should be available at your local Walmart or another grocery store you prefer. I just like Walmart because they deliver right to me and I don't have to leave the house.
Cilantro Lime Slaw Ingredients
Slaw Mix – I used a broccoli slaw mix

Lime Juice

Sour Cream

Mayo

Cilantro

Sugar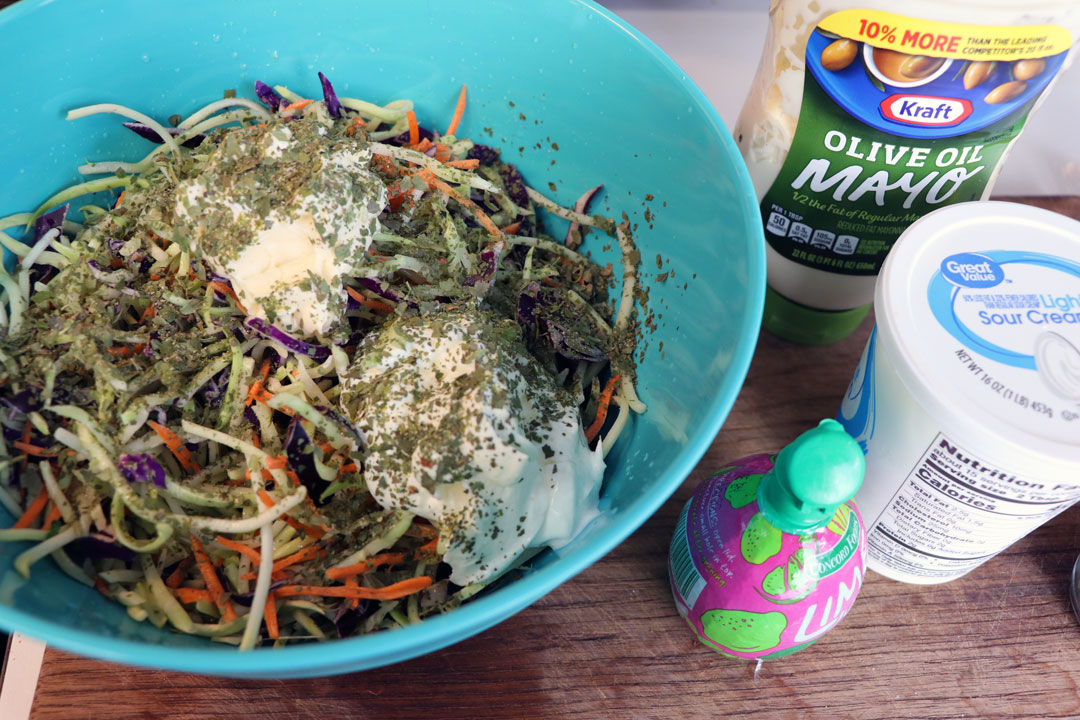 Bang Bang Shrimp Ingredients
Raw shrimp ( deveined and peeled with tail off preferably)

Panko

Flour

Corn starch

Paprika

Mayo

Egg

Thai Sweet Chili Sauce

Sugar

Corn Tortillas

Make Your Creamy Cilantro Lime Slaw
First, you will want to make the cilantro lime slaw. This is super simple and will only take you a few minutes.
Simply combine the slaw mix, about 1/4 cup of mayo, 1/4 cup of sour cream, a pinch of sugar, about 1-2 Tbsp lime juice, and a heaping handful of cilantro.
Mix well and taste. If you think it is too dry, add in more of the mayo or sour cream. If it isn't sweet enough to your liking, add more sugar. Remember you can always add more slowly but you can never take out something if you add too much.
Leave this in the refrigerator until you are ready to eat it.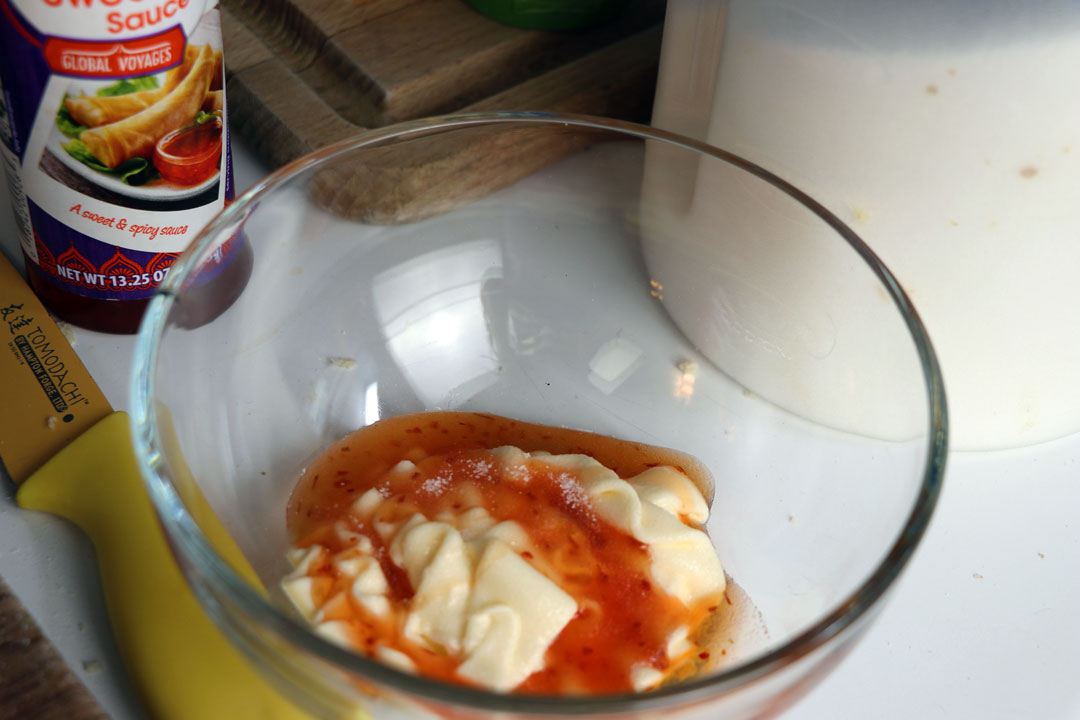 Make Copy Cat Bang Bang Sauce
The bang-bang sauce is again, super simple to make! It is only three ingredients!
In a bowl combine about 1/2 Cup mayo and 1 Tbsp sweet that chili sauce with a pinch of sugar. Once again, this is not an exact measurement type recipe. Try it, taste it, add more of what you feel you need as you need it.
Copy Cat Bang Bang Shrimp but Make it Tacos!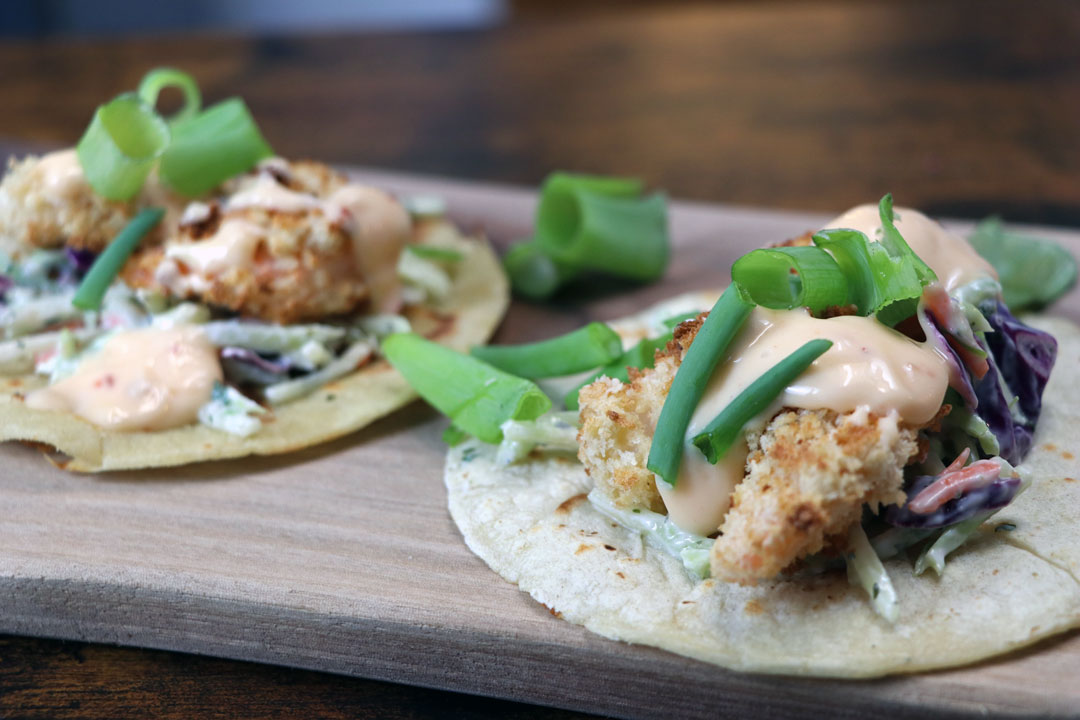 Now we need to batter and cook the shrimp. Again, this is super easy and measurements are not precise.
Start out with 2 mixing bowls. In one, combine 1/2 cup flour, 1 Tbsp corn starch, 1 egg, a sprinkle of paprika, and a splash of water.
Instead of water, you can use milk or coconut milk if you prefer. I just used water since it was what I had. In the second bowl, pour out some panko bread crumbs.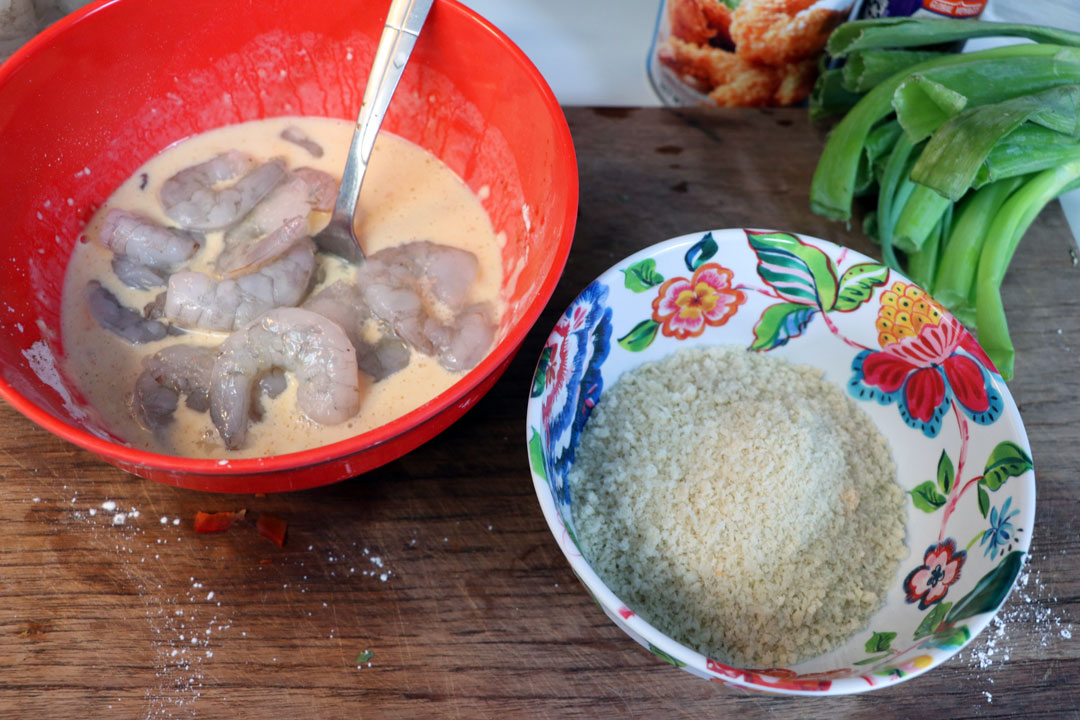 Coat your shrimp in the flour and egg mixture. Then dredge it in the panko and coat well.
For cooking, I used my air fryer, but feel free to bake or deep fry if you prefer.
If you use the air fryer as I did, preheat it to 400° then cook your shrimp for about 4 minutes.
Shrimp only takes a few minutes to cook. Which makes this a really quick recipe to make.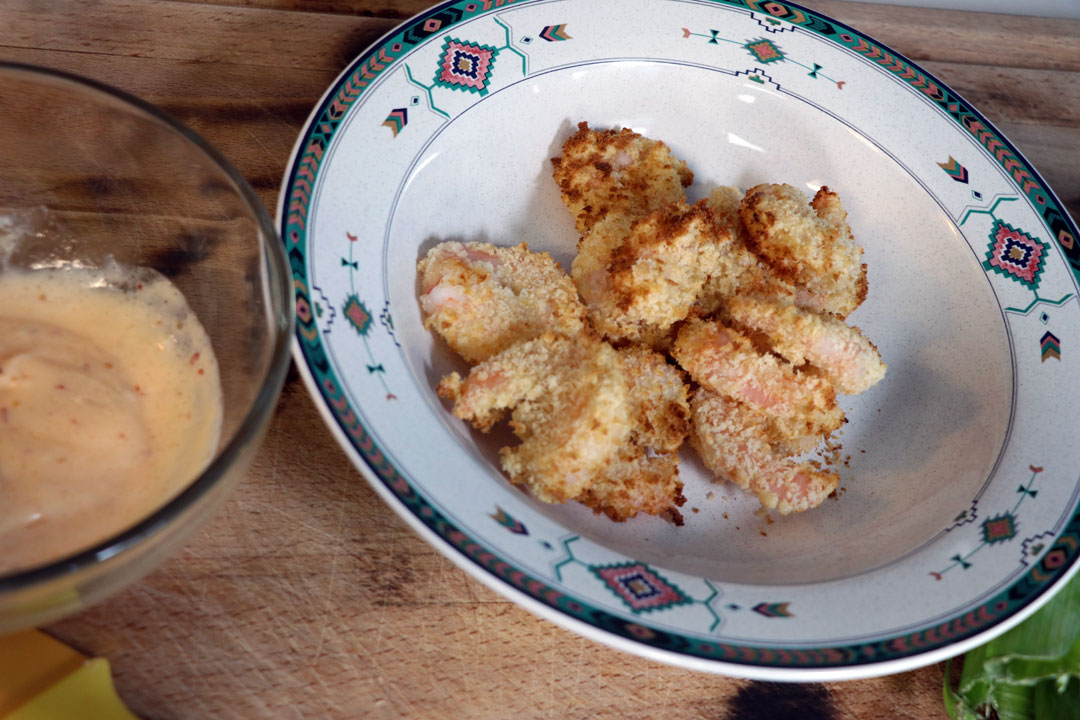 When your shrimp are fully cooked, set them aside and warm up some corn tortillas. I pan fry my corn tortillas but you don't have to.
Then just build your taco! Shell, cold cilantro lime slaw, shrimp, top with bang bang sauce, and some diced green onions if you are feeling feisty.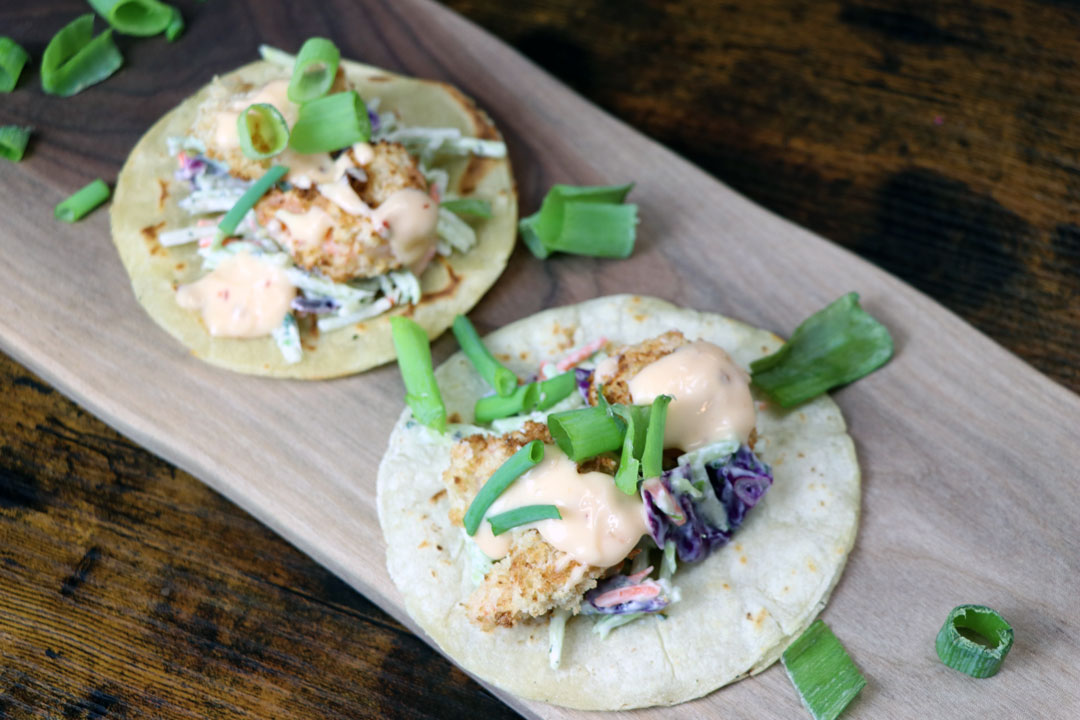 Printable Recipe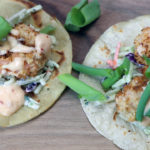 Bang Bang Shrimp Tacos with Creamy Cilantro Lime Slaw
Sweet and spicy, this is the perfect copy-cat bang bang shrimp recipe served on a warm taco with a simple cilantro lime slaw.
Ingredients
Cilantro Lime Slaw
1

Bag

Broccoli Slaw Mix

1/4

Cup

Mayo

1/4

Cup

Sour Cream

1

Tbsp

Lime Juice

1

Pinch

Sugar

1

Tbsp

Cilantro
Bang Bang Sauce
1/2

Cup

Mayo

2

Tbsp

Sweet Thai Chili Sauce

1

Pinch

Sugar
Air Fryer Shrimp
1

Bag

Shrimp

1/2

Cup

Flour

1

Tbsp

Corn Starch

1

Large

Egg

1

Tbsp

Paprika

Splash

Water

Panko Breadcrumbs

Corn Tortillas
Instructions
Cilantro Lime Slaw
Combine all slaw ingredients and mix well. Put it in the refrigerator and let it sit while you make the rest.
Bang Bang Shrimp Sauce
Combine the Mayo, Sweet Chili sauce, and pinch of sugar. Set aside while you make your shrimp.
Air Fryer Shrimp
Get out 2 medium mixing bowls. In one bowl, combine your flour, egg, paprika, a splash of water, and corn starch.

In the other bowl, pour in some panko breadcrumbs.

Batter your shrimp in the flour mixture bowl. Fully coat them.

Dredge in the Panko and make sure they are fully coated.

Cook in the air fryer at 400° for 4-5 minutes.
Build your Taco
Warm up your corn tortillas.

Place your saw on the warm tortilla. Top with Shrimp and drizzle with the bang bang sauce.
Make sure you check out more family-friendly recipes and tag me on Pinterest or Instagram letting me know what you think of what you tried!