Finding low carb, Keto alternatives to some of my favorite foods has been something I've been working hard on lately. My whole family has been eating better and feeling better, but there are still days that I just crave starchy favorites from before I cut them out of my diet. One of my all time favorite carb heavy foods…. Potato soup! So when I had a severe potato soup craving when the temperature started to dip, I knew I had to find an alternative that would appease my cravings but not knock e right off the train! Enter the loaded cauliflower soup! Thick and creamy like its starch heavy cousin, this is a delicious alternative! So if you are looking to lower your carb intake, go Keto, or just want to try something new… then this super easy soup may be just for you!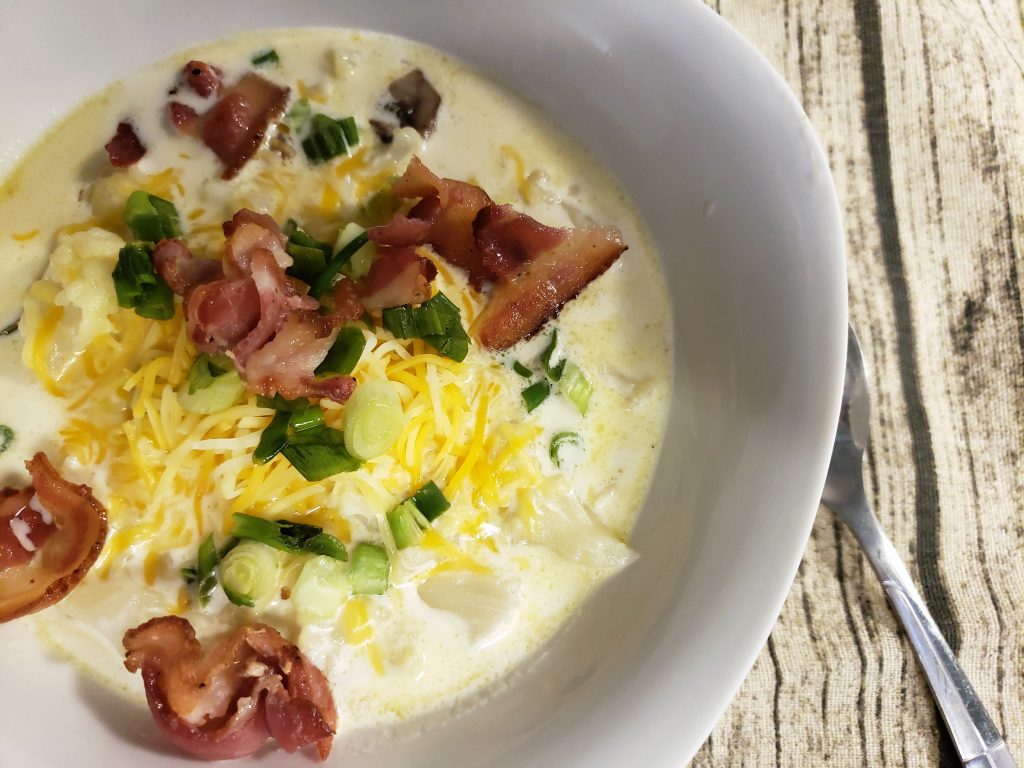 Keto Loaded Cauliflower Soup
This is the perfect soup to warm your soul while still cutting out the carbs! Oh and did I mention that it is easy to make too? Yea, to me that part is important! I don't like recipes that are too complicated because I know I just don't have the time! Bonus, this recipe makes a ton of food! Perfect for portioning out and taking to work or for feeding a large family!
What You Need For Loaded Cauliflower Soup
The ingredients are pretty basic and rather inexpensive as well! So easy… Inexpensive.. and feeds a ton of people!
One head of cauliflower
5 (or more no judgement here) slices of cooked bacon
2 Celery stalks
32 oz Chicken Broth
One Onion ( optional)
Minced Garlic ( to taste, I like a lot)
1/4 cup cream cheese
1-2 Tbsp butter
Cheddar Cheese ( to taste)
1/8 Cup ( or more if you want) sour cream
Green Onion (for topping)
How to Make Loaded Cauliflower Soup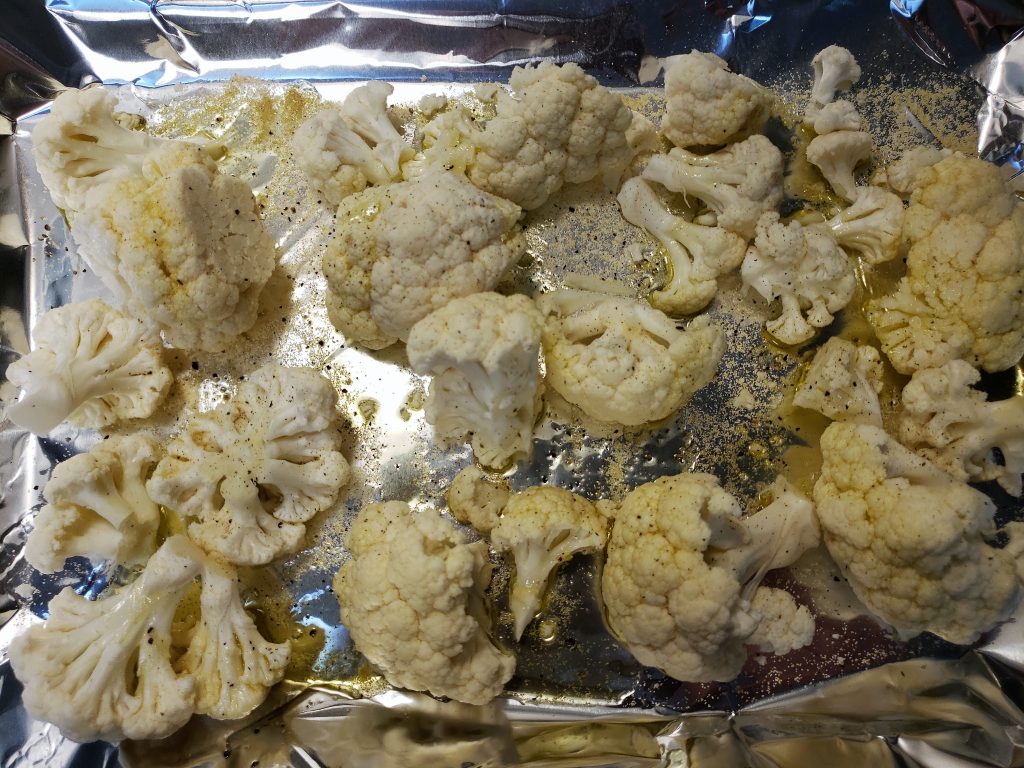 Start by roasting your cauliflower. Top with some olive oil, salt and pepper and bake in the oven at 350° for about 20 minutes or until it is soft.
While you are waiting for your cauliflower to finish baking, you can start on your soup base.
Melt some butter in a pot, I like to use my dutch oven for this. Then saute your garlic for 2-3 minutes, careful not to burn it! Toss in your diced celery for another few minutes until it has softened. I added in a few mushrooms that I had on hand as well, feel free to do so as well but it is not necessary.
Pour in your chicken broth and bring to a boil. By now, your cauliflower should be done and you can add it in. If you have an immersion blender, use that to puree your cauliflower…. if you do not own one ( as I don't) you can use a regular blender.. Add a bit of chicken broth to make the blending process easier. Then you can just add your blended cauliflower right into the pot.
Let it simmer for about 15-20 minutes and toss in your cooked chopped bacon near the end. Last but not least, mix in your dairy ( sour cream, and cream cheese). Allow these to fully incorporate, stirring often.
Top with green onions and cheddar cheese and you are ready to eat this delicious keto friendly meal!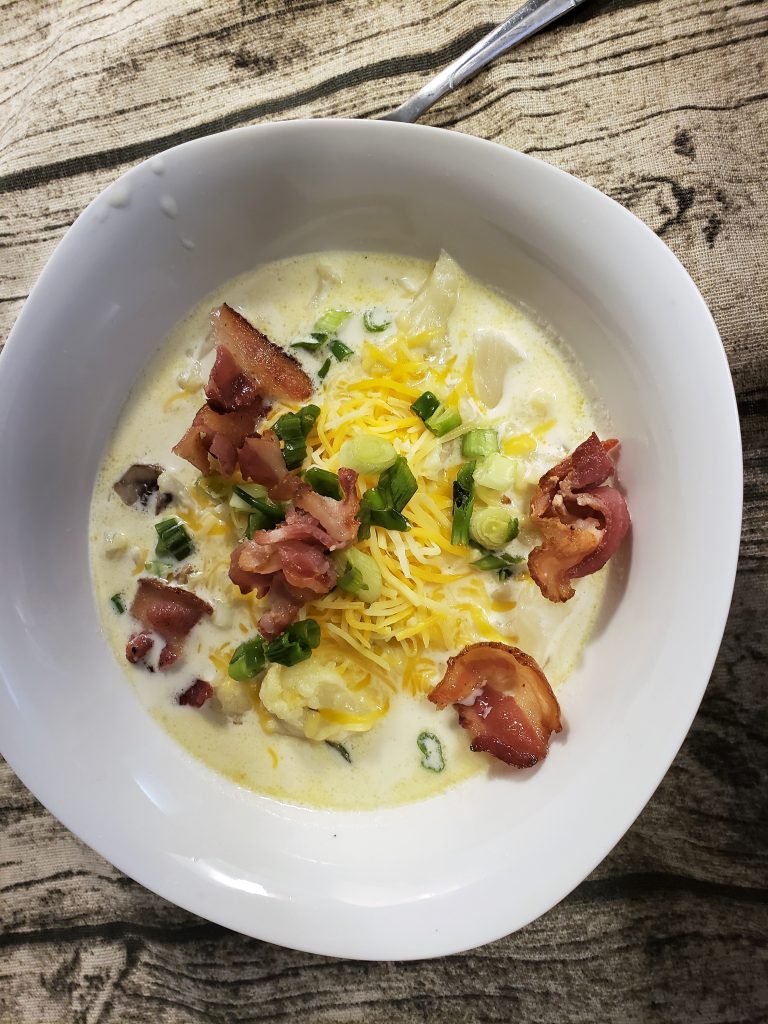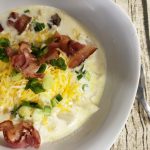 Keto Loaded Cauliflower Soup
Keto Loaded Cauliflower Soup
Ingredients
1

head

Cauliflower

1

carton

Chicken Broth

1/4

cup

Cream Cheese

4-5

slices

Chopped Bacon

2

stalks

Celery

1-2

tbsp

Butter

1/8

cup

Sour Cream

Green Onion

Cheddar Cheese

1

tbsp

Minced Garlic
Instructions
Bake cauliflower for 20 minutes at 350°

Melt butter in a pot. saute your garlic for 2-3 minutes careful not to burn it! Toss in your diced celery for another few minutes until it has softened.

Pour in your chicken broth and bring to a boil

Blend cooked cauliflower and add into the soup mixture. Let simmer for 15-20 minutes., add cooked bacon at the end.

mix in your dairy ( sour cream and cream cheese). Allow these to fully incorporate, stirring often.

Top with green onions and cheddar cheese and you are ready to eat