Pretty much everyone I know wants to find out how they can make more money. Either online, working from home, side hustles, ormaking money on social media. I don't think I have ever met someone who didn't want to make at least a little extra income. Who I have met though, are people who think they can't make this extra money. They either think they don't have the time, or they don't have the following to make money as an influencer. Well, I am here to debunk the " not enough followers" myth when it comes to making money as a microinfluencer. You can, and should, be making money with your services even as a microinfluencer and I am here to share how!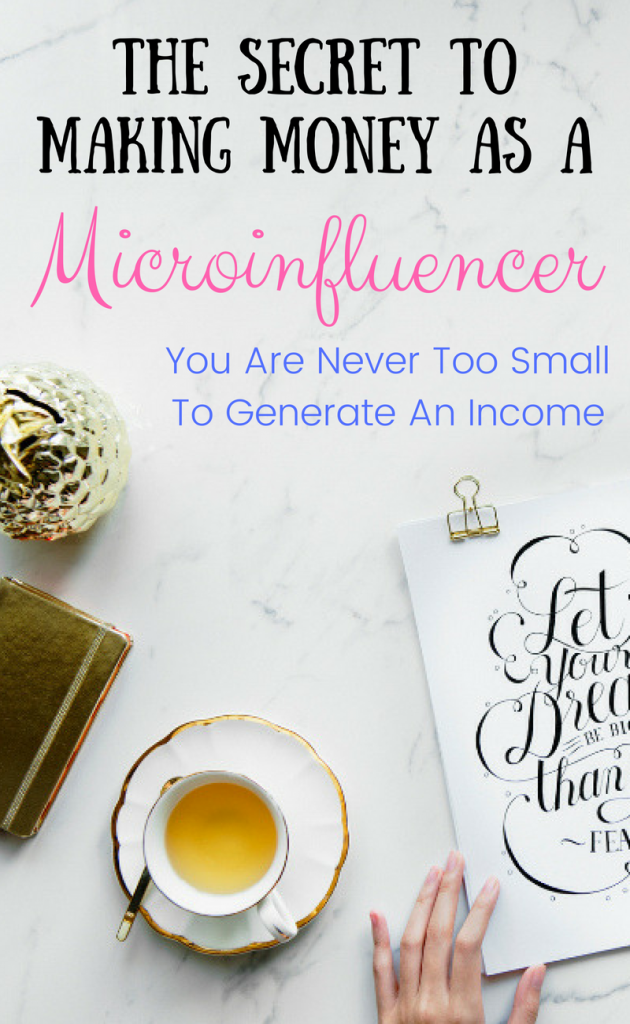 *This post may contain affiliate links*
Make Money as a Microinfluencer
Yes, you can make money as a small blogger, or microinfluencer. I did it, and you can do it as well! Within a few months of creating The Coffee Mom, I was regularly bringing in some sort of money. Now, this wasn't a lot to start with, maybe $100 a month…But it's something right!
What Is A Microinfluencer ?
One article I read claims that a microinfluencer is any account with under 30,000 followers. Some will say less, others will say more….But at the end of the day a microinfluencer is someone in the influencer community with a smaller number of followers.
Why Would Companies Work With Microinfluencers?
Now that we know what a microinfluencer is, we can talk about why companies would want to work with us sometimes even opposed to larger influencers. Well, one thing that is easily noticeable, is that smaller influencers tend to have higher engagement. Microinfluencers tend to be more connected to their audience. Responding to comments and building a real relationship with them. Due to this, followers are more likely to make a purchase on their recommendation as they feel they are more a friend as opposed to a large untouchable celebrity.
Making Money as a Microinfluencer
So, now that you know why micoinfluencers are an important part of the advertising machine, it is time to figure out how you can go about monetizing your blog and social media accounts. I am not going to get into building your readership, growing followers, or any of that in this post. I have others that talk specifically about that if you want to check those out though.
Start Applying To Influencer Networks
One of the first things you want to do, in my humble opinion, is start applying to influencer networks. These are awesome when it comes to connecting influencers to brands. Yes, some of these need specific traffic and follower numbers, but they are relatively low.
No matter how many followers, readers, monthly visits you have, you should start trying to get into some influencer networks and start building brand relationships! I have listed out all of my favorite influencer networks for you right here as well so you don't have to go hunting them down!
I also have this list available in my FREE E-mail course on sponsored content that you can sign up for here if you would like some more in-depth information on making money through sponsorships.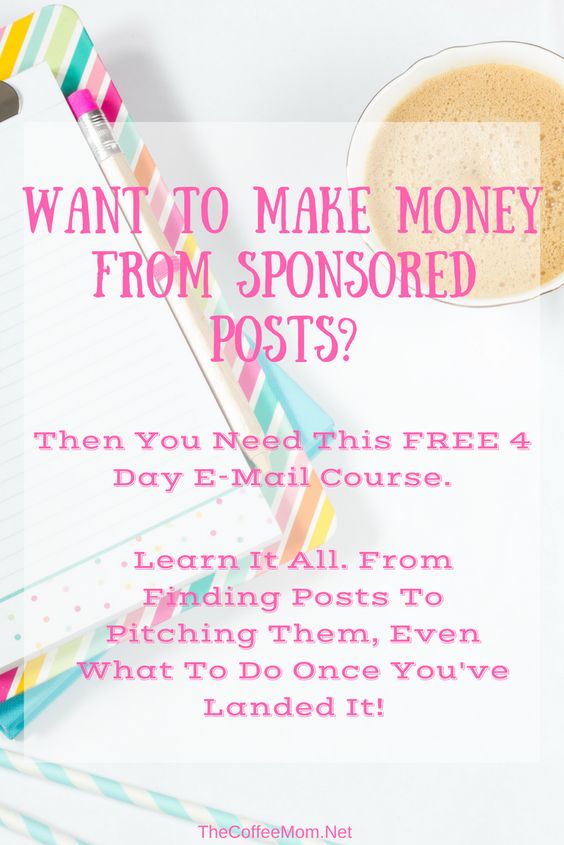 Start Running Ads
In the past, I was never a huge fan of running ads. Ad sense was too intricate and made my page look cluttered. Also, I never liked only getting paid after a certain threshold. So, I never ran ads on my page at all… Until I started talking to the staff at Fomo about their new company. The ad on your page is not a hindrance at all ( you may see mine pop up in the bottom left corner and then disappear). They also pay out at a higher rate than Google, along with paying EVERY month regardless of how much/little you earned! They really are amazing, and I recommend them to anyone wanting to make a little extra money with their blog. You can check them out for yourself here and get started with them right away!
Pitch Companies Directly
Once you feel comfortable working on sponsored content, you should really think about pitching brands directly! You have the potential to make even more money by cutting out the middle man and working with brand directly. This does take more work, but it is also a higher reward. I know a lot of microinfluencers are intimidated by pitching brands, but you really shouldn't be. All you really need to do is send a good pitch to a company that you want to work for. If you want to see the difference between a winning pitch and a bad pitch, then i urge you to check out the video below.
Pitching is an art, and as you do more and more pitches, I promise you will get more and more comfortable with it. One thing you need to realize is that brands need influencers. Influencer marketing is the way of the future, well on its way to overtaking traditional advertising. We are the gate keepers between these brands and our audience. Plus, influencer marketing is much less expensive to companies than traditional avenues.
Even though it is less expensive though, you need to know your worth and not be willing to take extremely low balled offers. Be confident in your worth and go into these deals ready to negotiate, but to also stand strong. If you aren't sure what you should be charging, then check out Social Blue Book to get a rough estimate at the industry norms.
Affiliate Marketing
Another awesome way for microinfluencers to make money is through affiliate marketing. This is where you recommend products you love to your audience, and when they make a purchase, you get a commission percentage! A lot of companies now have affiliate programs that you can sign up for. A favorite of mine is Share A Sale, where you can brows different companies and sign up for their programs all in one place. The key to affiliate marketing is to really love the products you are recommending. I promise, your true enthusiasm will shine through!
Create Your Own Product
While I absolutely love working with brands, my favorite way to make money as a microinfluencer is by selling my own products! This can be digital or physical products, and they can really vary depending on your niche.
For me personally, I have created a shop where I sell tank tops, t shirts, and coffee mugs. The best part? I don't have to keep products on hand! I use a company called Printful, and once I create my design, that is all I have to do! When an order is made, the company generates the product and ships it to the customer! I also love that I can order 6 samples every month at 20% off of cost! These samples can be used to get photos of the products, test them out, or even facilitate giveaways!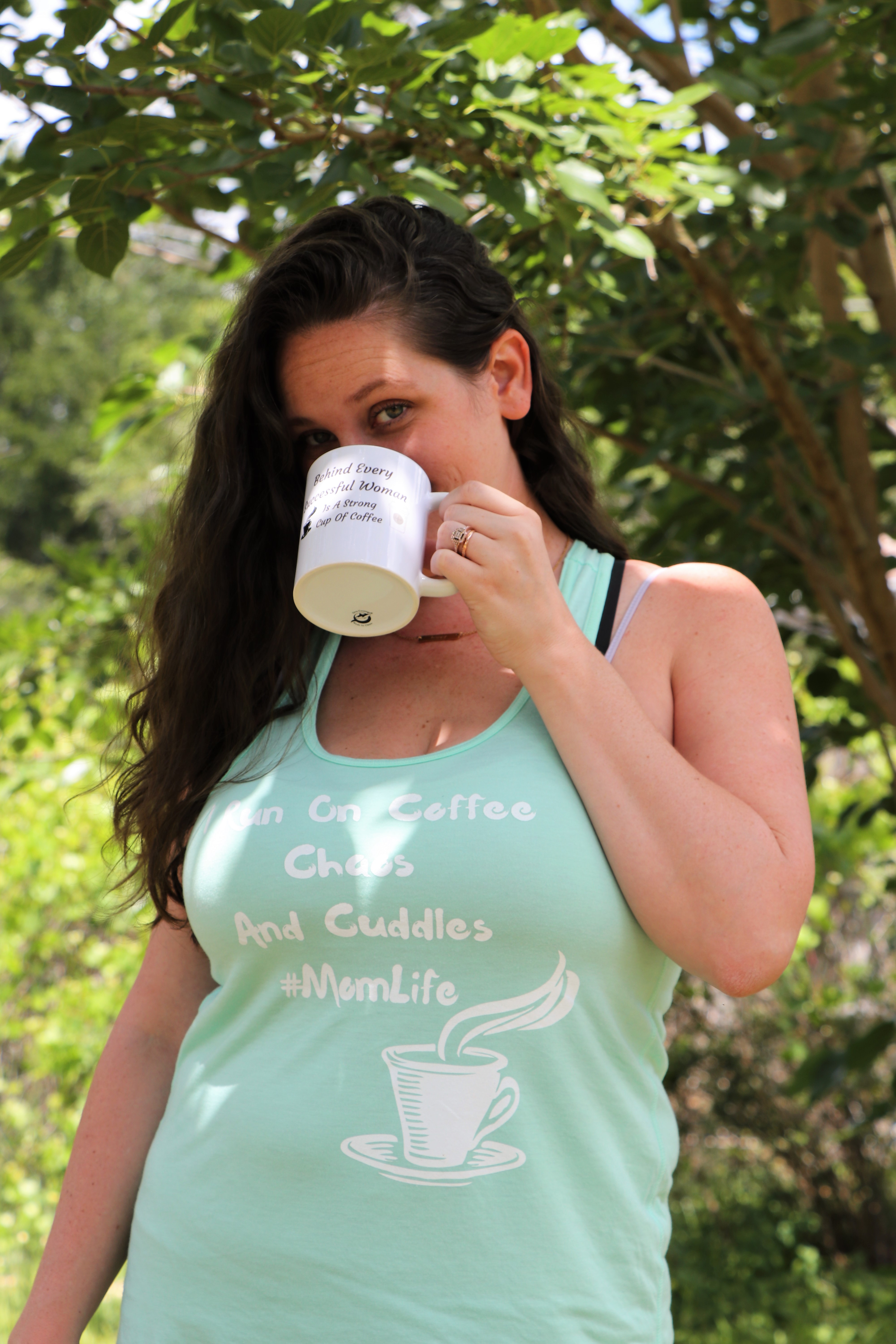 I have found that showing off the true product, as opposed to just having the stock photos of the designs, really helps to increase sales! You can even send some samples to other influencers to really increase your reach if you would like!
Printful is free to set up and use, and they don't take any money from you until a product is sold. They take their cost, and anything over that goes to you, and you set the final price so you determine how much you make from each sale!
There are so many ways microinfluencers can make a living that it is really up to you as to how you want to approach this business. you can sell your own products, work with brands, or promote affiliate products to your readers! The most important secret to making money as a microinfluencer though, is to be confident and know your worth!
So if you are ready to start really promoting your blog and making money, feel free to join me in my Blogging Break Facebook group for insider tips and networking opportunities!