Time spent with family is precious and should always be the most entertaining thing in the world, especially if you have children. You want to offer them the most unforgettable experience in the world.
So, have you heard of paddleboard fishing? If you haven't, then now is the perfect time to try it out! After all, you do not want to miss out on something that's so fun. Namely, fishing from the paddleboard is currently very popular, especially among the anglers.
However, if you are relatively new to this, then it's highly likely you'll be needing some help and guidance. But don't worry! That's why we've created this article, to help you have the best time of your life (and your family too, of course!)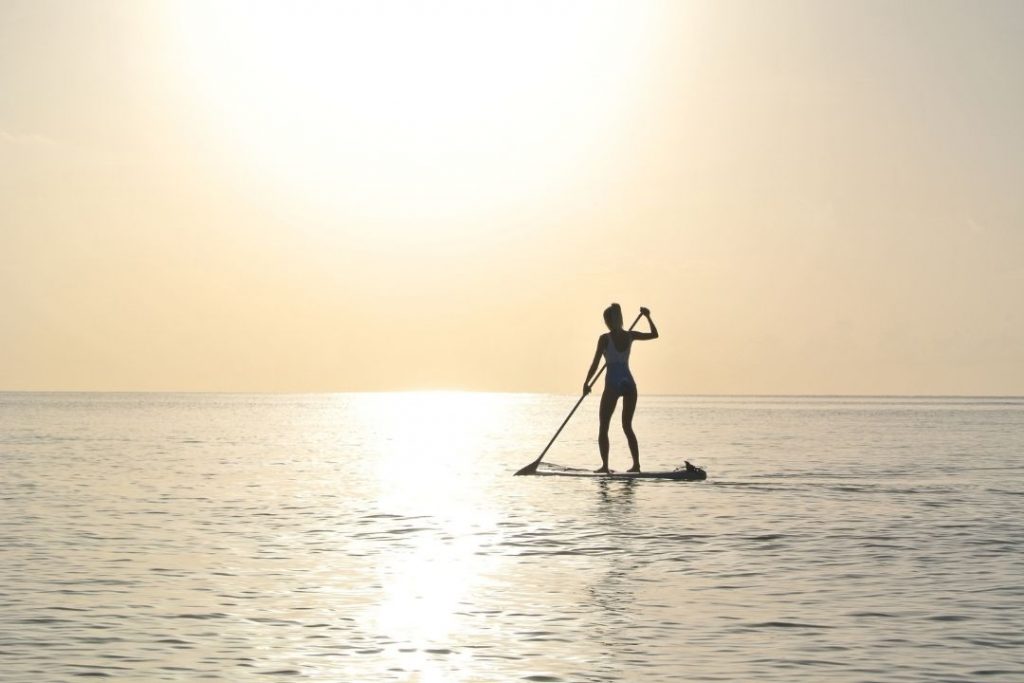 Helpful Paddleboard Fishing Tips For Beginners
Pick The Right Paddle Board
First things first, if you want you and your family to feel comfortable, you need to focus on obtaining the proper paddleboard. Namely, these boards can be found in different sizes and shapes.
For example, SUP racing boards are normally narrow and long with a displacement hull. It helps them glide swimmingly and fast. Furthermore, stand-up fishing paddleboards are generally wide and long and have a high weight capacity.
The huge platform allows them to stay stable and enables you to bring lots of gear. Generally speaking, every fishing board comes in different sizes and designs. You can also stumble upon epoxy fishing paddleboards, as well as inflatable ones.
What's great about the inflatable paddle boards is the fact that they can easily be stored even if you do not have a truck or a roof rack. Moreover, a hard, classic board is maybe a little bit better when it comes to performance and you won't be forced to bring a pump on the trip.
SUP Fishing Rack Is Always Welcome!
If you're planning to have a nice time, then you prepare many things ahead before you leave. With the help of SUP fishing racks, you'll be able to stay organized the whole time. The ones that you should be looking for are supposed to hold two fishing rods, along with the bags. It is safe to say that having a SUP fishing rack is going to help you have a great catch!
Anything Else You Need?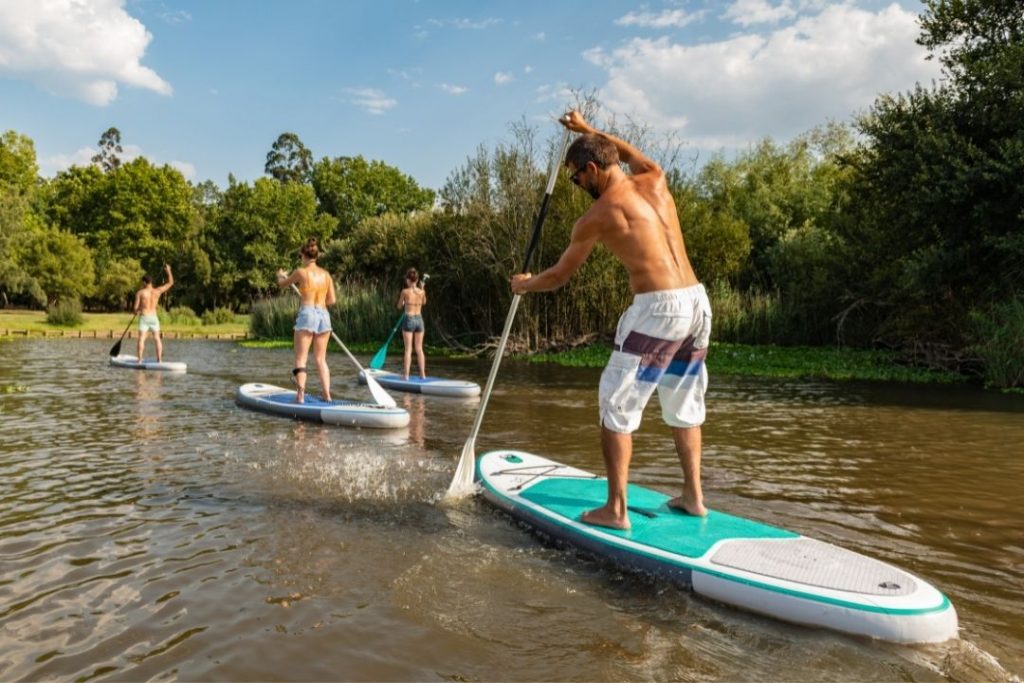 SUP Fishing Anchor
You cannot fully enjoy SUP fishing unless your paddleboard has a solid fishing anchor. With it, you are able to stop the paddleboard anywhere you wish and be sure that it's stable on the water where you've placed it.
What are the most important traits when it comes to it? Well, you must focus on things like the weight and design of the fishing anchor. Besides that, the length of the rope that is embedded in the anchor is also very important, and of course, you need to ensure that you can easily fold the anchor for compact storage.
Paddle Leash
Unfortunately, for an unknown reason, this is a very underrated piece of equipment which is why it is frequently overlooked, but it can actually be of huge help. Namely, this piece of equipment is going to make sure that the paddle stays with you no matter what are the circumstances.
Furthermore, this doesn't have to be anything too complicated. For instance, you can use a piece of rope that you'll tie around the waist, as well as to the handle of the paddle. Additionally, you can also employ a piece of Velcro or the belt loop.
At the end of the day, it's up to you to decide what you will utilize, as long as you place something around your waist.
Do Not Forget A SUP Cooler
This is something that you should definitely bring to your family trip because it comes with great benefits. For starters, it keeps the beverage cool and there's nothing worse than being outside, on a hot, summer day, and drinking something that's not cold, while you're exhausted from fishing the entire day, right?
Well, you can be sure that that's not going to happen if you bring the SUP cooler. It will make sure all your drinks are cool enough so all of you can quench your thirst. Plus, if you're planning to keep the fish you caught, you can always place it inside of it. Another great thing about it is that it can serve as a seat as well!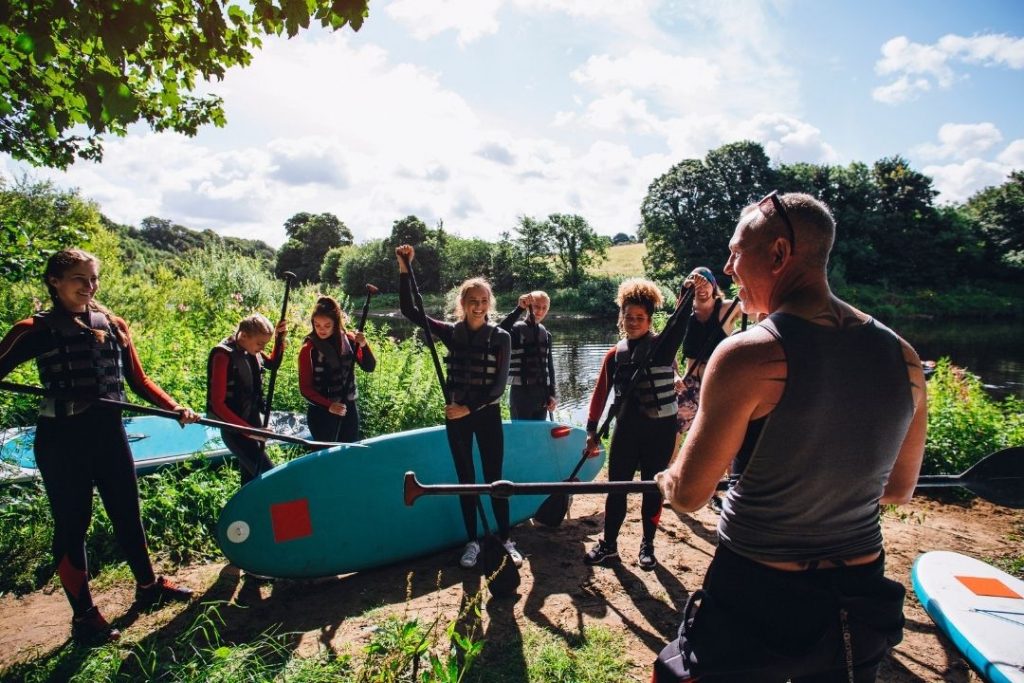 If you manage to "survive" this trip and everything turns out great, you will quickly realize that you've had a great time and all your family members will say that it's now their favorite way to fish. But in order to accomplish this, you need to implement all these tips.